Bay Port freshman Jo Baranczyk was in discovery mode Monday while Milton seniors Mia Seeman and Holly Gunnink were in full bore appreciation mode after competing in the Crusade Fore A Cure girls golf tournament at Maple Bluff CC in Madison for the very last time.
In both cases, the message from this special day was received loud and clear: Appreciate the time you are given with someone, something or somewhere while you have the chance.
That Baranczyk shot 76 and earned medalist honors by one shot over Seeman, whose team edged Middleton to take the team title for the second time in three years, was secondary.
This event, in which each of the 18 teams shunned their school colors in favor of something pink,  was all about raising awareness and money in the fight to cure cancer and appreciation among the 99 golfers for the countless people affected by cancer in each of their lives.
"The day, more than most others, was clearly beyond just the game of golf," Baranczyk wrote in an email to Wisconsin.Golf. "I'm not only talking about the abundance of pink (which was cool). I am honored to personally know two mothers who are courageously battling breast cancer right now. They have been following my golf progress and always rooting for me. I like to think this win was for them."
Indeed, the eighth annual event was a victory for everyone.
According to Madison Edgewood coach Peggy Gierhart, who runs the event with assistant Betsy Zadra, this year's tournament raised close to $17,000 thanks to  car washes, bake sales and other fundraising efforts by the competing teams. That pushes the eight-year total to more than $72,000.
This year, the golfers listened to Sauk Prairie tennis coach Katie (Webber) Massey, a 29-year-old Reedsburg native, former four-sport athlete in high school and college basketball player at UW-Stevens Point who has spent the last 12 months battling breast cancer. Milton coach Kirk Wieland, a WIAA basketball official who has worked Sauk Prairie games coached by Massey's husband Levi, said it was hard not to be focused on her message when it came time to tee off.
"I don't personally know Katie, but I know Levi through officiating his games and he's always been just a true gentleman," Wieland said. "It was just a really good speech and I don't know how you couldn't be thinking about that and then you have to go play golf. It's a tough day for these girls.
"It's a long day. It takes them forever to play. Scores are higher than you want them to be (on the tough Maple Bluff layout). And then you're thinking about this and that. Some of the girls, because everyone is dressed up in pink, … golf is not even secondary on a day like this. And that's great."
As for the golf? After bogeying three of her first four holes starting on No. 8 in the shotgun start event, Baranczyk played the next six holes in 4-under-par with a birdie at the par-3 13th, an eagle at the par-5 15th and a birdie at the par-4 17th, crediting her putting for being able to score well.
"The greens were fast and true," Baranczyk wrote. "I loved that about Maple Bluff."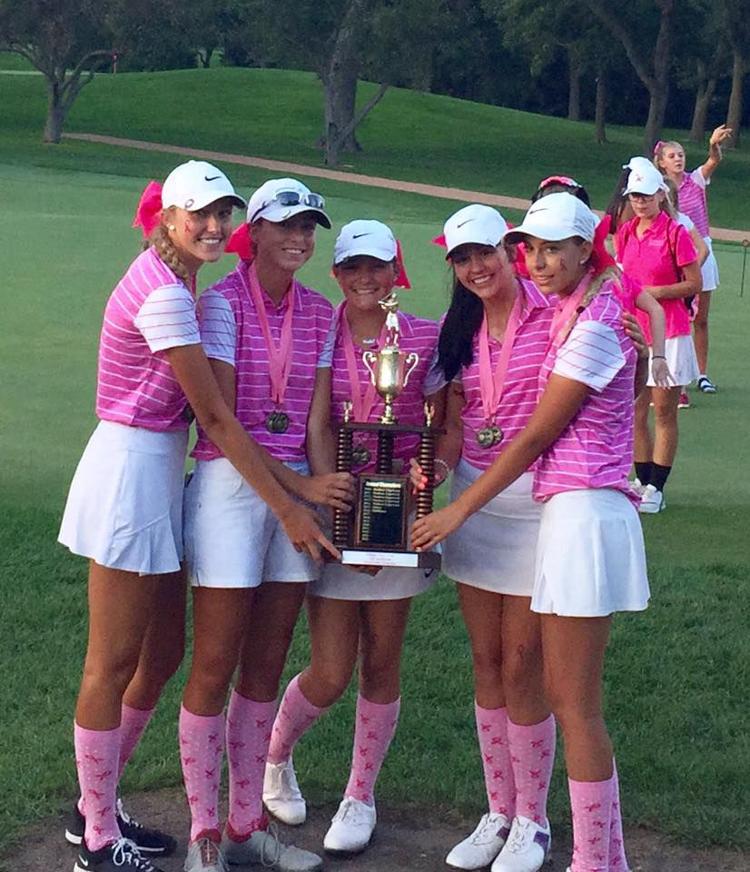 Milton had two golfers break 80 as Seeman and Taylor Hakala shot 77 and 79, respectively, on the tight layout with challenging greens that plays to a par 74 for women. The top-ranked Red Hawks also counted a 93 from Claudia Seeman, Mia's sophomore sister, and a 97 from Gunnink in a 346 that left them four strokes ahead of Middleton, the 2016 champion which counted an 83 from Kate Meier, two 85s from Payton Hodson and Grace Peterson and a 97 from Allison Richards.
"I know Mia and … Holly, they got done and said 'We'll never be back here again!'" Wieland said. "They're starting to realize all these tournaments they're playing in, it's the last time they're playing in them. I think there is a sense of urgency or sense of realization that their season is winding down.
"But it's been fun so far and there will be a day when we don't come out on top. But that's golf."
And, as everyone was reminded Monday as the bigger picture was brought into focus, that's OK.