Rob Hernandez: The way Wisconsin left its fingerprints on golf far and wide made 2017 a year none of us will forget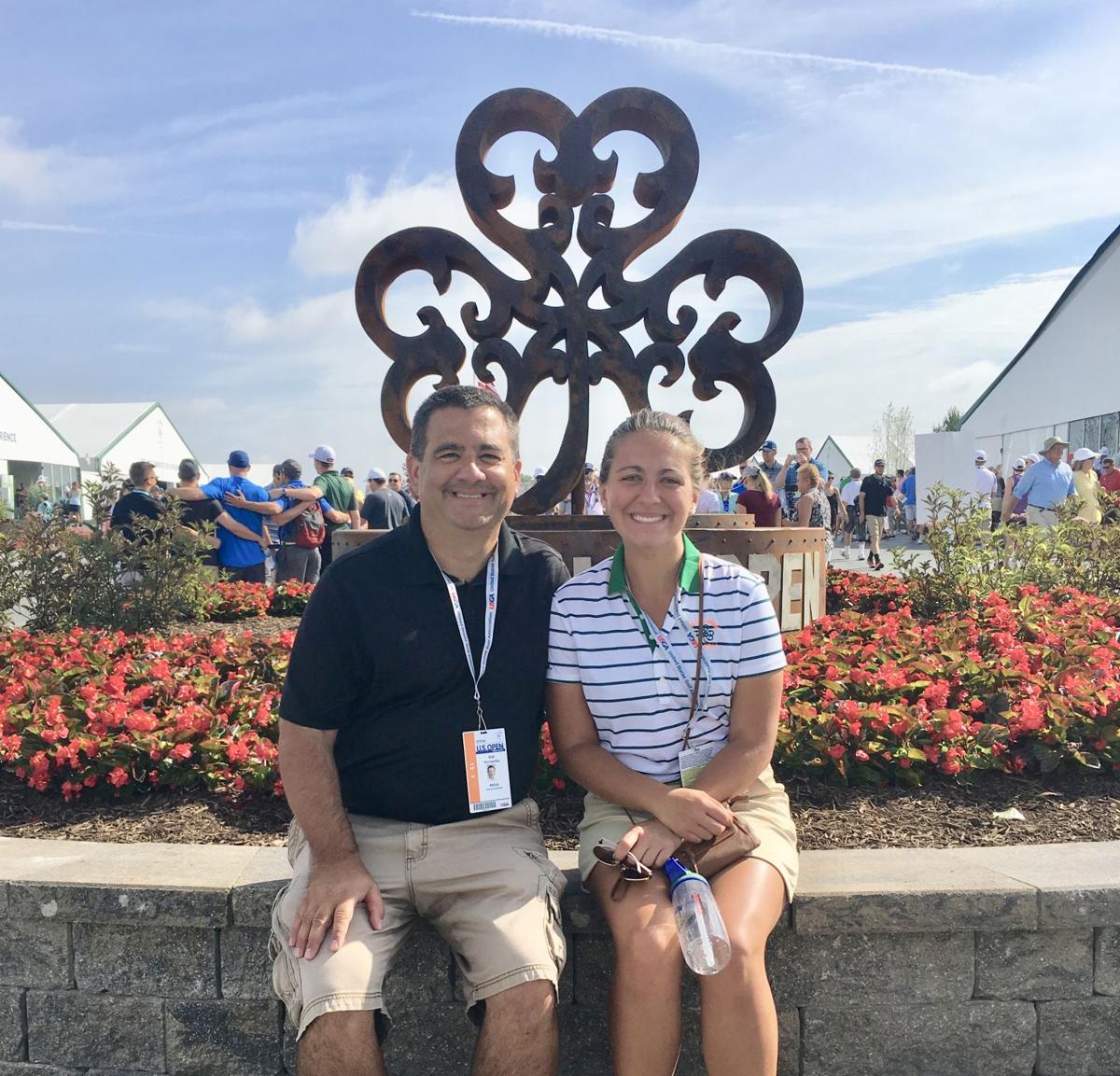 At the height of the delightfully chaotic, historically eventful year that was 2017, I walked into the clubhouse at Bel-Aire CC in Pacific Palisades, California to see Rick Reilly playing the piano.
Wisconsin.Golf's countdown of the top 17 stories from 2017, a year that Wisconsin golf will never forget.
In an alternate universe, I would have been rubbing elbows with the likes of the former Sports Illustrated scribe and ESPN contributor in the press tent of, say, the U.S. Open at Erin Hills, not as I was rushing from venue-to-venue at the U.S. Amateur Championship during the 36-hole qualifying.
But this was 2017 -- Reilly has semi-retired to a life of golf and, apparently, piano-playing -- and there was no way to describe the Wisconsin golf scene and the crazy stuff that went with it.
There seemed to be a six degrees of separation between Wisconsin golf and the world -- at least when the world wasn't colliding with Wisconsin in places like Erin Hills and the emerging golf destination magnet that Sand Valley near my hometown of Wisconsin Rapids.
When Tiger Woods made the first of his two returns in 2017 -- the one in February at the Farmers Insurance Open at Torrey Pines GC near San Diego  -- it came on the same day he had signed an equipment deal with TaylorMade Golf. There to help celebrate the news were Wisconsin natives Chuck Presto of Oregon, vice president for global marketing, and Eddie Erkmanis of Milwaukee, the director of tour relations for the Carlsbad-based company.
If Woods' promising return at the Hero World Challenge following a year of personal ups and downs is an indication, 2018 could be a busy year for Presto and Erkmanis. (Even if Woods doesn't regain form, they have Dustin Johnson, Rory McIlroy and Jason Day to fall back on.)
That was one of the fun stories from 2017 we had the opportunity to tell on Wisconsin.Golf that didn't make our our list of the top 17 that we have spent the last week revisiting on the site.
I felt fortunate to be able to tell the stories of many of the magic moments that made our list and some that did not. My snapshots from the past year go well beyond the events we were all anticipating when we rang in 2017 -- the first-ever U.S. Open year in Wisconsin.
I'll never forget the September call to my friend Ryan Helminen, whose rise to dominance in the Wisconsin PGA section the last two decades has given us many occasions to chat in person and over the phone. This time, though, he was the middle man in my efforts to reach his 9-year-old daughter Aliisa, who had joined young Aiden Anthony of Milwaukee in qualifying for the National Drive, Chip & Putt finals at Augusta National GC next April. Ryan was probably more excited than his daughter that day in describing how she punched her ticket to the 2018 Masters.
I'll remember sitting on the patio at Mission Hills CC in Rancho Mirage, California, and chatting with Osceola native Casey Danielson and her mother Liz after the first round of a Cactus Tour event there designed to prepare her for the upcoming first stage of LPGA Tour Qualifying School. Danielson had just finished her collegiate career at Stanford and seemed ready for whatever professional golf could -- and did -- throw at her. She won that event, but didn't make it through to the second stage of Q-School, forcing her to develop a Plan B for the 2018 season that turned into her march to victory earlier this month at the Ladies European Tour Qualifying School.
If I learned one thing in 2017, it's the resiliency and determination of the young -- and some not-so-young -- golfers from Wisconsin trying to find a way to play golf professionally.
I'll look back on the opportunity to follow  Allyssa Ferrell for 18 holes at Aviara GC in Carlsbad, California, during a Monday qualifier for the LPGA Tour's Kia Classic as time well-spent documenting that. The Edgerton native was a rookie on the LPGA Tour in 2017 and would finish 162nd on the money list with $14,715 in just seven starts, all after I watched her come up short in her effort to make that first opportunity happen.
River Falls native Neil Johnson was another Wisconsin golfer who I saw work tirelessly to get his opportunity on the PGA Tour and Web.com Tour at age 34. Using the $100,000 windfall he received for winning the 2016 Colorado Open, Johnson crisscrossed the country playing pre-qualifiers and open qualifiers on both circuits -- eventually getting two starts on the PGA Tour in Puerto Rico and Connecticut, but ultimately seeing his future once again become a bit fuzzy after he failed to make it through the second stage of Web.com Tour Qualifying near me in Murrieta, California, where I followed him the final round as he played in the company of 2003 Greater Milwaukee Open runner-up Steve Allan, who also failed to advance.
Like Ferrell, however, Johnson handled his setbacks as well as he did his victories -- he won an event on the Dakotas Tour and cashed another decent check in Colorado. They will lead a growing list of state golfers -- men and women, including Ferrell's sister Brooke if she can finally conquer a nagging wristing injury -- trying to make ends meet swinging a golf club in 2018.
I was fascinated by the five Wisconsin golfers (three men, two women) who came out by me in  southern California to compete in their respective U.S. Amateur Championships.
At San Diego CC, I walked nine holes with Badgers golfers Aya Johnson and Tess Hackworthy. Johnson was one of the feel-good stories of 2017, finally beating a back injury that kept her out of action at UW the past two seasons, winning the Michigan Women's State Amateur and qualifying for her second U.S. Women's Amateur. All were confidence-builders for the start of her senior season on a team that has the potential to do great things in 2018 even without Hackworthy, who chose to redshirt after a deep roster allowed her to do so even after a summer that saw her repeat as Wisconsin Women's State Open champion.
Hackworthy's experience at the U.S. Women's Amateur, by the way, was another one of those memorable moments in my notebook. She played the 36-hole qualifying rounds with California teen Lucy Li of Redwood Shores, California, the nation's top-ranked junior girls golfer who was 14 at the time and already earned the distinction of being the youngest person ever to play in the U.S. Women's Open (at age 11 in 2014) and the U.S. Women's Amateur (at age 10 in 2013).
A week later in Los Angeles, I returned to Riviera CC -- where I had spent a day in February talking to Cardinal Stritch golf coach Neal Grusczynski about his caddie gig for former Big Ten Conference champion Kevin Hall, the deaf golfer who earned the Charlie Sifford exemption for  the PGA Tour's Genesis Open -- and got to see Ray Fischer State Amateur champion Jack Schultz, whose return to amateur golf prominence ranked 15th in among our top 17 stories.
Schultz, who graduated early from Michigan where he'd been the Big Ten freshman of the year, gave up the game competitively for three years when he developed what has been described as "the yips" off the tee. But golf never left his heart and the kid with the seemingly endless supply of Milwaukee Brewers golf caps capped his summer by competing on amateur golf's biggest stage.
Before heading off to Bel-Aire where I ran into the architect of one of the great success stories of 2017 (Marquette men's golf coach Steve Bailey) and got see the other golfer who took Wisconsin men's amateur golf by storm this past summer (Matt Tolan of Eau Claire), I stopped for lunch in the clubhouse at Riviera. I spotted an opening at a table across from a father and son wearing Northern Illinois golf shirts and was soon joined by a young man everyone else seemed to know -- Maverick McNealy, the top-ranked golfer in the World Amateur Golf Ranking. He turned professional less than a month later and sign equipment deal with Callaway that -- among other things -- allowed him to keep playing the putter he used at Stanford (designed by Madison native Sean Toulon).
Yes, Wisconsin's fingerprints on the game extend far and wide.
I'll remember watching Sheboygan's Martha Nause and Madison's Becky Iverson enjoying themselves in a Legends Tour event near Phoenix in March. I'll remember watching Jerry Kelly battle for the Charles Schwab Cup Championship at Phoenix CC in November walking with Jim Schuman -- the Wisconsin PGA golfer and senior golfer of the year -- and their families and stopping to putt for t-shirts at the corporate tent of Kelly-sponsor Cologuard, which will join fellow Wisconsin company Sentry Insurance in following American Family Insurance into the waters of tournament sponsorship on the PGA Tour and PGA Tour Champions in 2018.
In between, I had the opportunity to go to Houston to watch my own daughter compete in the NCAA Division III Championship for the second time and enjoy the fruits of a successful career at UW-Stout. I was also there to console her after her team finished second to UW-Whitewater at Reedsburg CC in October in the most competitive WIAC Championship in the 22-year history of the league, a breakthrough moment for Division III golf in Wisconsin to be sure.
But, with apologies to Rick Reilly and his impromptu recital as I raced through the clubhouse at Bel-Aire, 2017 would be nothing if it didn't bring us all back to Erin Hills and the U.S. Open.
That's where we -- like so many of you -- enjoyed our favorite parent-child moment in front of the most photographed logo in the history of Wisconsin golf. We were there in different capacities -- she as an intern for the Wisconsin State Golf Association, me for Wisconsin.Golf -- but we both were there to celebrate golf, to celebrate Wisconsin and to celebrate the once-in-lifetime event that brought the golf world to us and made 2017 a year that we'll never forget.