Wisconsin's centerfold golf courses, those celebrated layouts that host major tournaments and draw golfers from across the land, get a lot of attention, for good reason. But this state is blessed with many more deserving golf destinations any state golfer would enjoy experiencing. In this ongoing series we call "Hidden Gems," we will highlight some of those courses on what might be viewed as a Badger bucket list.
ARBOR VITAE — When asked how he would describe Trout Lake Golf Club to a first-time player Mike Osborne keeps it pretty simple.
"What I usually say is it's just you and the golf course out there," said Osborne, the course's PGA professional. "There's no houses, no roads…and there's a lot of history out there."
As it turns out, "just you and the golf course," with a healthy side of history, is a winning combination for this 18-hole delight in Arbor Vitae, 10 miles north of Minocqua in Wisconsin's famous Northwoods. In fact, when I stopped in mid-September to include it in this series on Wisconsin's hidden golf gems, Osborne said Trout Lake was having as fine a season as it ever has, which is saying something given that his golf course is marking its 95th year of play.
That gives rise to Trout Lake's claim as the oldest 18-hole course in the north. But Osborne is careful in stressing the history that is evident both on course — the greens are small and elevated, as was the style when it was built — and off the course, from the century-old stone silo near the first tee to the classic log cabin clubhouse with its splendid wrap-around screened porch overlooking the 18th fairway.
To some, he said, historic means old-fashioned and behind the times, which is not the impression he wants golfers to take away. He wants them instead to expect improvements every year, he said, and for good reason. "Making improvements every year is really important," he said, "because people come back to see what's different."
We'll get to the latest changes, but first consider what's been the same for many years — a very good test of golf in a setting as peaceful, pretty and piney as the north woods can offer. The par-72 course stretches just over 6,000 yards from the white tees (5,204 from the red and gold tees) and has a full complement of tree-lined holes that reward straight-shooters while punishing players with tendencies to hit left. When there is room to miss on a  shot or two, it's usually to the right of Trout Lake's fairways.
"The left side all day is trouble," Osborne said. "What I say is don't hit it left and don't go over the greens. Our greens are small and elevated because that's how they built them then, but the fairways are just plush."
They were indeed. I played with two golfers from Wausau who had bought a package of nine rounds at area courses and who agreed that Trout Lake's carpet-like fairways were the best they'd experienced.
But good conditioning doesn't make any course a pushover, and Trout Lake is hardly that. The par-5 fourth hole is a 519-yard horseshoe so pronounced that dogleg doesn't begin to describe its bend, while some holes on the back nine have woods not just on the left but on both sides. Of the five par-3s, the shortest is still 147 years and several that measure closer to 170 yards require long irons or even utility clubs to reach small greens protected by bunkers.
The most memorable hole might be the last one, the 260-yard par 4 that crosses the Trout River while luring big hitters to try to drive the green, often while players who have already finished watch from the rocking chairs on the screened porch. When I played it, the porch was empty, thankfully, because I pushed my tee shot so far to the right I almost hit it instead of the fairway.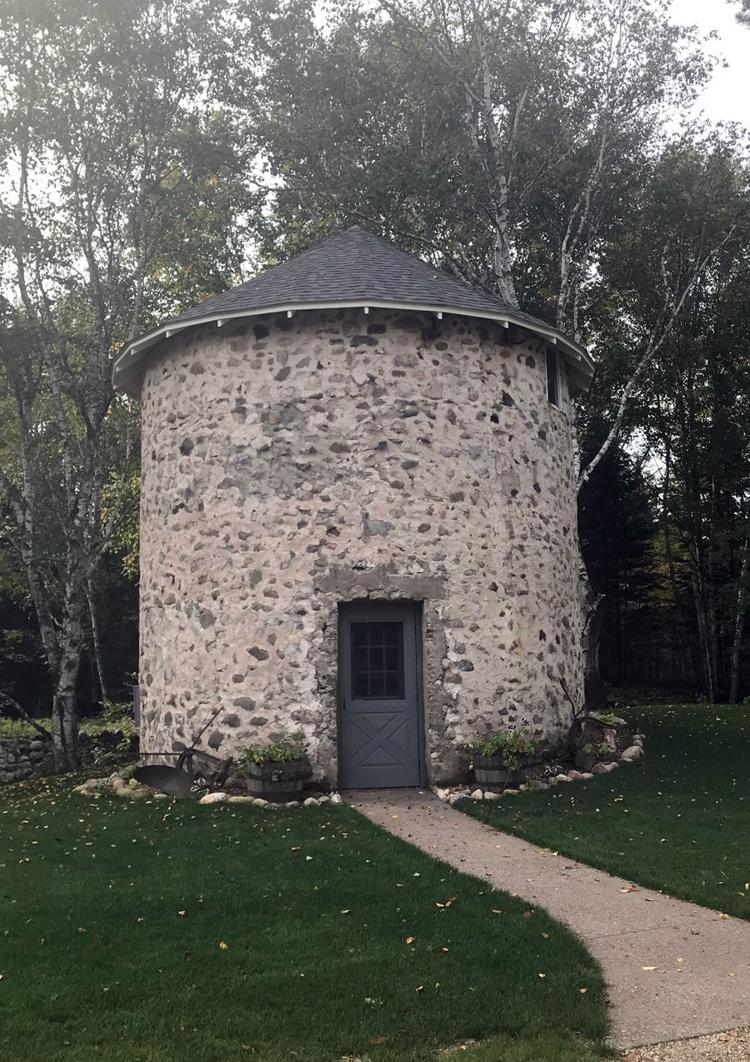 About that silo, which dates to when the property was a company farm for a logging company before men and horses converted it to a golf course in 1924. It has been refurbished and given new life as an event space — "I call it a welcome center," Osborne said — and bar that will be opened next season.
"Every year, I try new things," Osborne said, which this year included a comedy night that took place on Trout Lake's driving range. Next season comedy nights will move to the silo, along with other events.
This year, the course built a new tee box for the first hole, and there are plans to build a new set of forward tees as well.
As might be expected for a course that is smack dab in the middle of one of Wisconsin's most popular tourist destinations, Trout Lake gets considerable play from out-of-towners. "The shoulder season (play) is local," Osborne said. "June, July, August and the weekends in September it's all out of town."
Trout Lake also boasts one of the largest practice areas in the north, including a 325-yard driving range with four small greens that can be played as par 3 holes and a sprawling 3,500-square-foot bunker and chipping area.
One small change this year might account for some of the increase in play in 2019. Osborne said he had long wanted to light the golf course signs fronting Highway 51 and this year it finally happened, making them visible now at all hours of the day and night.
"I am shocked by how many people come in and say they didn't know we were here," he said, "and we've been here for 95 years."
If that keeps up, that new welcome center could get a real workout.