Women's Golf Day was observed on June 7 with events spanning the globe from Australia to French Polynesia, according to its promoters, but one place where the event went unmentioned was at Pleasant View Golf Course in Middleton.
Becky Halverson, the course's head pro, also coaches golf at Middleton High School, her alma mater, so is always too busy that week with the boys state tournament to take part in the one-day effort to get more women involved in the game.
There's another reason, as well. Halverson is of the opinion that not only June 7 but every day of the year should be about women's golf.
"I do," she said. "I absolutely do. It should be, at least."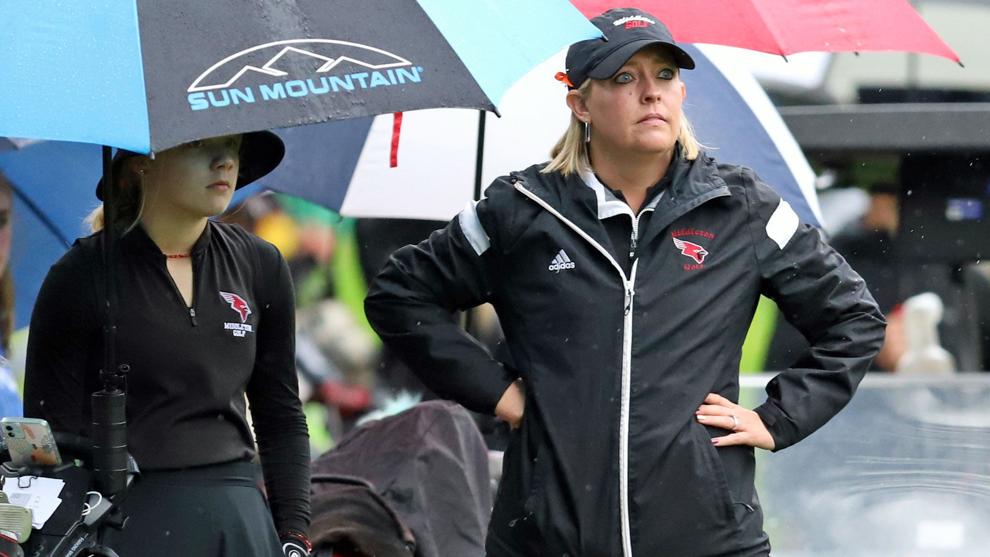 At busy Pleasant View, Halverson's duties go far beyond that, but clearly the centerpiece of her personal and professional mission is to grow golf by bringing in more women and children to a game so often dominated by men's numbers and programs. Pleasant View already has a very active junior program that attracts between 300 and 400 participants each summer, but a few years ago Halverson decided to focus as well on women who want to learn the game from the basics on up.
"Back in 2017 I decided to start this Chip & Sip program," she said, which combined hour-long lessons with a drink chip incentive to attract curious beginners. Lessons are casual, and the social time afterward is enticing. That year, just eight women signed up, but it was a start.
"It kind of took off from there, just a lot of word of mouth," she said. "Now it's up to about 100 ladies. This year my sessions sold out within the first weeks of releasing the schedule in March," which meant she had to add a few additional sessions to serve those who were interested. Now she has wait lists and the course recently announced Halverson's efforts had won her honors from a state women's group.
The main goal is to get women to feel comfortable at the golf course, an environment that many had not previously experienced and that can be intimidating to those who don't know the game, its language, rules or other basics.
"Some of them don't know how to hold a golf club," she said, so the first lesson deals with aim, grip and stance and moves on from there. She covers other essential, but basic, aspects as well, such as how to operate the machine that dispenses a bucket of range balls. Because how do you know if you have never done something?
"That can be intimidating as well, seeing a group of guys using the range machine," Halverson said. "It's really basic, just trying to make the women feel comfortable … kind of getting them to see how much fun it can be.
"I even tell the ladies, if you want to bring a drink (to the lesson), feel free."
The Chip & Sip program is now multilevel as well. So many women wanted more instruction after learning the basics that Halverson added a "Level 2" series of lessons, which moves from the range to the par-3 course, and eventually a Level 3 series. As more women want to continue their learning in the future, more advanced sessions might have to be added, she said, but with helping to run the golf course, coaching and teaching, her time is pretty much spoken for.
Several women told her they would like to see a similar program for their husbands. Halverson was too busy to expand further, so Ryan Sholty, another instructor on Pleasant View's staff, just launched it instead. The first night he had just two students, but Halverson's response is that she started with eight, and look how that turned out.
Halverson has been at Pleasant View in a variety of roles for 26 years, beginning in high school when she worked in the bar and grill and drove the beverage cart. She worked part-time for 18 years before going fulltime as operations manager and then moving over to the golf side. She is currently finishing her Level 3 PGA program and hopes to use her Class A certification to continue programs aimed at women and children. The demand is there, especially as the Covid-inspired surge in play brought more beginners and families to golf courses seeking safe outdoor recreation.
"I would just like to expand it as much as possible because I know if my sessions are sold out (there's interest)," she said. "I think over the past two years I've seen more beginner golfers than I've ever seen."
Other clubs, usually private, have similar Nine & Wine or Nine & Dine initiatives, she said, but there are not many at the public course level – and for one obvious reason.
"There's really not too many women instructors around," she said. "The biggest thing I hear from the ladies is they want a female instructor. I didn't start golf until I was a freshman in high school, so I know how it feels not to be as comfortable at first. So my main goal is to make the ladies comfortable."
And, judging by the response of her students, there is evidence the effort is paying dividends.
"Most of them enjoy it and want to continue to play," she said. "We have several of our passholders who come out here now who started in my Chip & Sip."