Wisconsin's centerfold golf courses, those celebrated layouts that host major tournaments and draw golfers from across the land, get a lot of attention, for good reason. But this state is blessed with many more deserving golf destinations any state golfer would enjoy experiencing. In this ongoing series we call "Hidden Gems," we will highlight some of those courses on what might be viewed as a Badger bucket list.
BAYFIELD — The pond fronting the first tee at Apostle Highlands Golf Course is a miniature Lake Superior. Often the blue tee is set squarely on the Bayfield peninsula, while the white tee is on the Keweenaw peninsula, about where you'll find Houghton and Hancock, Mich., in real life. There's no sign informing first-timers that the water hazard is actually a mini-great lake and that the little island in the corner represents Isle Royale, but those who fail to notice the homage aren't entirely losing out.
Over the course of their round, they'll see the actual greatest of the Great Lakes — the Ojibwe called it gichi-gami, meaning "great sea" — from 13 of Apostle Highlands' 18 holes, a shimmering blue backdrop dotted with sailboats that is as pretty a setting for golf as you'll find at any course in Wisconsin.
Bold statement, that. And admittedly a biased opinion, given that Apostle Highlands is my home course and I've played it, to throw out a number, maybe a thousand times in my life.
But don't take it just from me. Former Gov. Jim Doyle used to call Apostle Highlands "the Pebble Beach of the north" when he occasionally played it when touring the state, and wasn't it no less than Robert Louis Stevenson who called Pebble Beach "the most felicitous meeting of land and sea?"
Yeah, we'll take that. Superior golf, indeed.
Apostle Highlands opened as a nine-hole course in 1990 when the owner at the time was looking for a way to erase the scarred landscape left behind when the hilltop site, 500 feet above Lake Superior, had been logged off. Course designer Bill Korpella came up with the routing, and with the idea of the replica Great Lake. Nine additional holes were added in the mid-1990s, creating a golf course with unmatched views of Lake Superior and the Apostle Islands and even of Michigan's Porcupine Mountains in the Upper Peninsula.
The lake makes its first appearance as players approach the eye-catching third hole, where the fairway seemingly falls away into the water in the distance. It might be the most photographed golf hole in the north and, during race week when dozens of colorful sailboats jockey for position in the distance, it rewards players with one of the prettiest distractions in golf. For many scenery-struck visitors to Apostle Highlands, a camera serves as a 15th club.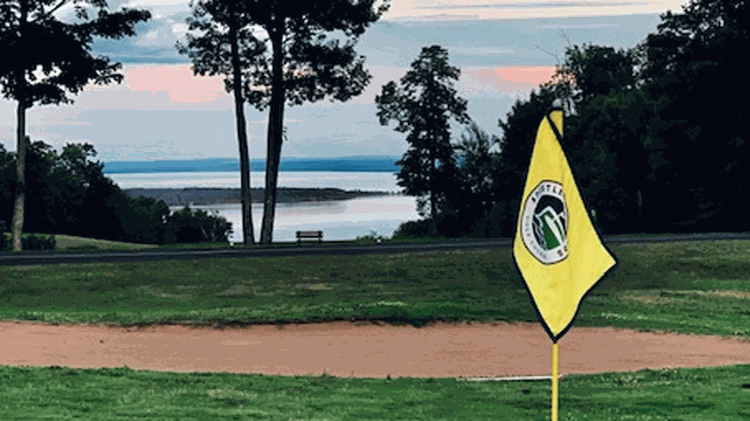 The course is not long — just 6,332 yards from the longest tees and under 5,900 yards from the whites — but serious elevation changes and woods lining many of the fairways often overwhelm big hitters who look at the scorecard's modest numbers and try to conquer it with power. It is a golf course that demands consistent placement over length, and newcomers who head out to play without being informed that all putts break toward the lake will be found muttering over putts that do just that, even when it seems obvious they don't.
Because they do.
Some holes — the par-4 third and par-5 12th especially — play shorter because they extend downhill toward the lake. But other par 4s, despite stretching just over 300 yards, play much longer because they run uphill, away from the lake. Some days the par-4 15th feels like the longest 310-yard hole in all of golf, but that's OK. If your second shot misses the small, two-tiered green, just turn around and savor the gorgeous view of lovely Madeline Island in the distance.
For good reason, many of the benches at Apostle Highlands face away from play.
In their book "Wisconsin Golf Getaways," authors Jeff Mayers and Jerry Poling wrote that the scenery often trumps the golf itself at Apostle Highlands.
"Some golfers, of course, still play for score, but give up on the idea once they stand on the third tee — or on any of the holes that seemingly float above the lake — and realize that whatever it is they're feeling is bigger than bogeys and birdies."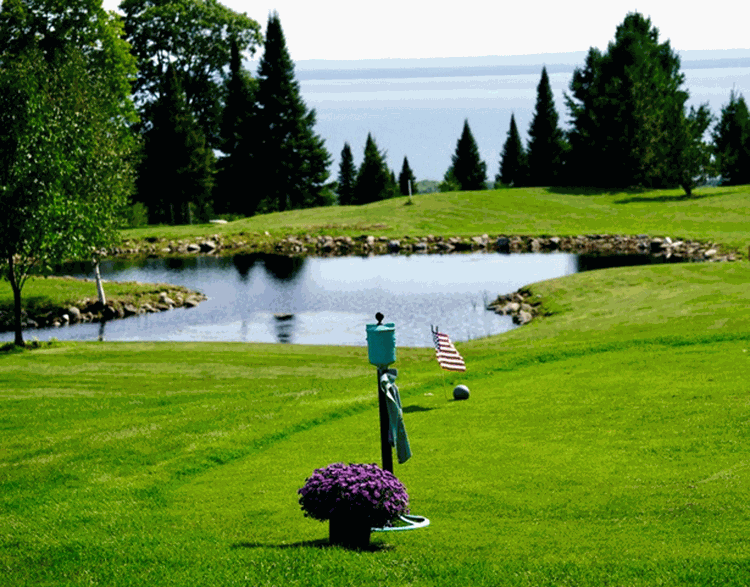 Apostle Highlands has a small but loyal group of local players but, given its setting in one of Wisconsin's most popular summer playgrounds, gets a lot of tourist play as well. Many squeeze in a round of golf before taking the sunset cruise around the Apostle Islands or after riding the ferry back from Madeline Island. In fall, when Bayfield's many orchards lure thousands of visitors to pick apples, the stunning views from Apostle Highlands are only enhanced by the trees blushing red and gold at water's edge.
Over the years, those views lured so many of Bayfield's brides and grooms up the steep hill to use the golf course as backdrop in wedding photos that Apostle Highlands built a new facility to host weddings and receptions. There is also a fully stocked pro shop, driving range, practice green and a bar with deck.
A deck with spectacular views, of course, because sometimes where you are matters more than what you are doing, even if that is golf.
As Mayers and Poling put it, "Apostle Highlands is the course where stress goes for a vacation."