When former Green Bay Packers placekicker Chris Jacke retired from football in 2000 he thought he was prepared for what would come next. Even while still playing, Jacke had received training and the necessary licensing to become a financial planner, and so he settled into Green Bay and the world of personal finance.
"But," he eventually discovered, "it just wasn't fun."
What was fun was being a former Green Bay Packer, especially in a city and state that reveres almost anyone who has worn the green and gold. When he entered the Packers Hall of Fame in 2013, Jacke – who ranks fourth among Packers in career points with 820 – found himself in ever more demand for public appearances, celebrity golf outings and other activities, so much so that he began to think about investing in himself instead of the market.
At the suggestion of his wife, Terri, who is involved in executive coaching, Jacke began work on a website offering his time for golf outings, public speaking and other events a onetime Packer's presence might enhance. He also began talking to former teammates such as Gilbert Brown, Frank Winters and others about their interest in similarly trading on their football celebrity.
"I could create a website not just for myself but for those guys (too)," he said. "I started reaching out to a lot of the guys I played with."
And so was born Players Alumni Resources, which Jacke has run since 2013 when he left financial planning in the rearview mirror. He not only markets himself – his signature service is the Golf Date with Chris Jacke, during which he shares with his foursome stories from his playing days – but also represents dozens of other former Packers who are available, for the right price, for golf outings, fishing trips, charity events and more. Jacke does all the negotiating with would-be clients and recommends which of his alumni team would best fit each organization's event and budget.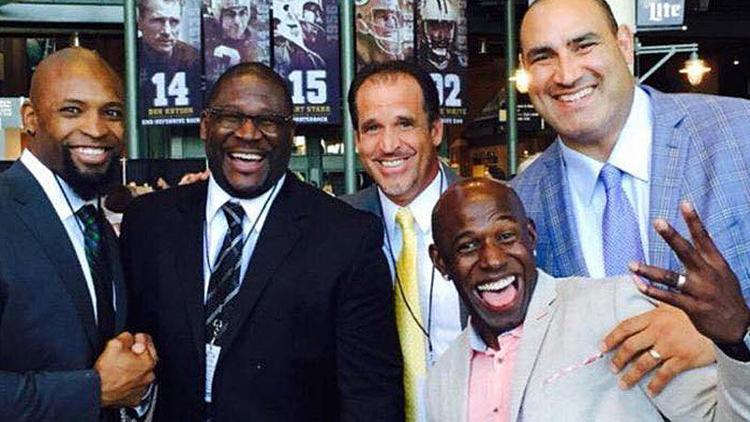 "Some guys don't like to speak, and some guys don't golf. I would say most of them play golf but not all of them do," he said. In winter months, speaking engagements are the most frequent events but "golf, obviously, we do quite a bit of that during the summers."
Because retired Packers are spread across the country, they could be involved in events almost anywhere. One event last year was in San Antonio, but for obvious reasons – passion for all things Packers is the official state emotion, after all – the primary location is Wisconsin. Some events stand out more than others; for two years Jacke supplied former Packers like Ahman Green, Jerry Kramer, Frank Winters and others for fishing outings on Lake Michigan to raise money for Camp Hometown Heroes, a free summer camp for children of fallen service members or first responders, and for a veterans' organization.
"That was a lot of fun," he said. "It was a little different from the golf events. What made it a lot of fun was we brought in a couple of World War II veterans to talk about what they went through."
Asked to name some of his more popular team members, Jacke said "Frank Winters, actually. And I kind of push him because believe it or not he's very good with fans," in part because he still likes to drink beer and share colorful stories about his good friend Brett Favre.
Who, unlike other former quarterbacks Don Majkowski and Lynn Dickey, is not part of Jacke's alumni team.
"Uh no," he said drolly. "Favre doesn't need my help."
Those who do especially well in paid public appearances are those with a good story to share. Jacke singled out former teammate George Koonce as one of those with a good story; Koonce grew up in "a shack on a dirt road" but went on to play football at East Carolina University and, when his professional football career was over, earn a Ph.D. from Marquette University.
In his speaking events, Jacke, who played eight seasons for the Packers from 1989 to '96, talks of his pride in being part of the resurrection of the Packers franchise after years of little success. And inevitably he manages to explain the mullet he sported as a player.
Not all of the players he makes available were teammates – some like Carroll Dale and Jerry Kramer preceded him by decades – but Jacke relies heavily on the guys with whom he played and won a Super Bowl.
"We had a lot of characters on our team and a lot of people know them (so well)," he said.
Jacke isn't aware of any other program like Player Alumni Resources in other NFL cities, and agrees the fanaticism of Packers fans is one reason for that. For a company like his to succeed there must be not only the right fan base but also the right group of former players.
"I think Pittsburgh would be one (possibility). I think Kansas City would be one. They've got to be rabid fan bases … but there's not many."
Jacke does much of the work of promoting player appearances by mining social media, following Facebook pages devoted to the Packers or various fan groups.
And to the question he often gets asked during public appearances – does he ever get tired of talking about playing for the Packers – the answer is a decisive no. He said Packers fans are generally knowledgeable – "a lot of these fans remember plays that I don't remember myself" – and polite enough not to interrupt a meal out to beg for an autograph.
"I always say the day that I walk around and nobody recognizes me, that's going to be the sad day," Jacke said. "It's an honor to be remembered, and I think most guys feel the same way."
For more, visit www.playeralumniresources.com.