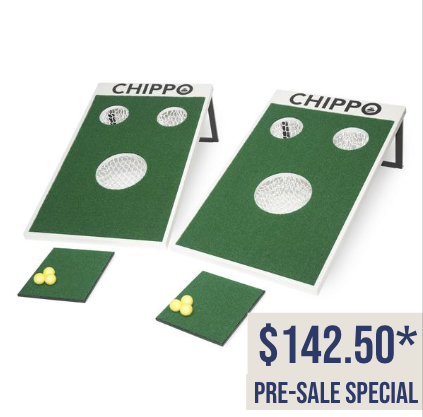 Golf isn't a sport that lends itself easily to tail-gating, but the hottest game in tailgating now pairs nicely with golf. Introducing Chippo, "the glorious lovechild of golf and cornhole."

Chippo can be played in the backyard or at the beach, or wherever you find room to chip golf balls off mats into target holes on boards covered with artificial turf.

Chippo won the best new product award at the 2018 PGA Merchandise Show and was a Golf Digest "best bet" for the golfer who has everything. Because if you don't have Chippo, you don't have everything. Two boards, two mats and six foam practice balls.

Breaking News: As of Monday, ChippoGolf.com had sold out of Chippo sets. However, more are on the way and, because the company cannot guarantee delivery in time for Christmas, it is knocking 25 percent off the list price of $189.99. That's right; YOU can own a Chippo in time for the 2019 golf season for $142.50!!