Who can say exactly how the streak becomes The Streak? For Scott Dresen and his dad, Doug, it went like this.
In 2016 they played golf every month from April through October. November turned out to be mild, so they played then, too, and when December was more lamb than lion they played twice more.
"We had no indication of what was going to happen," said Doug. "We looked at each other and said, let's see if we can make a year. That's how it started. Let's see if we can make a year."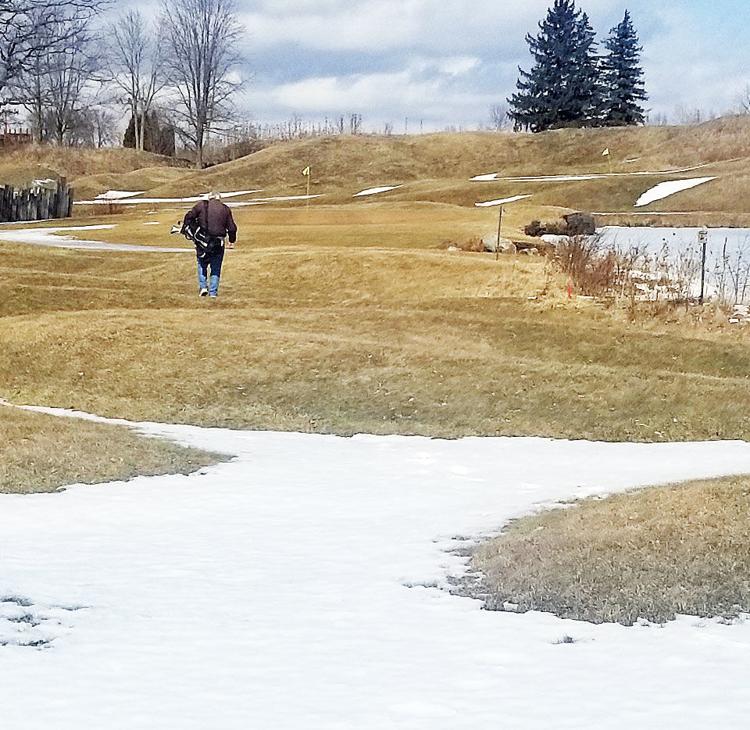 They made a year and kept on going, and eventually their monthly streak became The Streak, an obsession that had to be fed. When they teed it up on March 8 at the Spring Valley Country Club in Salem, just north of the Wisconsin-Illinois border, it was the 48th consecutive month in which they played golf in Wisconsin, which last time we looked was still a northern state with a meteorological off-season. Their achievement is a testament to a father-son bond that has grown only stronger along the way, to power tools and to a willingness to be considered by even good friends as more than a bit unhinged.
When Scott posted a photo of their 47th consecutive monthly round at Mequon's frozen Missing Links Golf Course last month, a friend concluded they might be missing a link themselves.
"You're crazy," he wrote Scott, "but so is the old guy."
Scott couldn't disagree. Power tools, remember?
In the early years, he said, "We used cordless drills to put our tees in" frozen ground, as if every bag of Pings should also have a Black & Decker.
Such a streak wouldn't be possible in, say, Bayfield or Green Bay. It helps that the Dresens live in Racine, where January and February may not be tropical but where at least one day a month is OK for golf, if you define OK as barely tolerable.
One month at Maplecrest Golf Course it was cold, Doug said, "and it was windy. We didn't have any hand warmers. Coming up nine two of my fingers started turning purple."
For Christmas he got – wait for it – hand warmers.
But winter golf has its advantages. At 70, Doug said, he can't hit the ball as far as he used to but on frozen fairways he can still pound it out there. And ice-covered ponds can be a golfer's friend in ways a watery pond never could, making a par five more reachable in January than June.
"You can use the terrain to your advantage," Scott said.
Still, keeping The Streak alive takes planning as well as layers.
"You almost become a novice weather man," Scott said. "You look forward on the weather apps and say, when can we get this in? It's to the point now where my wife (will say), 'You've got to go. You've got to get this month in. You've got to go.' "
And so they do, and so they will "until we just can't," Scott said. "Until there's too much snow or we just can't. Like I say, it's become kind of an obsession."
They've had near misses. One year they played golf on a cold winter's day and the next Scott was plowing snow for the City of Racine. They've played on snowy fairways, and one month Doug wanted to ice down a couple of beers at Browns Lake Golf Course in Burlington. The ice machine was down, but winter was on. He took an iron, chipped ice from a frozen pond in one of the bunkers and was good to go.
Scott has tried to find out, unsuccessfully so far, if anyone else in Wisconsin has a streak like theirs, or longer.
"You know, we've heard of people (who played) a couple of years, 30 months. We hope it is (the longest) but it's kind of not even about that. It's just getting out and playing. It's father-son time. It's something we can do together."
"Something fun together," Doug added.
"Something fun together," Scott agreed. "It's a very positive thing. It's brought us together. Golf has always been there for us, it's something we talk about all the time. There's always those bucket list things" – dreams of playing St. Andrews or walking Augusta Golf Course – "but this is something that's attainable."
 For the hardy, anyway.
* * * *
P.S. 1  After this column ran in Wisconsin Golfer magazine I heard from Tony Ekkebus of Pewaukee, who with his late friend Jim Nelson of Delafield, accumulated a similar string of monthly rounds in the early 2000s. Ekkebus said the pair played 46 consecutive months until they suddenly couldn't find a course open for play so their streak died. But, he said, after missing that one month they picked up again and played 47 consecutive months more, for a cumulative score of 93 months out of 94.
So pending other streak reports the Dresens' 48 is the leader in the clubhouse.
P.S. 2  The governor's order to close non-essential businesses to fight the spread of the coronavirus makes the future iffy for golf courses. And, of course, for golfers trying to keep a streak going. The order is scheduled to remain in effect until April 24 – leaving time to get in an April round at the end of the month – but who knows. 
"We are hoping we can still keep the streak going," Scott Dresen said.