When hopes for the 2020 Ryder Cup at Whistling Straits faded through the spring and summer, much of the tournament's to-do list disappeared as well.
The captains' picks were put on hold, bleachers were never erected, the surge of business that had so enticed hotels, restaurants and other merchants never materialized.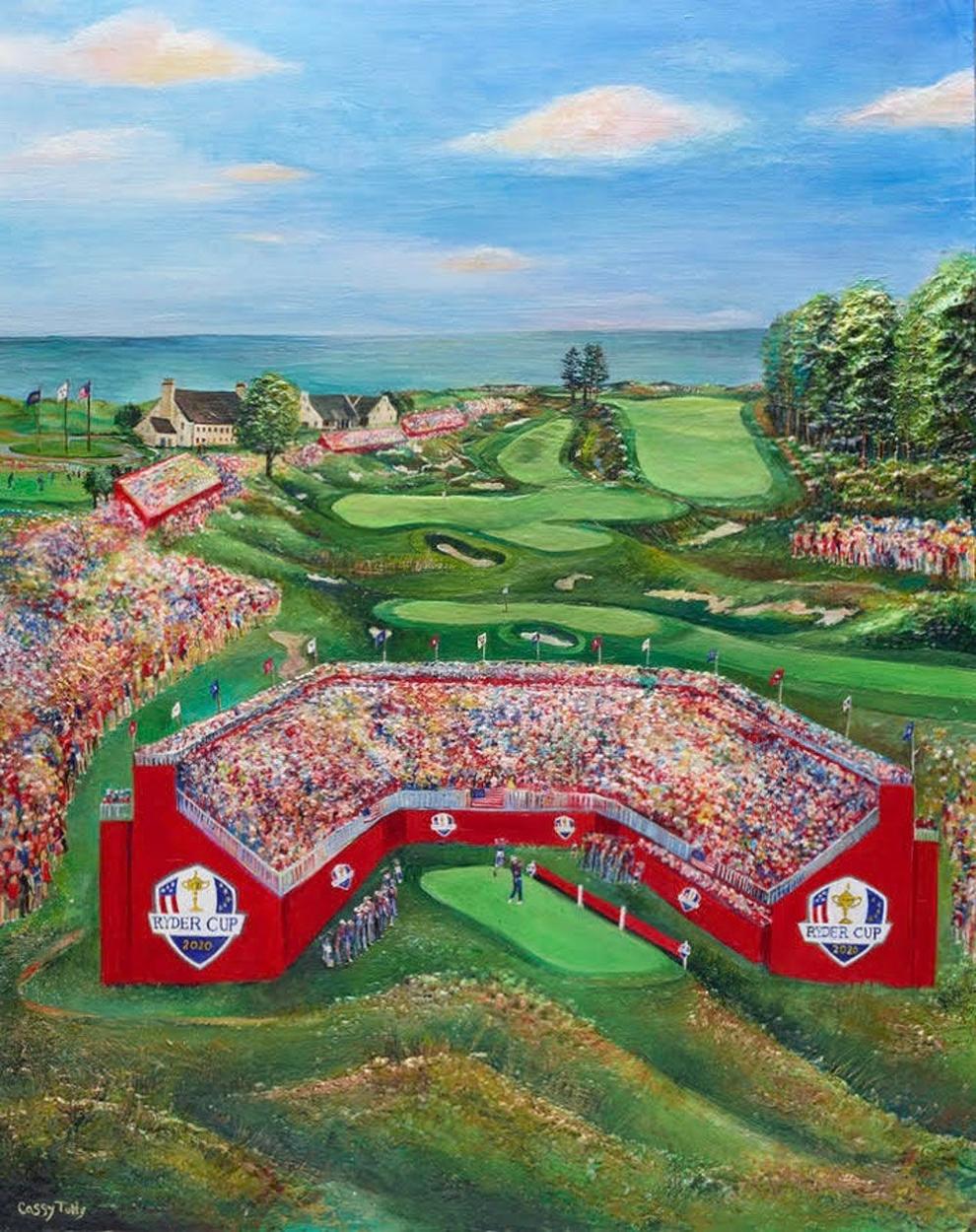 But one accomplishment was beautifully realized. In the midst of stay-at-home orders due to the coronavirus, Milwaukee artist Cassy Tully labored on in her Third Ward studio and finished her official Ryder Cup 2020 painting that she says captures both "the energy of the event and the iconic character of Whistling Straits."
For now that energy will have to be imagined, and Tully will have to wait another year to sit in the Ryder Cup merchandise tent to sign and personalize posters of her work for golf fans who want something more than a shirt or hat to serve as a souvenir. But when the first shot is fired in 2021 the scene will likely be much as depicted in Tully's painting, where a sea of fans surround the first tee, Lake Michigan shimmering in the background behind the ninth and 18th holes, U.S. and European teams lined up on either side and a golfer whose swing looks very much like that of American captain Steve Stricker gets play underway.
Tully, of course, knows that as captain Stricker won't actually be on the tee, but she thought it only appropriate to use him as her model.
"I did, I actually looked at his swing. Well, in my mind, but I probably shouldn't place too much emphasis on that because he's got a really great swing. I mean, I don't want to offend him with my artistry."
There's little chance of that. If the original painting someday hangs on a wall at Whistling Straits, as Tully hopes, he'll be more immortalized than offended.
A New Berlin native who earned a degree in fine arts from the University of Wisconsin, Tully, 36, favors a relief-painting technique for her work, in this case using acrylic gel mediums and sand from the golf course to, as she put it, manipulate paint like clay, adding to the level of relief and illusion of perspective. And while she always saw herself as someday creating art at the highest level, the fact that golf is such a big part of it came about quite by accident.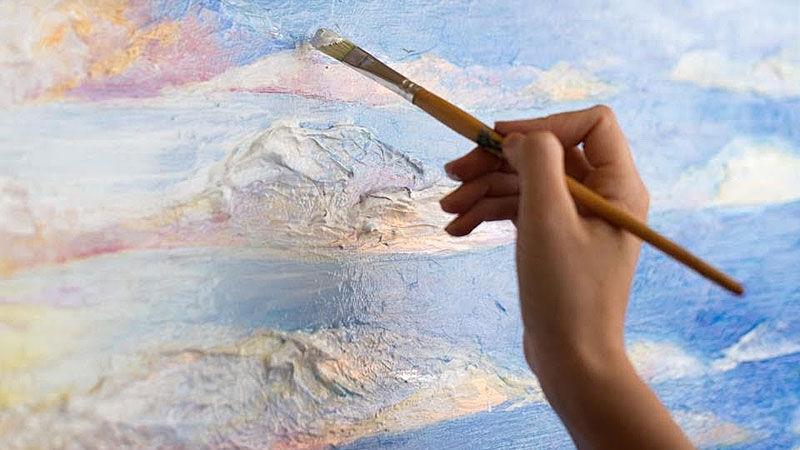 After finishing college, Tully had a studio in Plymouth, not far from the golf courses at Kohler, where she was known for using vibrant colors in her landscape paintings. One day a customer saw a soft Scottish landscape that reminded her of Whistling Straits, which was her husband's favorite place in the world.
"You need to go out there and paint that for my husband for Christmas," the woman said, and so Tully did. At the golf course, when a maintenance worker took her to the 17th hole at sunrise, which was not her favorite hour of the day, there was a revelation.
"It was just the most magical experience of my life," she says now of that brilliant sunrise, crediting designer Pete Dye for being something of a muse. "And especially because I paint in such a sculptural technique … every inch of that course is a composition waiting to be painted."
After doing similar commissioned pieces for other clients, Tully approached Kohler Company in hopes of forming a partnership. Eventually that happened, and Tully's career as a creator of major championship tournament paintings was underway. In addition to painting Kohler golf courses and properties like the American Club, she was selected to do the official painting for the U.S. Women's Open in 2012. She also did paintings of the 2015 PGA Championship at Whistling Straits and has done official paintings for BMW Championships and other events.
Her first exposure to international competition came when she served as an assistant to the legendary LeRoy Neiman when the Ryder Cup was contested at Medinah Country Club, which she now sees as "a formative experience. It was when my dream was realized."
By that time, she said, "I was completely in. I was ready to be a championship artist at that point. It's everything. It's the sport, it's the lifestyle (and) the chance to paint those masterpieces on a grand scale. What would be better than that?"
Well, maybe getting selected to create the official 2020 Ryder Cup championship painting, something Tully calls "a milestone in my career." She learned of the honor in 2016, so she went to the Cup when it was played at Hazeltine National Golf Club in Minnesota to soak up the experience and began working with the PGA of America to begin imagining what the painting should reflect.
"I've been painting Whistling Straits now for a decade," she said, but at the PGA's suggestion she settled on the scene at the first tee on the opening day of play. She knew she would need a player teeing off, and she used aerial images to get a wider view of the landscape upon which the course was built, including the clubhouse and Lake Michigan setting.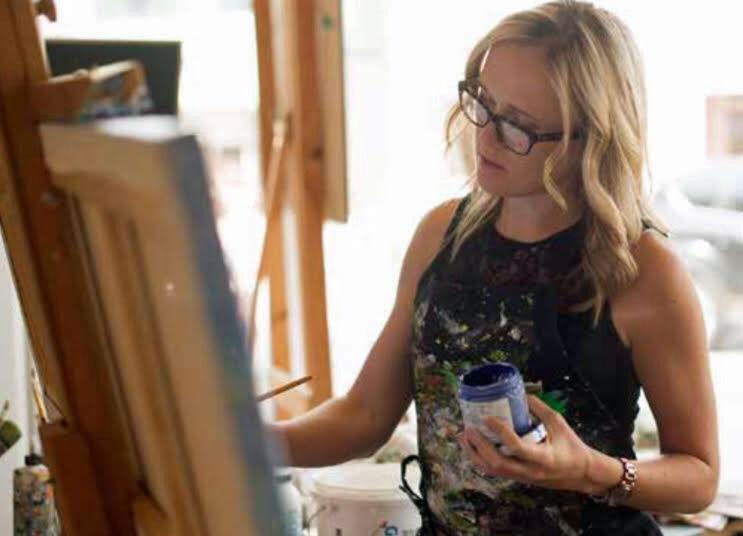 "It's no easy scene to create," she said, "(but) it has it all. I'd like to say I just woke up and there it was but it was a lot of work."
It was almost completed when the coronavirus upended life as we know it and threw the future of the tournament into limbo. That was a challenge for the creative process, of course, but being in lockdown mode in the spring left time to work in the studio she shares with Bella, her Cavalier King Charles Spaniel who, as an artist's dog should, has his own calendar.
"I don't think I ever got blocks from the painting but when the world stopped I still had to finish this painting that was a scene of, what would you say, 50,000 people? That was when I put brush to canvas and finished it."
Tully knows the decision to postpone the Ryder Cup was the correct one, disappointing as it was for so many. "Nobody wanted a Ryder Cup without fans, and I didn't either," she said.
"I guess knowing what I know in golf and working with the Kohler Company through the years and the PGA, I've really learned to trust the decision-makers. I'd seen it coming, which was crazy because I still hadn't finished the painting. Was I disappointed? I'd been looking forward to this piece since I started my career as a championship artist.
"It hasn't been canceled, it's only postponed. If it had been canceled I might have been devastated," she said. "Was I a little cranky pants? Yes."
But now that the work is done and the future at least a little bit clear, she is again excited about being at Whistling Straits in 2021.
"Maybe (the scene) will end up looking a little different than my painting … but we're going to get there and when we do it's going to be an amazing event and people will want to bring home a poster. All going well, I'll be there signing posters and personalizing them. I don't know what it will look like post-pandemic. If they have to put me in a hazmat suit I will."