Wisconsin's centerfold golf courses, those celebrated layouts that host major tournaments and draw golfers from across the land, get a lot of attention, for good reason. But this state is blessed with many more deserving golf destinations any state golfer would enjoy experiencing. In this ongoing series we call "Hidden Gems," we will highlight some of those courses on what might be viewed as a Badger bucket list.
MENOMONIE — There is a temptation to study the scorecard for Tanglewood Greens Golf Course and start to salivate over the prospects for overpowering the relatively shortish layout.
That would be a mistake.
While the numbers on the card don't match those of the state's longest and most brutish golf courses, the challenges at Tanglewood Greens — lots of trees, serious elevation changes, greens with plenty of speed and devilish slopes — are many and imposing.
Asked how he would describe the course to someone playing for the first time, head pro Jim Maguire said, "It's always a difficult thing to answer.
"You would think by looking at the scorecard that it's not too difficult because it's under 6,000 yards" from the white tees, he said. "(But) it's just a challenging golf course. I don't think there's a bigger challenge under 6,000 yards" in Wisconsin.
After my first round at Tanglewood Greens left me with an unexpectedly big number for a score, I am persuaded to agree.
But on a gorgeous summer day, my wife and I were happy to ignore the final number and just enjoy the experience of playing a new and entertaining golf course in a most scenic setting.
About that name: Tanglewood Greens has come full circle.
It opened in 1976 as a nine-hold layout called Tanglewood, but a few years — and a few ownership changes — later, the name was changed to Rainbow Ridge. In 1995, as the course was being expanded to 18 holes, the name was changed again, this time to Chippewa Valley Golf Club.
And about three years ago, when the course was sold to a new owner, Menomonie business owner Raj Lall, the name reverted back to the original Tanglewood Greens.
The name fits. More than half of the 18 holes wind through heavy stands of trees, including the par-5 first hole, a 530-yard wake-up call that eventually leads downhill to a green surrounded by woods. And, yes, even though a number of trees had been removed on the corner to improve playability, I tangled with them.
It was not the only manly test on the course. The par-5 seventh hole can stretch 600 yards from the blue tees — 554 from the whites — and the par-5 finishing hole may run downhill all the way but it is still as much a test as that opening hole.
Still, not all challenges came on long, burly holes.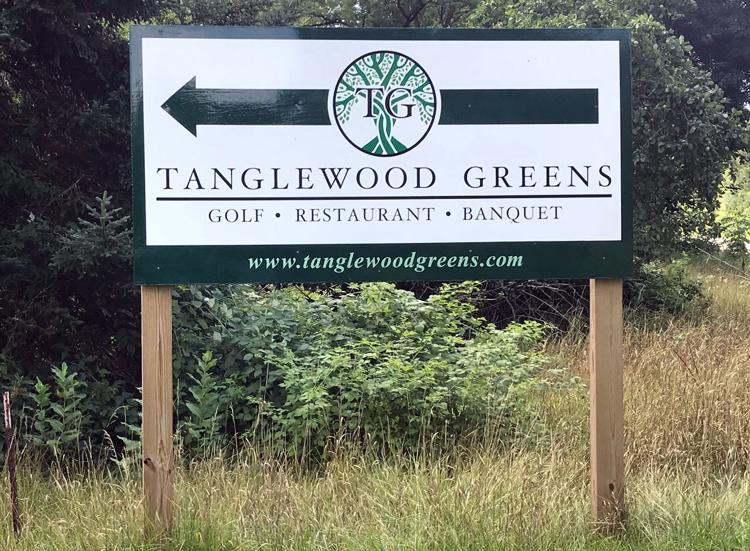 "No. 8 is probably the most challenging hole you'll play," Maguire said, referring to a par-3 that is just 125 yards from the blue tees but has a most problematic putting surface.
"They call it the shortest par-4 in the state," he said. "If you make a three there that's really good, because you can make anything from a six to a two, really."
In fact, we did have one par in our group. And not by me.
The course is located in a country setting just outside of Menomonie, which is home to the UW-Stout Golf Enterprise Management program. Tanglewood hosts events for both men's and women's golf teams from UW-Stout, and while Maguire said there is no contractual agreement at this time he would welcome more interactions with the program, which includes instruction in everything from turf management to golf course operations.
Proximity to the school helps in other ways, he said. While some business comes from the Twin Cities, most of the play is from Dunn County — including enough from the Stout campus that Maguire challenges the oft-expressed view that young people don't play golf.
"We're not a destination town, as hard as they try," Maguire said. "We're a college town (and) in the springtime there's days when 75 percent of our play is from the university. I can't believe how many college kids play golf."
To further subsidize the golf operation, Tanglewood Greens recently erected an event center with seating for 300 for weddings, corporate events and other gatherings. The center shares the same expansive view of the countryside as the clubhouse, which includes a restaurant and tap room with full bar.
The course has a driving range, large practice green and practice bunkers, along with a small pro shop.
But more than all that there is the golf course, described on the Tanglewood Greens website as "187 acres of old forest charm and compelling terrain with dramatic elevation changes between tees and greens."
Watch for deer, which may be more plentiful than birdies. But sometimes that's just fine.