I've written in the past about how often golf gets mentioned in obituaries, which is testament to the importance so many of us attach to the game.
Even so, the mention in the recent death notice for Don Thompson of Franklin stood out. The obituary told that Don passed on December 17 at age 96 and that he had been married to his wife, Mary, for 72 years. He was further survived by three children, Joan, Jan and Jim, three grandchildren, seven great-grandchildren and many relatives and friends.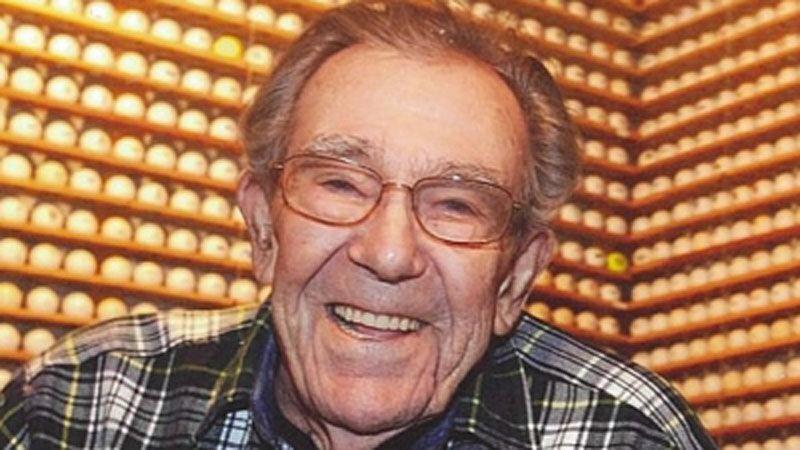 Also, by 17,000 logo golf balls.
You read that correctly. "Proud collector," the obit said, "of more than 17,000 logo golf balls."
The collection, his son Jim said later, "is basically three basement walls covered with golf balls."
It started, as these things tend to do, with one. More than 30 years ago, Don was playing golf when a member of his foursome hit an errant shot. While looking for that ball Don found another ball labeled Curtiss Baby Ruth, 50th anniversary. Don thought a golf ball that celebrated a candy bar's birthday was pretty interesting, so he took it home.
One of something, of course, is not a collection, but soon Don started picking up other logo balls and in short order had a dandy collection. Friends or fellow players who knew of his new hobby would sometimes give him logo balls and Jim gave him some when he came across balls he thought his dad would like but "mainly he found them," Jim said.
Don was probably an average player and could sometimes score in the high 80s, Jim said, but keeping score wasn't all that interested him on the course.
"He would play the game seriously but if he would lose one he would go looking," Jim said. Later Don started going out to courses near his home in the evening to walk the woods or rough and prospect for more logo balls. His wife's only request was that he let her know where he was going so if he didn't return they would know where to look for him. After a golf course not far from his home closed nine holes, he could fill buckets with lost balls that were heaved up like mushrooms when frost hit in the fall.
When his growing collection sometimes made local news Don would admit to having been chased off a course or two but in the logo ball game there's risk as well as reward. A collection like his needed to be displayed so he and Jim began making racks on which to mount his treasures, logo always facing out.
"I cut the plywood for them and he drilled the holes," Jim said, and when the three basement walls in his condo were covered floor to ceiling, other racks were attached to the joists. Don kept a list on his computer of every ball that he kept, which allowed him to keep track of how many Coca Cola logo balls he had (16, all slightly different) or how many logos represented sports teams or Disney characters or beer and soda brands. There was even a Christmas ball that read "Bah Humball."
Jim said his father played golf as long as he could before mobility issues prevented him from going out. In his early 90s, he went to Deer Haven Golf Club in New Berlin to say goodbye to the game.
"He wanted to play one more hole," Jim said. "There was a par three. That would be his last one."
The collection now passes to Jim, who admits he has no idea what he will do with 17,000 logo golf balls. He's contacted a local range to see if there is any interest in taking them on but hasn't heard back yet. He only knows that at some point he'll have to get them out of the basement of his mother's condo and that when he does he's not moving 17,000 logo golf balls into his own basement.
"The only ball I'm interested in is the first one he found," Jim said, "because that's what started it."