You can't schedule a hole-in-one.
It would be nice if you could. Most of us would pencil one in for tomorrow. But getting golf's ultimate job done in one swing is unpredictable, random and so, so elusive that many golfers never even sniff such sweet success.
But if you could plan the perfect moment, it might be just like it was for Dave "Doc" Allesee of Waterford.
(A word about that name. If you ever meet him on the golf course and you have a toothache, don't expect Doc to help you out. A native of Indiana, Allesee moved to Wisconsin for a career in the orthodontic laboratory industry, which prompted many to assume he was a dentist. "I kept telling people, we make retainers (but) it just stuck. After a couple years of everybody calling me Doc I just let 'em.")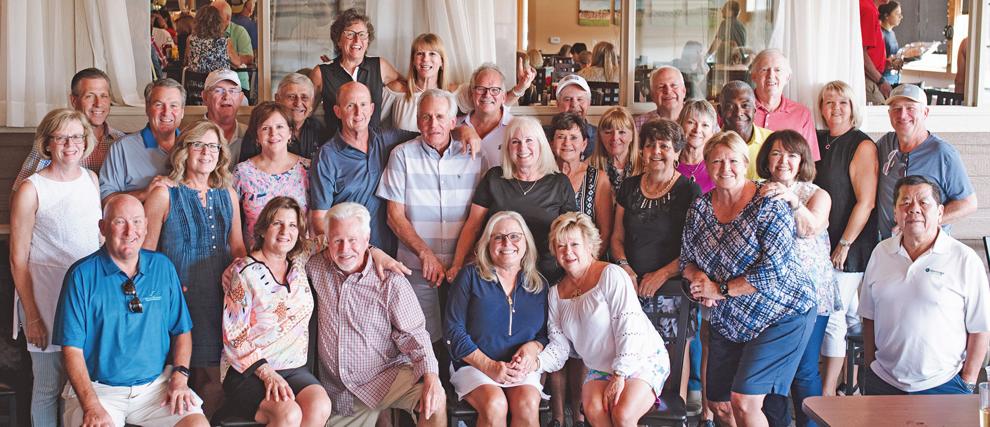 Last month, Allesee planned a big blowout to celebrate his 70th birthday. He sent invitations to old friends from Indiana and to relatives as well, and eventually the celebrants numbered about 40, including about 15 couples who are members of The Club at Olde Cypress in Naples, Fla., where he and his wife, Shirley, have a winter home.
They arrived in Wisconsin on a Friday night and began the party on Saturday at Doc's on the Fox, a bar and restaurant Allesee and his family operate on the Fox River in Waterford, and on Sunday moved the celebration to Lake Geneva for three days of golf.
Those were events anyone could have scheduled. The bonus, which you've surely guessed by now, was most unexpected. Allesee's group was playing at Hawk's View Golf Club, owned by his friends Dan and Sue Daniels, when he grabbed a rescue club on the tee of the 150-yard, par-3 sixth hole. He hit his shot to the far right corner but because of undulations around the green couldn't see what happened next. You can't always schedule a view, either.
But Allesee could see the beverage cart attendant waiting near the green who intently watched the shot and suddenly raised her arms as if to signal a touchdown. That was a pretty good hint that Allesee was going to like the outcome, and he did. So, obviously, did his playing partners, including his wife and good friends Bob Ehrhardt and Gayle Pitrone of Naples.
As someone who had played golf for a lifetime, he's certainly always wanted to get a hole-in-one. Who wouldn't? For a golfer, it's something of a pinnacle, he thought.
"I've been playing golf for almost 50 years. I've come close but never (got one)," he said. "I've been with folks who have had them … actually, a couple of them have had two of them.
"To have one of my own on my 70th birthday with one of my best friends there, that was very special. (It was) a great gathering of friends and family. The big deal for me is we were all celebrating (my birthday) and to cap it off with a hole-in-one was special.
"It was a great way to celebrate the big 7-0. It was a pretty special day."
His Florida friends probably appreciated the accomplishment for making their trip even more memorable, but of course a hole-in-one 70th birthday definitely raises the bar. Allesee will turn 71 next spring. How is he going to top this one?