KAPALUA, Hawaii – The Sentry Tournament of Champions had a launch monitor set up on the 18th tee of the Plantation Course at Kapalua during the Wednesday pro-am. The unintended consequence was embarrassing those of us for whom "swing speed" is an oxymoron.
I swung out of my shoes and TrackMan spit out the numbers. My clubhead speed was 87 mph. My booming tee shot traveled 217.2 yards. Surely, there was a glitch in the computer.
"My wife," Graeme McDowell joked, "hits me harder than that."
Hardy-har-har.
I had the pleasure of playing in the Sentry Tournament of Champions pro-am with McDowell, who, pointed barbs aside, is a terrific guy. Sentry Insurance graciously extended me an invitation to play in the pro-am and cover the winners-only tournament, and I couldn't say yes fast enough. Ten days on Maui? When you die and go to heaven, the scenery and weather might be better, but not by much.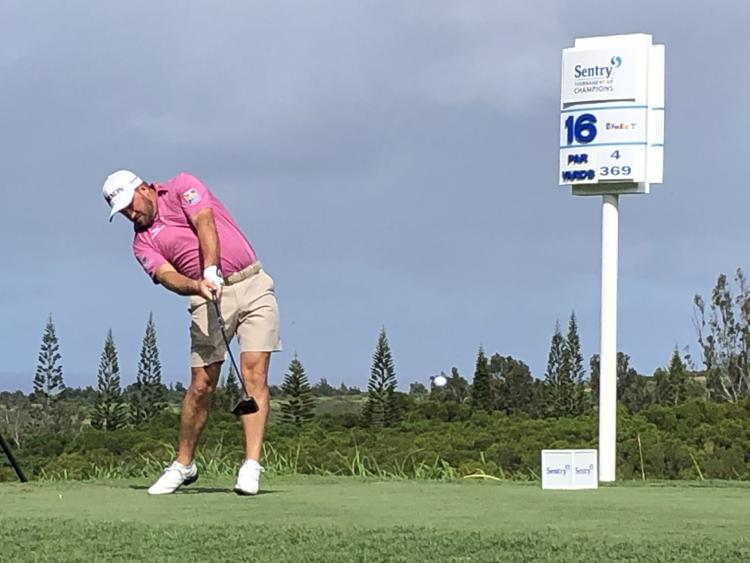 Rounding out our foursome Wednesday were Stephanie Smith, vice president of marketing and brand management for Sentry, and former major-leaguer Shane Victorino, who helped break Brewers' fans hearts as a member of the 2008 World Series champion Philadelphia Phillies.
We picked McDowell, of Northern Ireland, in the pro-am draw Tuesday night, partly because of his reputation as a member of the PGA Tour's all-nice-guy first team. If you're going to be emasculated by a U.S. Open champion, G-Mac is your guy.
One low ball counted toward our pro-am team score and given that our handicap indices were 9.2 (Victorino), 11.5 (yours truly) and 30 (Smith), we were going to be leaning heavily on McDowell. After watching me toe-hook my tee shot and Victorino hit a foul ball on our first hole, No. 10, he said, "Let's have some fun today."
That was code for, "We have a snowball's chance on Maui of winning this thing."
For McDowell, the pro-am was a chance to work on a couple of swing tweaks he's made under new coach Kevin Kirk and to get up to speed on changes that have been made to the Plantation Course. He helped us read putts and, in my case, gave me yardages to the pin because I forgot my rangefinder.
Victorino, a native Hawaiian – his father, Michael Victorino, is the mayor of Maui County – played for five teams over 12 years in the bigs. A speedy outfielder, he won four Gold Gloves, batted .275 with 108 home runs, stole 231 bases and twice led the National League in triples.
His power and athleticism translated nicely to golf – a couple of his drives topped 300 yards – but he hit it so far offline on occasion that somewhere in the Pailolo Channel between Maui and Molokai, a Titleist may be plugging a whale's blowhole.
I'm proud to say I kinda sorta played out of my mind. I hit it inside McDowell on the 161-yard 11th hole and on the 366-yard 12th (though he played the latter from 424), but I missed both birdie putts. On the 383-yard 13th, which played into a 25 mph wind, I hit a 3-wood onto the green and, after McDowell gave me the read, I rolled in the 25-foot birdie putt for a net eagle.
After we made the turn, I made another net eagle on the 382-yard fourth when my 15-foot birdie putt crept up to the front edge and toppled into the hole.
"Gary's our horse today," McDowell said.
Yes, but there's a big difference between Secretariat and Mr. Ed.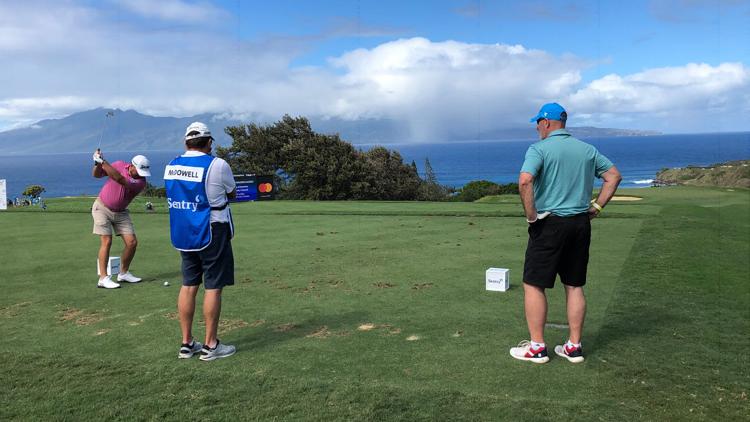 Toward the end of the round, I rode in McDowell's cart for a couple holes and we chatted about the 2020 Ryder Cup, Whistling Straits and Europe's team captain, Padraig Harrington, one of McDowell's best friends.
I asked him for a funny pro-am story and he gave me a good one: in one tournament, the pro could hit one shot for every amateur in his group; McDowell picked a par-3 for one guy and made a hole-in-one. He later found the amateur in the bar, buying drinks and bragging about the ace he'd made.
"I've played in many pro-ams where you get a guy who just can't get it airborne and you try so hard to get him to hit a shot," he said. "Then you get guys who want to come back and hit from our tees. That guy shows up from time to time. Then you get the guy who wants to give you s---: 'You've only made two birdies today. What are you doing?' I just say, 'It's Wednesday. I like to save them.' "
I asked him for an honest assessment of my game and, of course, he lied.
"Hey, I mean, listen, you hit the ball very nicely today," he said. "This is a very tricky golf course and you made two natural birdies. Thirteen is probably one of the toughest holes on the course. That was a fantastic birdie. And then No. 4, also a great birdie on this course. You played very nicely."
I asked him for one tip and he laughed and said, "You've got to ask for a Bushnell for Christmas so you know what your yardages are."
The round lasted five hours but flew by, another oxymoron. We didn't come close to winning. I'm sure McDowell was at least semi-glad when it was over, but I had a blast.
On our final hole, No. 9, another TrackMan was set up. Determined to put up more respectable launch numbers than I had on No. 18, I swung so hard I nearly corkscrewed myself into the Celebration Bermuda turf.
88.8 mph.
Now that's more like it.