BEAVER DAM – Destination golf has exploded in Wisconsin over the last three decades, with a lineage that includes the acclaimed Kohler Co. properties, Erin Hills and the still-growing Sand Valley Resort.
D'Time with Gary D'Amato: Rating Old Hickory CC-Beaver Dam
| Category | Grade |
| --- | --- |
| Overall course conditions: | 8.5 |
| Quality of greens: | 9 |
| Aesthetics: | 9 |
| Playability: | 8 |
| Variety of holes: | 8.5 |
| Service: | 8.5 |
| Value: | 9 |
| Total: | 60.5 |
| | |
It's important to note, however, that top-notch public and semiprivate golf facilities in our state pre-date by decades Blackwolf Run, which opened in 1988. One such course is Old Hickory Golf Club, which traces its history to 1920, when prolific Scottish architect Tom Bendelow laid out the first nine holes on what would eventually become a popular 18-hole facility.
I played Old Hickory recently for the first time since 1994 and wondered why it had taken me 25 years to get back.
The course has a lot going for it, starting with rolling terrain left behind by the same glacier that formed Erin Hills and many other courses in southeastern Wisconsin. The semiprivate facility serves Beaver Dam (pop. 16,369) but is centrally located between Madison, Milwaukee and the Fox Cities. And with rates of $31 walking weekdays (topping out at $61 weekends with cart), Old Hickory is reasonably priced.
It's also a strong enough test that it is one of a handful of courses open to the public that has played host to the State Amateur. Ben Bendtsen III won here in 2008.
The day I visited, Mark Bergman, who bought Old Hickory in 2014, said he'd sold the course to a couple from Richfield and would be the owner for only a few more days.
"I really feel it's going to be good for the members," Bergman said. "They want to build upon what I started here."
Like many courses of its vintage, Old Hickory was fundamentally changed by an aggressive tree-planting program in the 1950s. You know what happens to small trees: they grow, and eventually change the way holes are intended by the architect to be played. One of Bergman's projects during his six years of ownership was to thin the forest a bit.
"I've taken out about 200," he said.
Still, Old Hickory is defined by its tree-lined fairways, which puts a premium on ball placement off the tee on some of the longer holes. On the par-4 second, for instance, a seemingly good drive down the left side of the fairway results in a blocked approach to the green, thanks to a solo tree. That one tree dictates the way the hole must be played and makes it a much more difficult par.
Those who complain about a tree in the fairway should just aim right. In that regard, the tree is not unlike a greenside bunker. You don't want to hit it in the bunker, but sometimes you do and then you have to take your medicine.
In the 25 rounds I've played in Wisconsin this year, I have yet to come across a set of greens that were in poor shape or didn't roll well, a nod to the skill and pride of our state's superintendents and their staffs. That's true at Old Hickory, where the greens were smooth and true.
As is the case at most courses, you don't want to be above the hole. I had one downhill 15-footer that I gently tapped … and then watched helplessly as the ball picked up speed, burned the edge and rolled another 10 feet down the hill.
At 6,727 yards from the back tees, Old Hickory is all the course you'd ever want. We played it from the white tees and at 6,433 yards it was plenty tough. But there are three more options moving forward, plus hybrid white-silver and silver-yellow tees that fill yardage gaps and help make the course enjoyable for golfers of all skill levels.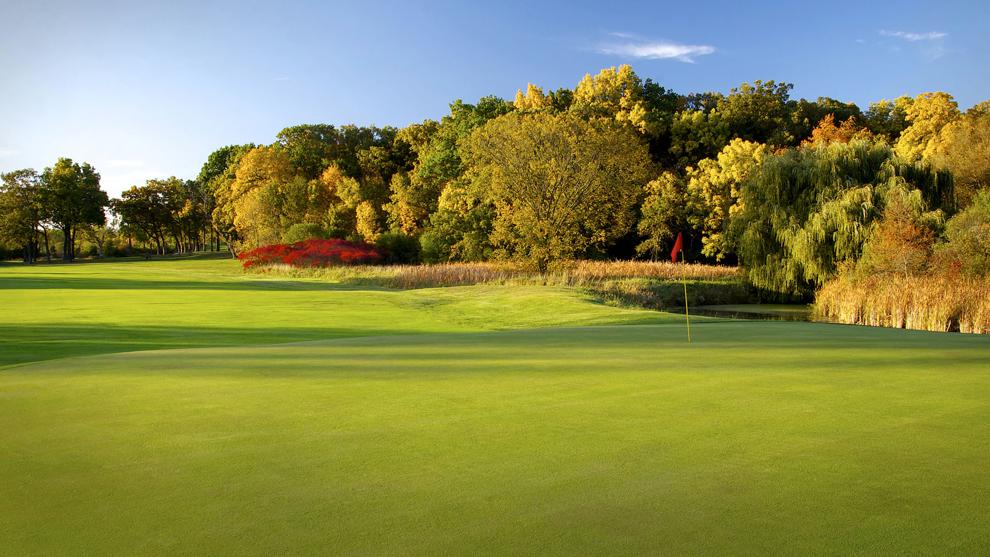 Roger Maltbie, the former PGA Tour professional and NBC Sports analyst, played Old Hickory and his endorsement is found on course promo leaflets: "Rolling countryside, rolling greens and some of the best par-4s you'll find anywhere! But what I like best about Old Hickory is that it is fun! Isn't that what golf is supposed to be?"
The best few weeks to play Old Hickory are right around the corner. The place looks fabulous when the leaves start to change color.