Over the 27 consecutive years I covered the Masters Tournament (1993-2019), I came to regard the week not as a work assignment but as a privilege afforded very few people. There is no better time and place in sports, in my opinion, than the first full week of April in Augusta, Ga.
Nobody had to tell me I was lucky, though plenty did. So now that my Masters streak is ending – the rescheduled tournament will have a greatly reduced media presence this week because of COVID-19 – I have no right to complain. I saw Tiger Woods win his five titles. I saw Jack Nicklaus, at 58, make one final run. I walked Augusta National at least 100 times over the years and four times stood trembling on the first tee, a winner in the Monday media lottery to play the course.
I saw all the shots you saw on TV – Phil Mickelson's slash from the pine straw, Bubba Watson's wedge from the trees on No. 10, Tiger's chip-in on 16 – and many you didn't. Once, I was standing to the right of the second fairway when Rory Sabbatini sliced his drive into jail in the pines. I thought it was a sure pitch-out, but he proceeded to rip a low, line-drive 2-iron through an impossibly small gap. Marvelous. I was standing 20 feet from Nicklaus during the final round in '98 when he chipped in on No. 3, turned to the gallery and shrugged. Goosebumps.
On Tuesday in 1996, after finishing my stories for the day, I walked up the hill to the first tee and looked out on the course. It was well past 7 p.m. and the patrons were long gone. I stood there for perhaps five minutes, alone with my thoughts, until I felt a presence to my left, turned and saw Woods, in a suit and tie. He'd just sauntered out of the annual dinner for amateurs to do exactly what I was doing – admiring Augusta National in all its glory, in silence, at twilight's last gleaming. We nodded to one another. No words were spoken. None were needed.
I'll take those experiences to my grave. This column, then, is not a 1,200-word whine about the end of my streak. That would be embarrassing, given my undeserved good fortune and all that is going on in the world. Instead, it's simply a nod to 10 things I'll miss about a most unusual patron-less Masters in November.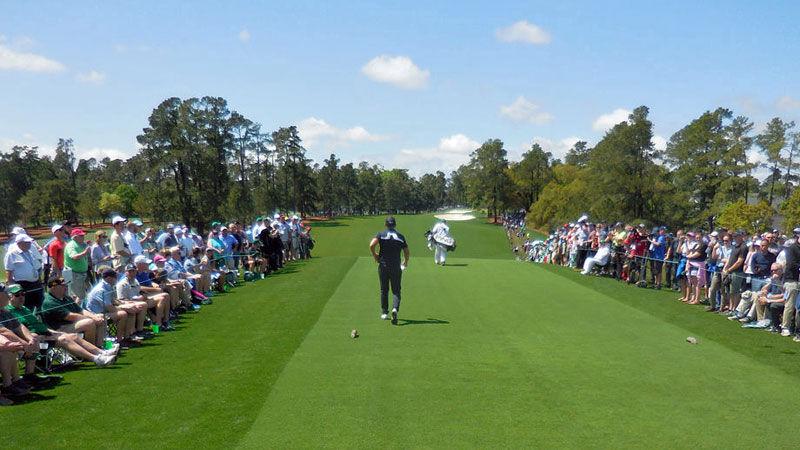 The first tee: Just steps from the practice green, the No. 1 tee box is where nerves go to fray. Once, just minutes before his tee time, a panicked Steve Stricker looked at me and said, "Where's Nikki?" As he'd stroked his final practice putts, his wife and caddie had left him and was waiting on the tee, but he couldn't see her through the jumble of people. I pointed to the tee, and the patrons parted to let him through. A few minutes later, the announcer hushed the crowd's murmur with the timeless introduction: "Fore please, Steve Stricker now driving." So cool.
The honorary starters: When I first started covering the Masters, Sam Snead, Byron Nelson and Gene Sarazen had the honor of hitting the tournament's opening ceremonial tee shots. They're all gone now. Then it was Arnold Palmer, joined later by Nicklaus and Gary Player. Arnie is gone now. So, on Thursday, it will be Nicklaus and Player. And someday, it will be Tiger and Phil. There's no other event in sports that more gracefully honors its past champions.
Amen Corner: No explanation necessary.
Walking onto the course for the first time: The splashes of blooming azaleas … the understated elegance of the iconic clubhouse … the manicured turf, soft as plush carpet and greener than your imagination's brightest green … the early morning sunlight filtering through the pines … the golfers, with taut smiles on their game faces, warming up on the range. All if it, overwhelming your senses.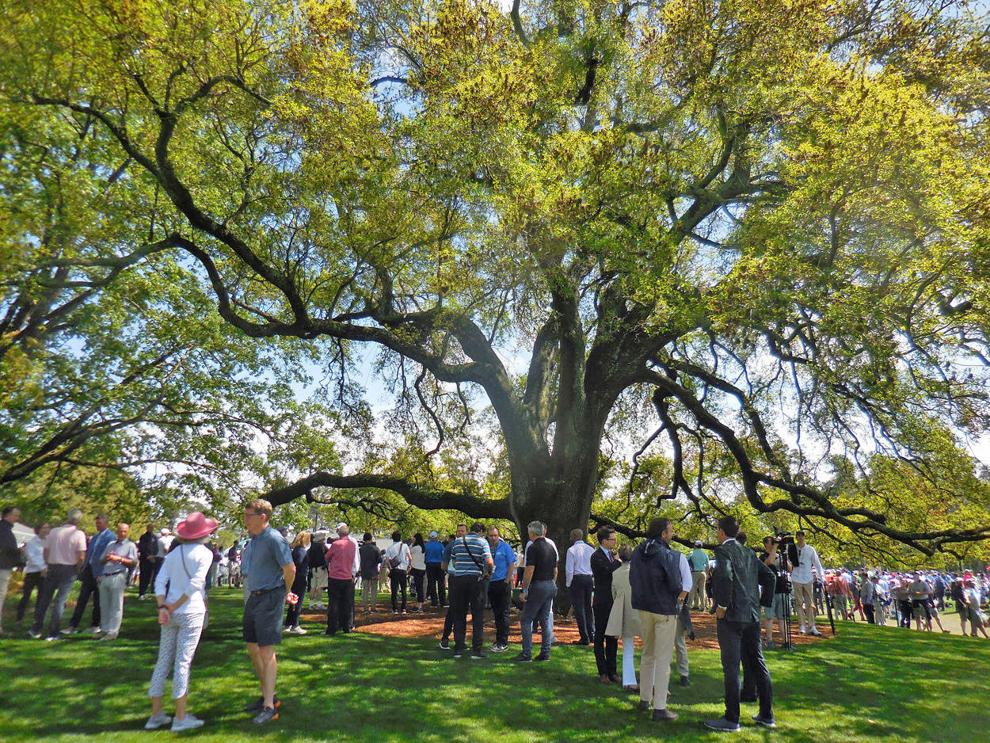 The big oak: On the course side of the clubhouse, an ancient spreading oak, its heavy limbs supported by wire cables, serves as an informal meeting place and social hub for players, green-jacketed members, reporters looking for a good note and various A- and B-list celebrities. Among those I've spotted: Jack Nicholson, Jim Caviezel and the late Walter Cronkite. Once, I was interviewing Stricker under the oak when a deafening, sustained roar rumbled up the hill from the vicinity of the second green. "That's a double-eagle on two," Stricker said. He was right. Louis Oosthuizen.
My favorite vantage point: High on the hill where the second fairway doglegs sharply to the left and tumbles downhill, you can watch players hit their second shots into the green and putt out, then turn and walk 50 yards to the third green, which is adjacent to the tee on the par-3 fourth. Is there a better vantage point in championship golf? If so, it's the grandstand behind the 12th tee.
Thursday with Jack and Gary: After they've bunted their ceremonial drives on No. 1, Nicklaus and Player retreat to the "press building" for an interview session that sometimes stretches past an hour. Listening to these two giants needle each other, reminisce about their heydays and answer questions with thoughtful, drawn-out responses is one of the highlights of the week. But, boy, do I miss Arnie.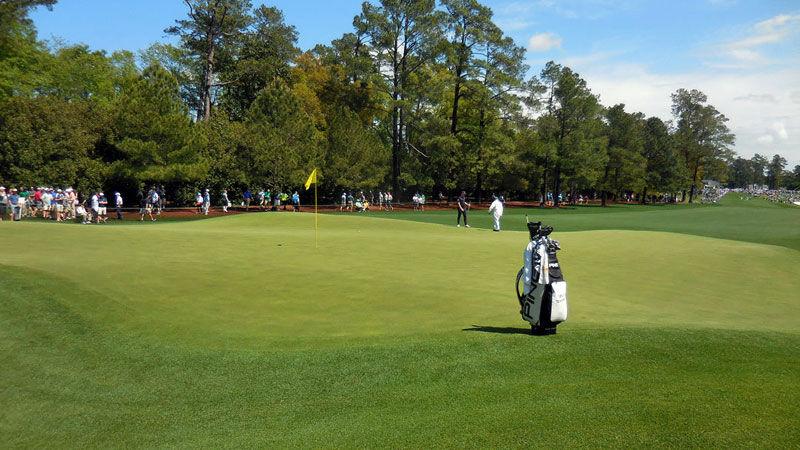 The No. 1 green: Everyone knows about the tricky shots around Amen Corner, the rollercoaster green on No. 14 and the risk-reward second shots on Nos. 13 and 15. But I could stand behind the diabolical first green all day. With its humps, swales, ridges and ridiculously difficult hole locations, it's 10,000 square feet of terror. I once saw Woods putt his ball completely off the green when the pin was on the back-left shelf … and then chip in for par. Ernie Els six-putted to start his opening round a few years ago. Welcome to the Masters.
The $6.50 lunch: It's a tradition unlike any other. Every year, without fail, I make a beeline for the concession stand off the second fairway and indulge in a Masters BBQ sandwich, Masters cheese crackers and a Diet Soda (has to be Coca-Cola, though there's no advertising allowed on the grounds). Grand total: $6.50, and I get to keep the souvenir cup. At the Super Bowl, it would be about $35.
The Press Building: Talk about spoiled sports(writers). The newest iteration of the press building, which opened in 2017, is a virtual palace for media schlubs. There's a well-stocked concession stand (free), a sit-down restaurant (no charge), a media workroom second to none in sports and a chapel-like interview room in which cell phones are barred and microphones at every seat are voice-activated. Every media member gets a work space with two monitors – one with live TV feeds and channels dedicated to each of the 18 holes, the other featuring a live leaderboard, hole-by-hole stats and player bios. Everything you need is at your fingertips. Why would you go out onto the course?
Better question: Why wouldn't you?
It's Augusta National, after all.
Hopefully, we'll have a normal 2021 Masters Tournament in April, or something close to it … and I can start a new streak.