APPLETON – Bob Burns enters his golf shop on a mobility scooter, his dog Hogan padding ahead of him. The door locks behind him. The lights are off. The parking lot is empty. There's not a soul on the driving range. The police, in fact, have swung by a few times to make sure Burns is complying with Gov. Tony Evers' order closing non-essential businesses, extended now to May 26.
Normally, April and May are busy months at Bob Burns Golf. People are itching to hit balls on the range, to get their clubs re-gripped, to purchase the newest equipment, to sign up for lessons.
This year, as we all know, is not normal. Burns owns a stand-alone driving range, one of thousands of businesses statewide shuttered by the coronavirus pandemic. Golf courses opened Friday and motorized carts are allowed starting Wednesday, but driving ranges must remain closed.
Burns is beyond frustrated.
"What's the difference?" he says. "I can put the buckets of balls out there. They can put money in a box or they can call me with their credit card. No contact. We bleach the balls. The balls are (sterilized). They could just help themselves. They could be far enough apart. This is the safest place that you could come with your kids. I don't get it."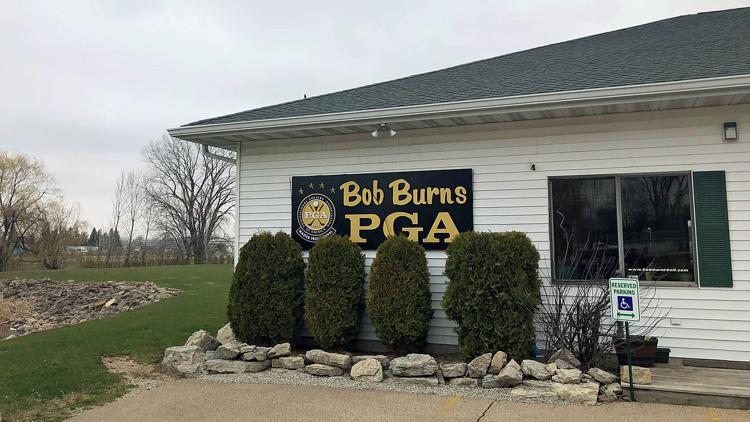 Few people have done more to promote golf in Wisconsin than Burns. He has given hundreds of lessons to disabled veterans and others with disabilities, free of charge. He tears up when he shows a video of a woman he helped – no arms or legs, four prostheses – swing a golf club for the first time. He's working on a book of case studies to help fellow PGA professionals teach people with disabilities.
Burns, 72, is one of about 200 Master professionals out of some 29,000 members of the PGA of America. A master club builder, his No Bananas driver once made Golf Digest's Hot List. Burns and his son Robbie have made clubs for Bob Hope, Joe Montana, Chris Farley and Mike Ditka. He's given lessons to Tony Kubek, Ernie Banks and Mike McCarthy. He was the Wisconsin PGA Teacher of the Year in 2007, the Patrick Henry Award winner in 2014, the Patriot Award winner in 2019.
All the high school golf teams in the Appleton area have utilized his range. He's never charged for the use of the two practice putting greens in front of his building.
And he is weeks, perhaps days, away from shuttering his business, an Appleton institution and one of the Golf Range Association of America's top 50 stand-alone ranges.
"If we stay closed, I'm going to have to file bankruptcy," he says. "There's no way I can keep going. How can I pay anything? They'll turn the power off."
New practice Titleist balls, freshly striped, sit in a bin. The heads for Burns' newest line of custom clubs are still in China. He can't afford to have them shipped. His only source of income is the occasional re-gripping order or odd club repair. Curbside drop-off and pick-up, of course.
Scheels, a huge sporting goods store in Appleton, is open. So are Menards and Walmart and Costco, all of which sell golf equipment.
But the police are checking the doors at Bob Burns Golf, just in case a golfer or two has sneaked onto the range to hit a few balls, not only socially distanced but practically isolated.
"Why pick on me?" Burns says, with more incredulity than anger in his voice. "Who does more for this community and golf? Why pick on me?"
Of course, he's not alone. He is one of thousands of business owners across the state stuck in the same sinking boat. Life preservers are hard to find.
The double whammy is that Burns is coming off a lost year. It started when he suffered a heart attack and underwent surgery to have a pacemaker implanted in December 2018. Two months later, he went in for hip replacement surgery. To say it did not go well would be an understatement.
"Ten days later, I'm sitting at the table at home having breakfast and I get up and I'm just screaming," he says. "My foot is turned (sideways). The whole hip broke. The ambulance comes and takes me over to ThedaCare (Regional Medical Center in Neenah). They thought they could put it back in. They tried three times. It came out again. You can imagine how much pain I was in."
That was just the beginning of a torturous odyssey for Burns. He developed a staph infection. Doctors said he would need the artificial hip taken out in order to treat the infection, but he says his orthopedic surgeon refused to do it. He was on antibiotics – "Rifampin, horrible, horrible stuff" – for months, until a veteran friend who was being treated for cancer at the Mayo Clinic helped get him a referral.
The artificial hip came out in July and didn't go back in until October. Burns was without a right hip and was wheelchair-bound for nearly four months. While all this was happening, he was still dealing with the aftereffects from prostate cancer and surgery, which predated all the other medical issues.
He wore a colostomy bag for two years and now has an artificial sphincter. He suffers from Clostridium Difficile, or C-Diff. Look it up, if you must, on an empty stomach.
"I said to the doctor, 'If I knew this (artificial sphincter) would be this bad, I never would have had it done,'" Burns says. "He said, 'Well, if I told you, you never would have had it done.' "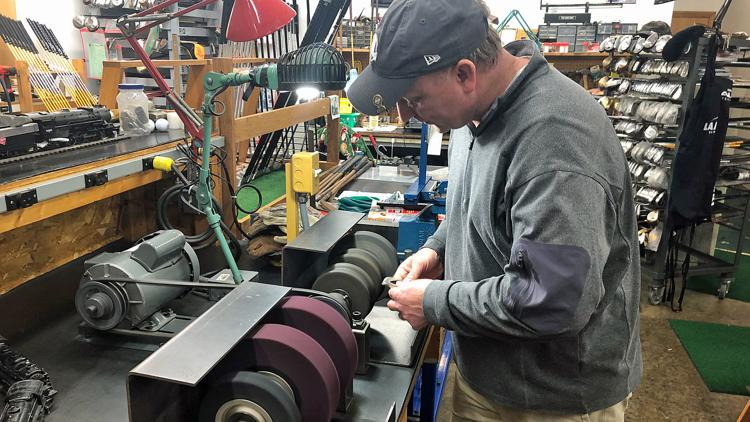 Robbie, 48, ran Bob Burns Golf for all of 2019. Bob tried to come around when he could, but there wasn't much he could do.
"The difficult thing is that with the four major surgeries I had last year, I had a huge (financial) loss," he says. "We thought we'd make a comeback this year."
Burns gets around on a mobility scooter. Doctors have told him it could be two years before he can walk again without assistance. He is on Medicare and has supplemental insurance, but medical bills have piled up. Robbie started a gofundme page, which as of Monday had raised $7,510 in pledges.
"It was very tough for me to admit that we needed help," Robbie says. "I'll admit I was embarrassed. It's hard to ask for help. You have pride."
Maybe it's time for golfers to chip in and help a man who has helped so many.
In the meantime, Burns is thinking of converting his target greens on the range and his two practice putting greens into a par-3 course. Maybe he'd charge adults $5 to play, and kids would play free of charge. It would at least get a few dollars trickling in and perhaps save his business.
"I think people maybe will appreciate what I'm trying to do," he says. "Maybe in the future they'll see that I did something in good will."
It also would be the height of absurdity. Golfers cannot hit balls safely on Burns' practice range, but if he puts a few tee markers in the ground and flagsticks in the holes, they can play golf.
Crazy times, indeed.