There are golfers, there are avid golfers and there are diehard golfers.
Then there is 29-year-old Nolan Krentz of Mount Horeb, who is in a league of his own.
In 2020, Krentz played golf every day from April 1 through Dec. 12, when the first major snowfall of the season closed his home course, Norsk Golf Club. And we're not talking nine or 18 holes. Oh, no. In the summer, Krentz would tee off at 5 a.m., before the course even opened, and play a quick 18. Then he'd go to his job at the Hy-Vee grocery store in Fitchburg. Then he'd rush back home and play 36 more. On his days off, he routinely played 100 holes. Or more.
He played through rainstorms, through summer heat, through shin splints. Nothing could keep him from his appointed rounds. He always walked and pulled a cart, typically speeding through Norsk, a nine-hole course, in about 40 minutes. Around and 'round he went, a man in motion, a man on a mission.
"You know, I hate to sit still," Krentz said. "I'm one of those guys. I don't know, I'm just obsessed with golf, I guess."
You think?
Joe DiMaggio's 56-game hitting streak stands as one of sports' greatest records, and Cal Ripken Jr. was no slouch, playing in 2,632 consecutive games for the Baltimore Orioles. But did Joltin' Joe or the Iron Man ever play 1,974 nine-hole rounds of golf in a calendar year?
If you're scoring at home, that's 17,766 holes, or an average of 69.4 per day from April 1 through Dec. 12. Krentz played mostly at Norsk (1,665 rounds, 14,985 holes) and 18-hole Dodge Point Country Club (277, 2,493). He joined Dodge Point when Norsk was closed for several weeks in the early stages of the coronavirus pandemic; golf courses in neighboring Iowa County were allowed to stay open.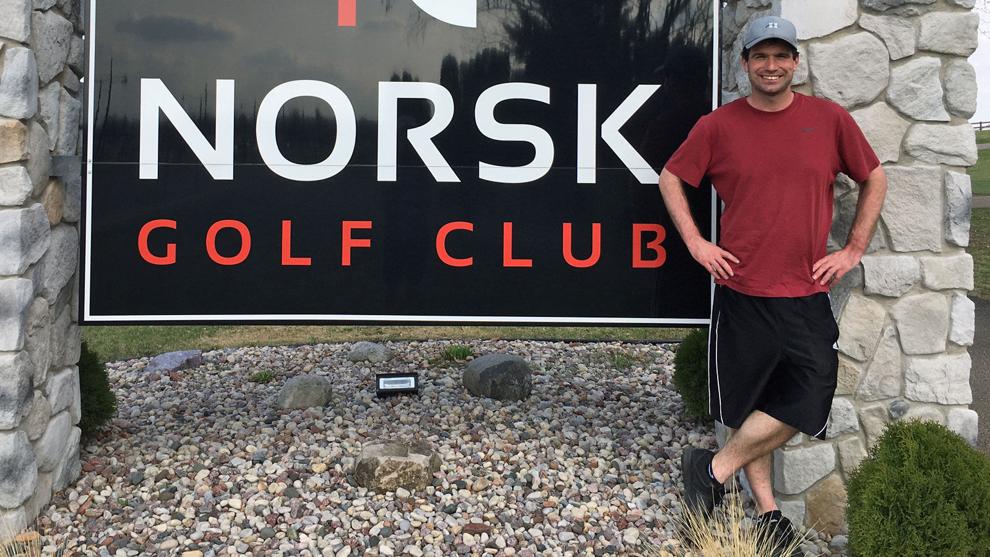 "I'd go down there in the afternoons in April, 4 or 5 o'clock," Krentz said. "I would get in 36 holes by dark. And then once things opened up back here (at Norsk), I was here every day."
It's hard to say whether Krentz's 17,766 holes played while walking is a one-year world record. A golfer named Barry Gibbons reportedly walked 15,804 holes in 2016, which was said to be the record until Yancy Methvien walked 16,398 holes in 2019. Gibbons set out to re-establish the record last year.
"I read an article in his local Texas paper last May that he was trying to do it again," Krentz said. "He had a website and was keeping track of it. I thought he'd gotten past 18,000 holes by sometime in October last year, but now I can't find the website at all, so I don't know if it's down."
This year, Krentz had played more than 700 holes through April 3 and was on pace to top his 2020 total, but admitted that surpassing it would be difficult. He coaches the boys' and girls' golf teams at Mount Horeb High School, his alma mater, and will be busy with a full schedule of tournaments this spring. Last year, he was free to play every day, after the pandemic canceled spring prep sports.
"There will be other things going on and that's OK," he said. "I mean, if I have to settle for 10,000 or 11,000 holes, that's OK."
Imagine "settling" for only 1,200 nine-hole rounds or so. What a slacker.
Krentz does not keep a USGA handicap but estimated, based on his scores, that he plays to a 5 or 6. His best score for two loops around 2,945-yard Norsk is 65. His best nine-hole score is 30.
Last year, he wore out three pull carts and two pairs of shoes. He typically plays with the same golf ball until the lettering wears off – he actually has cracked balls through overuse – but couldn't even guess how many balls he went through.
"It's got to be a lot," he said. "If they last, I'll play them to the bitter end, absolutely."
Krentz appears to be blessed genetically with a body that can withstand hundreds of golf swings per day, day after day, week after week. He's never had a back injury, though he did suffer last year from shin splints, no doubt aggravated by all the walking he did up and down hills.
"I've been pretty fortunate back-wise," he said. "I did deal with shin splints last year. It probably was even a stress fracture in my lower right leg. It was painful. It slowed me down – I was more in the 50-, 55-minute range for nine holes. I taped it up most of the year, more as protection. That was rough, but there was never even a thought of, I'm going to stop.
"Everybody tells me I'm going to pay for it later in life. We'll cross that bridge when we get there."
Needless to say, all the golfers at Norsk know him, and groups cheerfully wave him through, sometimes asking for an update on how many holes and rounds he's played.
"At first people said, 'You're playing a lot of golf,' " Krentz said. "I'm like, 'Yeah, I've got nothing better to do. I've got no life, or whatever.' Which is kind of true. This is how I enjoy myself. I always used to look at people who jogged X amount of miles and say, 'I can't imagine why they do that.' But now that I started to do this, I totally get it."
Krentz has had to make some sacrifices, because playing golf from dawn to dusk does not leave much time for anything else.
"There is not much of a social life, per se," he admitted.
No significant other?
"That is correct," he said. "You probably could have guessed that."