Lee Elder, who in 1975 became the first African-American golfer to play in the Masters, is set to join Jack Nicklaus and Gary Player as honorary starters to kick off the tournament Thursday morning. One thousand miles north, in Menomonee Falls, Wis., Hanc Spivey will settle in front of his TV.
"Absolutely, I'm going to watch," Spivey says with a grin. "I'm retired."
Elder's inclusion in the ceremony, 46 years after he broke the color barrier at the Augusta National Golf Club, has been widely praised. Now 86, he and other Black golfers were denied opportunities in golf for decades. In fact, from 1934 to 1961, a "Caucasian-only" clause was part of the PGA of America's bylaws that prevented non-whites from membership and from competing on the PGA Tour.
Spivey, 71, is a pioneer, too, the first Black member of the Wisconsin PGA Section and the head professional at Dretzka Park Golf Course in Milwaukee from 1992 to 2015. He is a world-class storyteller with an infectious laugh, but he'd much rather spin golf yarns than talk about the game's checkered past when it comes to race relations.
"I thought we were so past that," he says over lunch. "I never, ever, ever – and I can say this honestly – I never noticed race with my PGA brothers. I never knew I was Black until someone said something: 'You know you're African-American?' Yeah, so what does that mean? Is there a way I should act? Like I should have some specific stance or talk different or be taller?"
The reference to height is a self-deprecatory joke, because Spivey topped out at 5 feet 5 inches.
He stands tall, however, when it comes to treating people with respect, being fair and principled and representing the PGA and the game the right way. If you don't like Hanc Spivey, you'd better take a good, hard look in the mirror.
* * * 
Spivey was in his mid-20s and working in data processing for a health insurance company when he discovered golf. He was invited to play by his boss and thought hitting a little stationary ball would be easy. After all, he'd been a good athlete at Milwaukee West Division High School.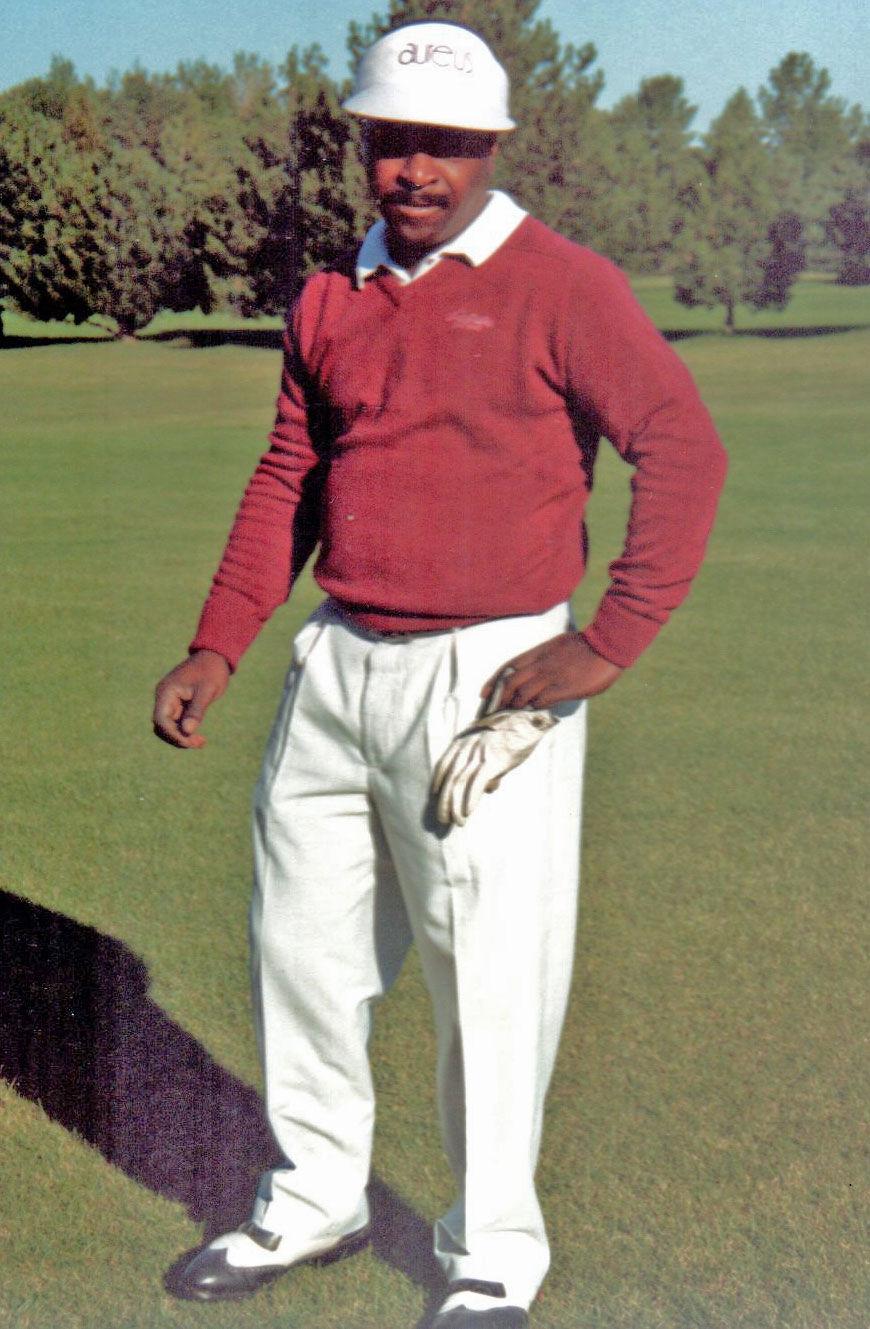 He whiffed on his very first swing, shot a 56 for nine holes at Currie Park and was humiliated. He asked how he could improve and was told he needed to practice at a driving range.
"The next day, after I get off work at 4:30, I go to Spring Green Golf on Silver Spring and Green Bay Road," he says. "I go in there and I say, 'I want to practice golf.' The guy says, 'What size bucket do you want?' I thought he was giving them to me to keep. I take the balls out to the range and there's a gazillion balls out there. I said, 'Why did they leave all these balls on the range?'
"This is a true story. I take a ball out, put it on the tee and whack it. I saw where it went but I thought, 'I don't know if I'm going to find my ball with all those other balls out there.' So, I picked up my bag and started to walk out there and I hear, 'Hey! What are you doing? Idiot! You'll get killed out there.'"
Spivey was nothing if not determined, however, and started taking lessons from local instructor Steve Friebert, then a co-owner of Missing Links in Mequon. Spivey took a part-time job picking the range and for months hit balls every night, after the range closed, from under a solitary light pole in the parking lot.
It wasn't long before he started breaking 80. He quit his job in 1977 to join the staff at Missing Links. Two years later, he won his first amateur tournament, shooting 70-68 at Lake Park in Germantown.
Spivey turned pro and started traveling to regional tournaments. He played in the Chicago Open, the Waterloo Open, the Iowa Open and in minitour events. He played with Black golfers such as Bobby Stroble, George Johnson, Tom Woodard, Nate Starks and Chuck Thorpe, the older brother of 1985 Greater Milwaukee Open winner Jim Thorpe.
"I was shooting scores like 150, 151 (for 36 holes)," Spivey says. "That would win back here. But those guys were shooting 139, 140, 142. Very humbling. Oh, yeah, I remember those days, man."
After five lean years, sharing expenses on the road with local African-American legend Hervey Thompson, Spivey realized he wasn't going to make a living playing tournament golf. He got in the PGA program and eventually earned his Class A membership.
In 1988, he left Missing Links to become an assistant pro at Dretzka under Jim Morrison and four years later was named head pro. His first few years were not easy.
"I got it from both sides," he says. "A guy came in and said, 'How long is the wait?' I said, 'Right now, it's about 35 minutes.' He said, 'I'm sure if I was Black, I could get out there right away.' Black guy came in, 'How long is the wait?' 'About 35 minutes.' He said, 'They got you trained like an Uncle Tom out here.' I just looked at my staff. They said, 'Hanc, I don't know how you do it.'"
Some Black golfers even temporarily boycotted his golf shop.
"One guy said, 'Hanc Spivey is racist against Black people. He don't support Black people, so let's not support him. We'll go to B&G and buy our clubs,'" Spivey says. "They'd come in and steal stuff and then blame me for catching them, like I was embarrassing them. No, you broke the law."
In the mid-1990s, after Dretzka joined the legion of courses that were banning metal spikes, Spivey was told not to change out golfers' spikes because of liability concerns. When he declined to remove metal spikes and install plastic ones for a white member of the men's club, the guy had the nerve to say, "OK, well, can you shine my shoes?"
"I got a little upset at that," Spivey says. "He was trying to get a response from me. I said, 'No, sir, we don't do that.' Two of my assistants were African-American, and he got a response from them. I had to calm them down.
"Same guy came back later and he had a (health) problem and he can't walk the course. I said, 'Please, let me give you a golf cart.' He said, 'Well, how much I gotta pay for that?' I said, 'Nothing. I just want you to go out there and play and enjoy your round.' From that time on, every time he came in, it was, 'Hi, Hanc! How you doing?' So, I turned him around.
"I've been tested. No, you ain't going to rattle me. No, I ain't going to get upset. Thank you for coming today and we'll be just as cordial when you come tomorrow."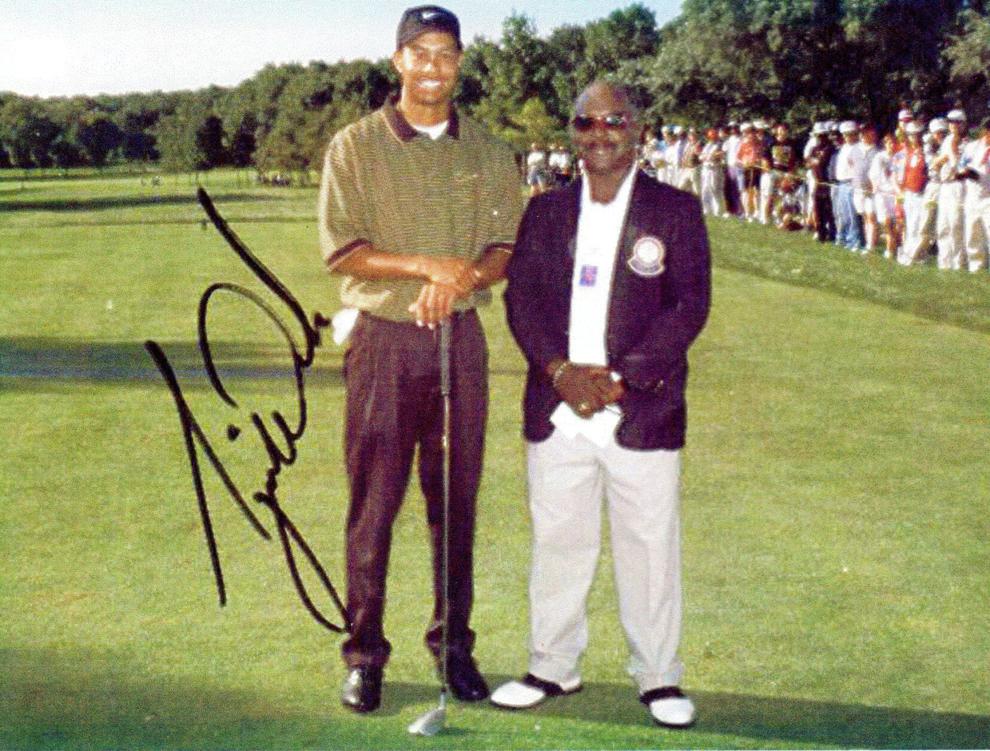 Eventually, all the golfers realized that Spivey played no favorites, treated them equally and did things the right way. Always, the right way.
In 2012, he suffered a debilitating stroke and had to re-learn how to walk, talk and swing a golf club. It took months for him to recover, but you'd never know it now.
"I don't feel like I ever had a stroke," he says. "The only thing I have now is gray hair. And I'm getting shorter and shorter."
After Spivey retired in 2015, he was recognized as an "Unsung Hero in the Milwaukee Community" at the 33rd annual Black Excellence Awards. As part of his retirement package, Milwaukee County gave him a lifetime pass to play the county courses, but he's barely used it and hasn't played Dretzka Park at all since his retirement. The reason? He doesn't want people to make a fuss over him.
"I just want to slip in, play, and slip out," he says.
Spivey never did want to call attention to himself. Much like Elder, he wanted to let his clubs do the talking. They spoke loud and clear.