LAKE GENEVA – No sooner had I pulled out of my driveway Monday when I got a severe case of the chill bumps. It wasn't because the temperature was 33, a thin layer of snow covered the ground and I was on my way to play golf.
It happened to be exactly noon and iHeart Radio was playing the National Anthem. Whitney Houston, 1991 Super Bowl version. A more powerful and uplifting rendition, in my opinion, has never been sung. So, yeah, I had a lump in my throat as I thought about coronavirus and the many ways it's ravaging our nation, our world. As Whitney hit that last big note, I couldn't help punching the air with my fist. You want to fight the damned thing, but how?
A couple hours before I loaded my clubs in the trunk, I heard that Gov. Tony Evers would on Tuesday formally declare that Wisconsinites must stay in their homes, the next gambit in the war against COVID-19. It wasn't immediately apparent if golf courses would be allowed to stay open, but given that they're not "essential businesses," I was less than confident.
If there was going to be a one-day window to play golf, I was going to take advantage of it. Golf is far down even a golfer's list of priorities right now, but we are desperately clinging to something in our lives that gives us some sense of normalcy. The game we love is one of those things.
It just so happened that the Trevino Course at Geneva National Golf Club was opening Monday. Timing, as they say, is everything.
The temperature had climbed to 37 when I arrived, and the snow was gone. The sun felt warm on my cheeks, a sure sign that better days are just ahead. Dressed in three layers, a wool hat and thick socks, I could have, and would have, played in much colder weather.
Only two people at a time were allowed in the golf shop, so I waited my turn as three golfers checked in ahead of me. We nodded and gave one another a wide berth. Social distancing. The new law of the land.
It's difficult to describe how good it felt to stride onto the first tee, to see fairway grass waking up to spring in shades of green. To stick a tee into the soft, moist earth. To cold-top a 3-wood second shot from the middle of the fairway. OK, maybe not the latter, but you get the picture.
I played alone, in a cart, from the white tees, which were moved forward. The course played maybe 6,000 yards. Cart path only meant a lot of walking, but that's something you complain about in August, never in March. And especially, not now.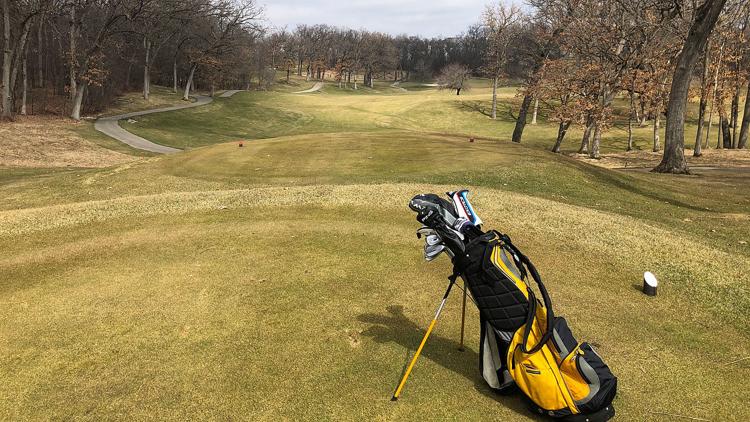 The cups were raised about two inches above the putting surface, so there was no need to touch the flagstick or reach into the hole. Hit the plastic cup liner, and the putt was good.
I have to admit my bogey putt on the first hole barely grazed the right edge. In normal conditions, it probably would have lipped out. But who am I to argue? A bogey, it was.
I played at warp speed. A couple from Chicago waved me through on the 11th hole. I caught another twosome on No. 15 and they let me play through, too.
"Hey, we're playing golf," one of them said, smiling and holding out his arms.
"Yeah," I said, "I wanted to get a round in, because who knows what's going to happen."
"That's exactly what we're thinking," he said.
As I made the long drive from the 16th green to the 17th tee, I passed a group of people walking a couple dogs. They were not practicing social distancing. One of them pointed to me, clapped and said, "Bravo!" I gathered he approved of me braving the elements to play golf. Or maybe he was acknowledging the fact that someone else was, as the Brits say, keeping calm and carrying on.
I needed a birdie on 18 to break 80 but hit a terrible second shot into the penalty area well short of the green. As I was looking for my ball, I noticed a single walking up the fairway, a golf bag slung over his shoulder. He must have jumped onto the course on the 18th tee, because there was nobody behind me on 16 or 17 and I was playing fast.
After I putted out – alas, for a double-bogey – I waited for him to finish and offered to give him a lift back to the clubhouse, because it's about a 1,000-yard walk from the 18th green. He declined my offer and it was only then I realized I would have broken the social distancing rule had he jumped in my cart. Some habits are hard to break.
When I got into my car for the ride home, I noticed the leather had been warmed by the sun. The seat felt good on my back. Another sign that better days are ahead. And so, we cling to hope
For golf.
For life.
For us.