EAGLE – It had been 16 years since I last played Eagle Springs Golf Resort, but it was exactly as I remembered it: the drive in on a narrow road flanked by cottages, the quaint old clubhouse with a weathered deer antler serving as the doorknob and a course that is equal parts quirky and fun.
D'Time with Gary D'Amato: Rating Eagle Springs GC-Eagle
| Category | Grade |
| --- | --- |
| Overall course conditions: | 7 |
| Quality of greens: | 8.5 |
| Aesthetics: | 8 |
| Playability: | 7 |
| Variety of holes: | 8.5 |
| Service: | 8.5 |
| Value: | 10 |
| Total: | 57.5 |
| | |
A century ago, Eagle Springs was a sprawling resort that catered to wealthy Chicagoans, with a grand hotel, an 18-hole course and all forms of recreation for an indulgent lifestyle.
What's left is a charming little nine-holer that has been "discovered" in recent years by the golf architecture cognoscenti. Built in 1893, with the first two holes reputedly laid out by baseball Hall of Famer and sporting goods giant A.G. Spalding, it's the oldest course in Wisconsin and among the oldest in America.
Eagle Springs has been family-owned for five generations. Owner Mike Bolan, 65, is the great-great grandson of John Tuohy, an Irish immigrant who started farming the land in 1866. Tuohy's son, William, built the resort. The hotel is long gone but nine surviving cottages are still rented out seasonally.
The clubhouse, at one time the hotel laundry, features the gnarled trunk of an ancient apple tree that once grew through the roof. The tree died after the parking lot was paved in the mid-1990s and its trunk is just one more reminder of the resort's fascinating past.
In its best years, the golf course is a break-even proposition for Bolan, who has an engineering degree but runs the place with an endearing casualness. He doesn't even have the rates memorized.
"The place exists because my family never had much debt," Bolan said. "Can I buy a piece of equipment if I need it? Yes. Can I go on a vacation? Yes. But no, it's not a money maker."
To his point, on Fridays you can play the 126-year-old course in a cart, with a beverage and a voucher for a fish fry at one of several local restaurants, for $29.50.
The par-35 course, which measures 2,814 yards from the white tees, is a blast to play, mainly because it's so unconventional.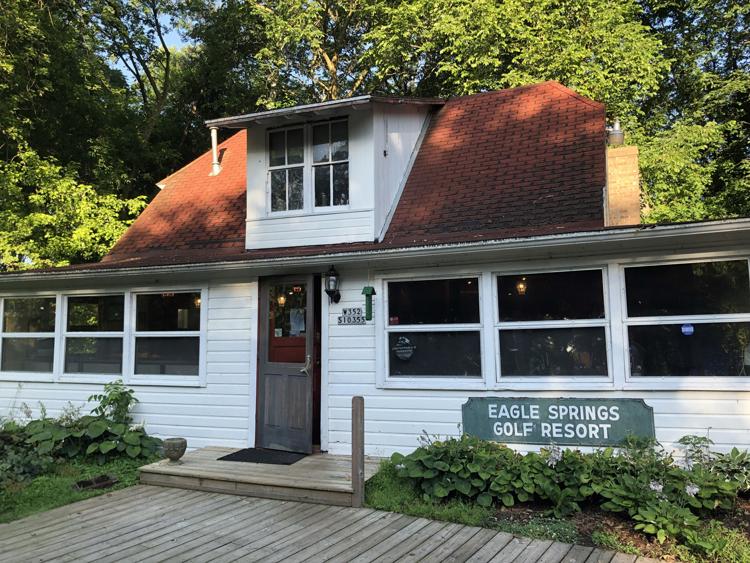 The 298-yard first hole, for instance, requires a blind tee shot over a 30-foot hill from the blue tees, or you can drive up to the white tees and see where you're going. If you hit the green with your approach, you'll almost always have a reasonable birdie putt because the contours funnel the ball toward the hole.
No. 2 is the signature "Volcano hole." It's a 134-yard par-3, with the green built atop a cylindrical mound. Miss the green, and your next shot is a blind vertical pitch. Locals call it "Two or 22," a reference to the range of possible scores. I can't think of another hole like it in the state.
In a concession to senior players, who often just skipped the hole because of its difficulty, Bolan built an alternate second hole, a more manageable par-3, five years ago.
There are other unusual features throughout the nine. On No. 5, a 413-yard par-4, the branches of a tree hang over the right half of the tee box and a majestic oak stands guard in the landing area. No. 7 is a delightful downhill par-3, with the back half of the green sloping uphill and serving as a backboard. On No. 8, a 447-yard par-5 that requires a blind uphill "field goal" tee shot through sentinel trees, golfers ring a bell to let the next group know the fairway is clear.
The slick green on No. 9, a 391-yard par-4, slopes sharply from back to front. I faced a 25-foot downhill par-saver after pitching on and watched helplessly as my putt sped past the cup, rolled off the green and didn't stop until it was 10 feet down the hill. Three shots later, I was writing "7" on my scorecard.
My playing partner, member John V. Nelson, aptly described the course when he said birdies and double-bogeys were in play on almost every hole. I made four pars — barely missing two birdie putts — but also had two doubles and that closing triple.
On a hot and steamy morning, I made the mistake of walking with a pull-cart. Eagle Springs is hilly and not an easy hoof. Next time, I'll ride.
The resort is a family heirloom, but Bolan's ownership could mark the end of the line. One of his stepchildren lives in Amsterdam, a second is a doctor and a third is working toward a Ph. D in biochemistry. It's not likely any will return to sleepy Eagle to run a nine-hole golf course.
That means Bolan probably will have to sell at some point. My advice to whomever buys the place: Don't change a thing.