COTTAGE GROVE – As I sat nervously in the driver's seat – the only seat – of a Toro Reelmaster 5510, staring up the sixth fairway at The Oaks Golf Course and trying to process last-minute instructions on how to operate the thing, a chilling thought suddenly occurred to me:
What if Gov. Tony Evers changes his mind and allows golf to be played in Wisconsin, but The Oaks can't open because some hack on a fairway mower chewed up the turf?
Jessica Blaska-Grady, the general manager whose family once farmed this land, assured me I'd be fine.
"It's easier than driving a car," she said.
Standing nearby, superintendent Daren Rose struck a more worried pose. The Oaks had invited me to learn how to cut fairways and greens because, well, what else is there to do on a golf course these days (unless you live in Dunn or Trempealeau County)? Like all superintendents, Rose takes great pride in the condition of his course, and he was watching the grounds crew equivalent of a 36-handicapper astride a machine that could mow your entire backyard in about 43 seconds.
Now I know how Mario Andretti felt at the start of the Indianapolis 500.
Just to be safe, assistant golf professional David Bast jogged alongside me as I lurched forward and offered friendly tips such as, "Drop the blades now!"
My first cut on the fairway of the 467-yard par 4 was not exactly a work of art. I battled the steering wheel a bit and overthought it, and my line was as squiggly as a 3-year-old's debut with Crayons and a coloring book. I've seen straighter lines walked by drunk drivers on "Cops."
The second pass was better, so much so that even Rose semi-approved.
"This is good training for your retirement job," he said, adding that the anxious crew on hand in the event something went terribly wrong could now go in and I could stay on the Toro and finish the job. High praise, indeed.
Before I learned how to mow a fairway, I took a turn with a greens mower and that went OK. Blaska-Grady gave me a solid B, but she was grading on a curve – which also happened to be the shape of my cut line in the green.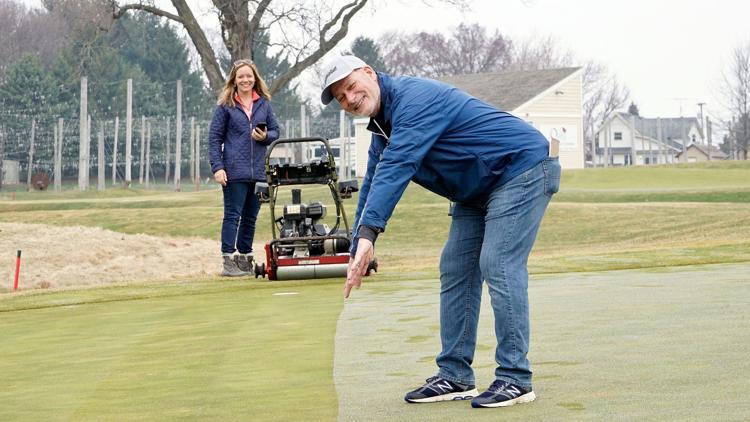 In all seriousness, I quickly gained an appreciation for the skill, passion and commitment of course superintendents and their staffs, who rise before dawn, work long hours and don't get nearly as much credit for the jobs they do. Lush fairway turf and pure greens don't just happen. There is an enormous amount of work that goes into prepping a course for daily play.
Like most courses in Wisconsin, The Oaks is trying to get through the coronavirus pandemic with a skeleton crew. The facility isn't doing take-out food service – the chef has kept busy painting a fence – and has had to cancel a number of events, including a 200-person Kentucky Derby party. But the grass doesn't stop growing; somebody has to cut it.
Shaun Finley, the PGA director of golf operations, has been pressed into action on the grounds crew and has learned how to mow fairways and greens, as has Blaska-Grady and even Katie Lee, the bar manager. Bast, who had previous experience on a grounds crew, is the staff ace.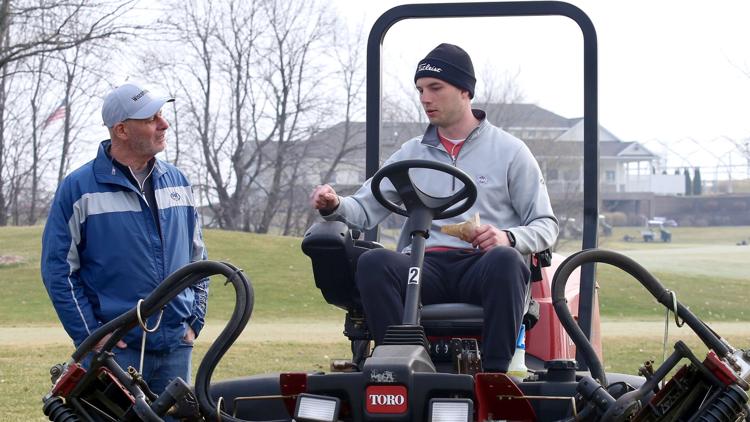 "Being on the golf side, you get a better appreciation for what the maintenance staff does to give us great conditions day in and day out," Finley said.
The Oaks was open for 12 days before Evers' safer-at-home order deemed golf nonessential. The irony was that this was shaping up to be the best spring, weather-wise, in several years. It has to be killing owners and operators to look out on their empty courses on sunny, 60-degree days.
Yes, there are bigger problems in the world that need solving. But golf is getting hammered.
At some point, hopefully soon, courses will reopen and will be in pristine condition, thanks to supers like Rose and their hard-working staffs. When you're finally able to get out and play, be sure to thank the guy cutting the grass.
Don't worry, it won't be me.