Mason Schmidtke held a tenuous one-stroke lead as he stood on the 17th tee in the final round of the Ray Fischer Amateur Championship on Sunday.
The 17th hole at Janesville Riverside Golf Course is a short par-4, just 338 yards, but with a sharp dogleg to the right, the corner protected by tall pines. The green is drivable with a high cut, but the shot must be perfectly executed.
A rising senior at Sheboygan North High School, Schmidtke was trying to hold off talented college players and experienced mid-amateurs in the Wisconsin Public Links Association's signature tournament, one with a rich history and a trophy bearing the names of some of the state's best players over the last half-century.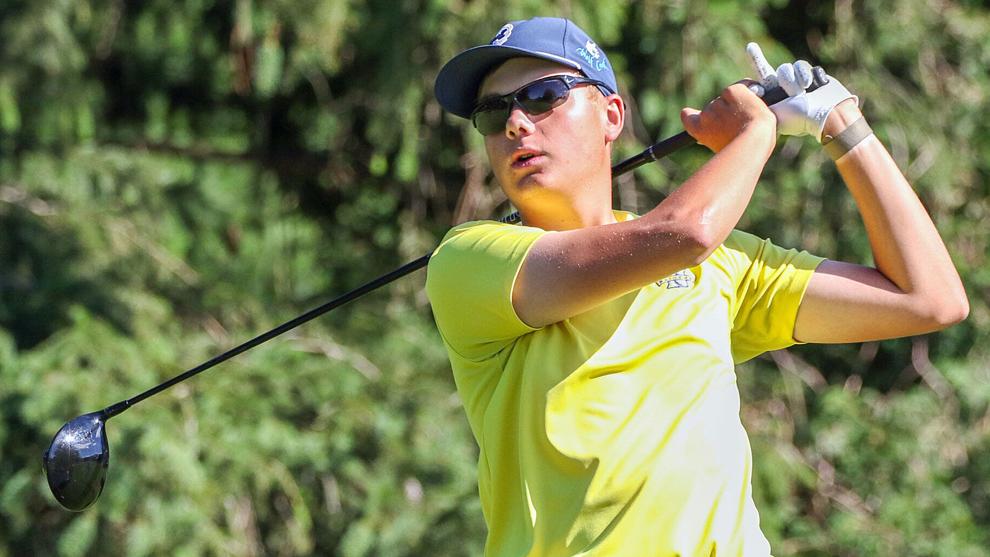 This might have been the point when the moment became too big, when Schmidtke's mind went blank, when the pressure scrambled neurons and made it difficult for him to think clearly, to strategize and, ultimately, to execute physically.
I looked for obvious signs of nervousness as he waited on the tee for the green to clear. Seeing none, I asked him afterward what he was thinking.
"The mindset was, if I hit a cut with the driver, I might have a chance to get to the green, and if I hit it straight, then I should be in a great spot to that pin location," he said.
His drive did go straight, through the fairway and into the fairway on the adjoining seventh hole. No problem. Even before his ball landed, he knew he had taken the front-right greenside bunker out of play and would have a good angle to the front-middle pin location.
"I drew a perfect stock number (for his approach)," he said. "I felt like I was on the range hitting that shot. It was 89 yards to the pin. I had 81 to get to the front. Eighty-five, 86 is a stock 58-degree wedge. I opened the face a little bit to get it to cut into the wind. It landed eight or 10 feet short of the hole and I was like, 'That's going to be pretty good off that downslope.'"
That's not how your average 17-year-old golfer thinks. That's how a touring professional thinks.
His ball stopped a foot from the cup. Tap-in birdie. Two-shot lead. It made Schmidtke's three-putt bogey on No. 18 immaterial and he became the first high school golfer to win the Fischer.
I use this anecdote to illustrate a point. Young golfers are so much better prepared, physically and especially mentally, than ever before. There's a reason no high school golfer had ever won the Fischer — they just weren't ready. Now, they are.
Jordan Niebrugge's stunning breakthrough victory at age 18 in the 2011 Wisconsin State Open was a harbinger. Young, fearless golfers were going to be a factor in the state's biggest tournaments. They were coming, and they were coming in waves.
Better junior programs and tournaments, better instruction, better equipment, better competition — better everything — has trained this generation of golfers to do what Schmidtke did. You'd have to go back to the extraordinarily talented group of Steve Stricker, Jerry Kelly, J.P. Hayes and Skip Kendall to find a comparison — and none of them won the Fischer at 17.
The landscape of golf in Wisconsin has never been better. Piercen Hunt at Illinois, Cameron Huss and Emily Lauterbach at Wisconsin, Hartland's Jessica Guiser, Bobbi and Izzi Stricker … the list goes on and on.
Newly minted pro Harrison Ott of Brookfield was the first-round co-leader in last week's PGA Tour Canada event, which was canceled by weather. Then the former Vanderbilt standout shot a 68, with borrowed clubs after his luggage failed to arrive, to Monday qualify for this weekend's Prince Edward Island Open.
Hunt, a member of Team Canada's developmental program (he's a native Canuck), on Thursday qualified for the U.S. Amateur (as did Whitefish Bay mid-am Jack Schultz). Huss recently completed a dominant run through the field in winning the WSGA Match Play Championship.
Casey Danielson, a two-time winner on the Epson Tour, is getting her feet wet as an LPGA Tour rookie. Former UW-Green Bay golfer George Kneiser and former Badgers Jordan Hahn and Sam Anderson have had some early success on the PGA Tour's developmental Canada and Latinoamerica tours and bear watching.
Then there's Hunter Eichhorn, the three-time Big East Player of the Year, who is embarking on his pro career after breaking a number of program records at Marquette.
This does not mean that the highest levels of professional golf are going to be populated by Wisconsin golfers in five or 10 years. Making it to the PGA/LPGA tours takes talent and heart, of course, but it also takes timing — you've got to have your "A" game at just the right time — and no small amount of luck. I thought that Niebrugge, a stud at Oklahoma State and low amateur at the 2015 British Open, would be on the PGA Tour by now, and he has no status on any of the major tours. It's a hard game.
But now, more than ever, the game is in great (young) hands in our state.