Ryan Quinn was seven years into his professional career, playing in a Dakotas Tour event in Rapid City, South Dakota, and headed toward another paycheck big enough to get him through the week but small enough to remind him how far he was from the PGA Tour.
He already was in the early stages of burnout and questioning whether to continue in golf's backwaters when his wife, Meghan, sent him a video.
In it, one of his twin sons was crawling for the first time.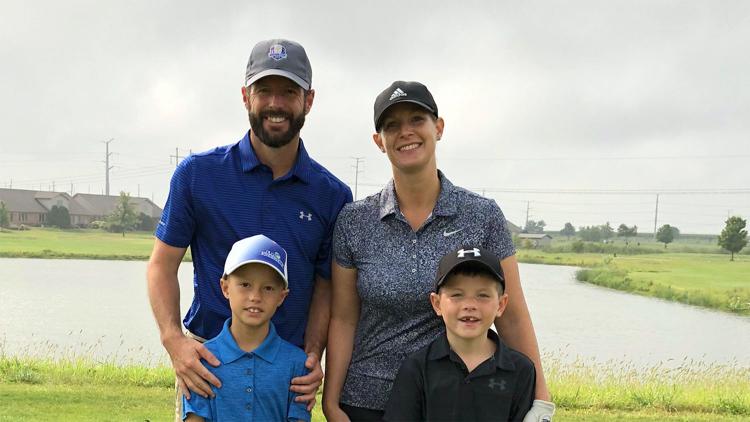 And he'd missed it.
"I was like, 'I'm done,'" Quinn said. "That was my last pro tournament. I had lost the desire. It had gotten to the point where people around me wanted me to succeed more than I did."
Just like that, Quinn walked away from what many believed to be a promising career. It was August 2010. And he hasn't looked back.
"I guess I'm probably one of the lucky ones," he said. "I have absolutely no regrets at all."
It's been more than 16 years since Quinn, of Galesville, won the second of his back-to-back Wisconsin State Amateur titles — the first and still only golfer to accomplish that feat since the State Amateur went to stroke play in 1971.
Now 40 and living in Bloomington, Illinois, with Meghan and sons Robert and Jack, Quinn is a claims rep for State Farm Insurance and a reinstated amateur who plays about "10 to 15" rounds of golf a year.
"I'm right around a scratch golfer still," he said. "I'll go out and shoot 77 one day and the next time I'll shoot even par. Every once in a while, I'll get on a roll and make two or three birdies in a row and my buddy will say, 'You should turn pro again.' I'm like, no, that's not happening."
Because Quinn left Wisconsin more than a decade ago, younger golfers in the state probably don't know much about him.
A history lesson is in order.
The left-hander, who won a WIAA title at Gale-Ettrick-Trempeleau High School and starred at UW-Eau Claire, played in tennis shoes and with clubs he bought off the rack. In addition to his two State Amateur titles, he had chances to win the championship on three other occasions. He also was an elite curler whose team finished second at the 2002 U.S. Olympic trials.
In 2001, Quinn swept the Wisconsin State Golf Association Best-ball title (with partner Paul Williamson), the WSGA Match Play title (thrashing Joe Leonard, 6 and 5, in the final) and the State Am at Eau Claire Country Club. He remains the only golfer who has won those three titles in a calendar year.
"I was living in Eau Claire at the time, so I had home-cooked meals every night," Quinn said of the State Am. "One thing a lot of people don't know is that after the first round, Meghan, my girlfriend at the time and now my wife, was admitted to the hospital and had her appendix taken out that night.
"She was planning on caddying for me the last two days and she wasn't able to do it. She came out for the last round and sat on the 18th hole and waved to me but she was in rough shape."
In 2002, Quinn showed up at the State Am as the man to beat at Nakoma Golf Club in Madison and cruised to a three-shot victory.
"I think it was easier to win the second one," he said. "Going back a couple years before I won at Eau Claire, I was leading by a couple shots at La Crosse Country Club after two days (in 1998) and didn't finish it off. At Racine CC (in 2000), I believe I started the third round birdie-birdie and I want to say after 38 holes I was leading by six or seven shots over Pat Boyle (who wound up winning). I was right there going to the final round and I think I finished third or fourth.
"So, Eau Claire proved to me that I could win it. Going to Nakoma I felt that if I went out and played well nobody was going to beat me."
In 2003, Quinn was trying to become the first golfer to three-peat in the State Am since Wilford Wehrle from 1944-'46 and was tied for the lead with Brian Brodell late in the final round at Blue Mound Golf & Country Club.
"I birdied 15 and we were even with three holes to go," Quinn said. "I thought to myself, 'Here we go.' The 16th is a short par-4; I hit first and smoked one down the middle to within 100 yards of the green. Brian kind of chunked an iron shot and he had 150, 160 in. I thought to myself, 'I'm going to win this.'
"He hits an 8-iron to 2 feet and makes birdie, I hit it to 15 feet and miss. He birdies 16, 17 and 18 to win by (four) shots. Brian came through big time."
Quinn turned pro and had considerable success on the Dakotas Tour, winning several events. He made it to the second stage of the PGA Tour Qualifying Tournament a couple of times and missed the final stage one year by one shot. But he couldn't quite get over the hump.
"It's just a struggle," he said. "I went from being one of the better players in Wisconsin, a big fish in a small pond, to being a little minnow in the ocean. I had some good stretches. I just never really maintained it. I was lucky to be able to do it for five or six years."
Some golfers who have the talent to make it to golf's biggest stage but for one reason or another don't get there leave the game bitter and live with "what-ifs." That's not Quinn.
"I always went out there and played my butt off," he said. "I have absolutely no regrets about anything I did. I don't think I would change a thing. Who knows, if I had had success, maybe I would have turned into a different person."
His boys are 9 now and starting to play golf, which gives Quinn an excuse to get in the occasional nine-hole round. He doesn't play enough to justify joining a club, though he has returned to Wisconsin in recent years to play in the WSGA 2-Man Championship.
"I've definitely changed my expectations," he said. "I definitely appreciate golf more now than I ever have. I'm more of a casual golfer now."
He almost never practices, but he is thinking about trying to get his game in shape for the 2019 State Amateur; as a former champion, he has a lifetime exemption.
"The Wisconsin State Amateur is at (the Golf Courses of) Lawsonia next year," he said. "There's a chance I'll come back and play, because I love Lawsonia. The biggest thing is, I want to come back and be able to play respectable golf. If I can practice, you might see me there."
Now, that would be fun.