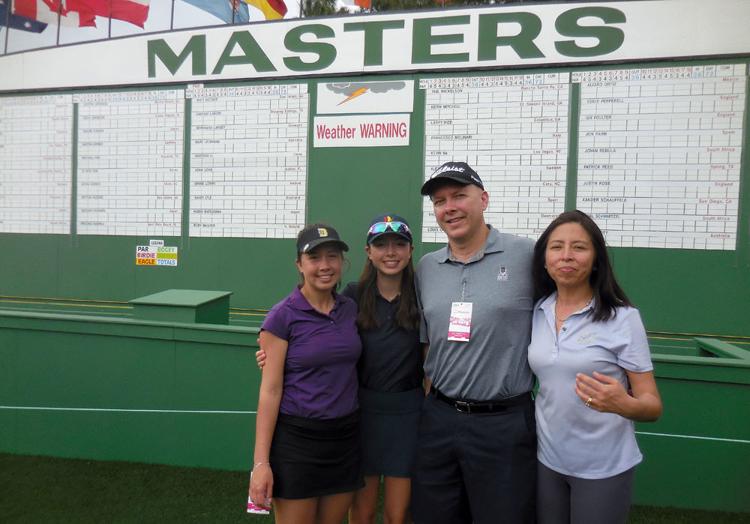 AUGUSTA, Georgia — No matter where golf takes Sarah Balding, no matter what she accomplishes, she'll never forget the two days she spent with her family at the 2019 Masters Tournament.
One day after finishing third in the girls' 14-15 division of the Drive, Chip & Putt National Finals, Balding spent the day watching practice rounds at the Augusta National Golf Club with her father, Shawn; her mother, Carmen; her sister, Emily, a member of the DePauw University golf team; and her swing coach, Chuck Wood, the head PGA professional at Oconomowoc Golf Club.
"It was so amazing," Balding said. "I loved everything about it. It's the experience of a lifetime. I'll remember it forever."
Balding, a standout on the Brookfield Central High School girls' golf team, was pleased with her showing in the DC&P finals, in which she finished third in her division in both driving and putting and ninth out of 10 in chipping. Plus, she got to meet LPGA Hall of Famers Nancy Lopez and Annika Sorenstam.
"It was such a thrill meeting these amazing people I've looked up to and watched on TV," Balding said. "Nancy Lopez is so kind. She told me 'good luck' before I hit my putts."
The magic continued Monday; DC&P contestants and their families are given tickets to Masters practice rounds.
"It was so amazing to walk around and see how beautiful and pristine the course is," Balding said. "I saw Tiger Woods and Bubba (Watson) and Rickie Fowler. I saw D.J. (Dustin Johnson) and Rory (McIlroy). We watched them skip shots across the water."
It's a Masters practice-round tradition for golfers to try to skip their balls across the pond and onto the green on the 16th hole.
Has Balding ever practiced that shot?
"No," said with a laugh, "but maybe I should."
Said Carmen, "It was the trip of a lifetime, and Sarah made it possible for us."
Masters 'Press Building' a (throw)back to the future
The first thing you see when you enter The Masters Tournament "press building," the quaint term used here for the best media center on the planet, is a grand staircase leading up to the sit-down restaurant and the state-of-the-art media workroom.
You half expect to see Rhett Butler looking up at Scarlett O'Hara and saying, "Frankly, my dear, I don't give a damn."
The place looks like a southern mansion but is loaded with creature comforts (shower, anyone?) and technology that makes our jobs easier. Today, I ran into a sportswriter making his "press building" debut who said, "It's everything I heard it was. I don't want to leave, which is probably the point."
He's right. With two monitors at every work station – one a TV with access to the CBS, Golf Channel, ESPN, BBC and Sky Sports feeds; the other offering a customizable leader board with player bios, statistical leaders and tee times – the temptation is to stay put, indulge in a Masters moon pie or two and cover the tournament from the comfort of your leather swivel chair.
Besides, leaders are whisked into the interview room, with transcriptions emailed within minutes, so it's not like you ever have to venture out into fresh air.
But who comes to the Masters and doesn't walk Augusta National? The first tee is 1,000 yards away, but the second you walk out of the building you're escorted to a golf cart and taken immediately to the course.
Somewhere out there is a golf tournament.
I'm going to go find it. After one more moon pie.
For all the course set-up nerds ...
The fairways at Augusta National are being mowed this week at 3 / 8 inch, the second cut at 1 3 / 8 inch, the tees at 5 / 16 inch, the collars at 1 / 4 inch and the greens at 1 / 8 inch.
The "second cut" is Masters parlance for "rough," a word you will never hear around here. Of course, it's not rough as you and I know it. Back home, we call it "cabbage."
Visitors to the interview room
If the leader board on Sunday looks anything like the cast of characters visiting the interview room today and Tuesday, it's going to be an epic Masters.
Monday's guests for pre-tournament interviews are Tommy Fleetwood, Justin Rose, Keith Mitchell, Bryson DeChambeau, Alvaro Ortiz and Takumi Kanaya, and Rickie Fowler.
Tuesday, it's (deep breath) … Patrick Reed, Francesco Molinari, Brooks Koepka, Jon Rahm, Justin Thomas, Tiger Woods, Phil Mickelson, Rory McIlroy, Jordan Spieth, Dustin Johnson and Corey Conners.
On Wednesday, Fred Ridley, chairman of Augusta National and the Masters, will be in the interview room for his annual pre-tournament news conference. And on Thursday, Jack Nicklaus and Gary Player will visit immediately following the honorary starters ceremony. You can take it to the bank that Gary will brag about out-driving Jack.