STEVENS POINT — If I'm calling the shots at the United States Golf Association, I'm looking at the calendar today and figuring out how soon the organization can get another championship booked at SentryWorld.
Almost anything other than the U.S. Open and championships that require two courses should be on the table.
The U.S. Girls' Junior won by China's Lei Ye on Saturday proved beyond a doubt that SentryWorld, Sentry Insurance and Stevens Point are up to the challenge of playing host to something much bigger.
Asked if she could see herself coming back to SentryWorld someday for a U.S. Women's Open, runner-up Jillian Bourdage said, "One hundred percent. This is such an amazing course."
A major renovation in 2013-14 by original architect Robert Trent Jones Jr. and associates Bruce Charlton and Jay Blasi restored the luster to a course that opened to great fanfare in 1982 but had become dated by the early 2000s. SentryWorld had been left behind by the Kohler Co. properties and Erin Hills, and Sand Valley soon would be under construction just 45 minutes south.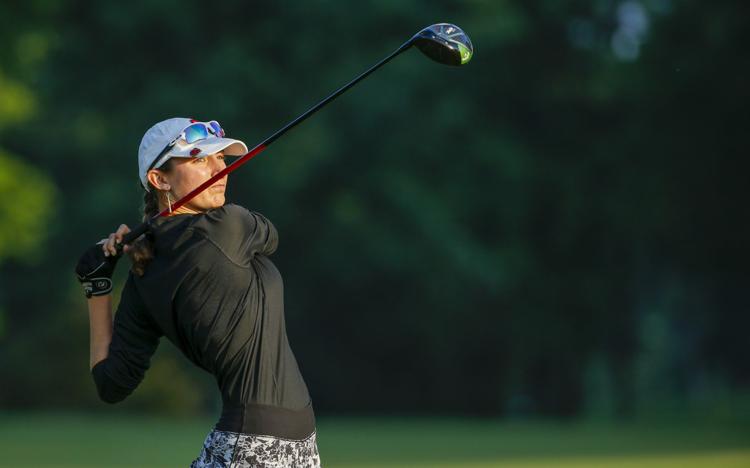 Today, with its bouncy fairways and firm greens, attention to detail in every aspect of maintenance, spectacular clubhouse, top-notch practice facility and beautiful parkland setting, SentryWorld stacks up favorably with any championship venue in Wisconsin.
Like the four courses owned by Kohler Co., SentryWorld also benefits from the resources of Sentry Insurance, a Fortune 1000 company.
"There are a lot of advantages that a golf course that is owned by a financial institution can bring to the table," said Pete McPartland, Sentry's chairman of the board, president and CEO. "One of them is that, intentionally, we don't allow the course to be overplayed. And then secondarily, we put a disproportionate — by a significant degree — amount of resources into the maintenance of the golf course. We really spare nothing. I think that's been understood and appreciated by the USGA."
Golf has always been important to the Sentry brand, but never more so than it is today. The company is title sponsor of the season-opening Sentry Tournament of Champions on the PGA Tour.
"In effect," McPartland said, "we've been doubling down on the game of golf from a brand imaging standpoint and a customer engagement standpoint."
As if SentryWorld didn't make a good enough impression on the USGA, much of the final-round gallery was comprised of Sentry Insurance employees, their logoed shirts easy to spot in the crowd. McPartland walked along with the championship match, as did Stevens Point Mayor Mike Wiza.
As for the community, residents recognized the importance of the U.S. Girls' Junior. The championship quickly filled its quota of 400 volunteers, and after severe storms left the course littered with tree limbs and debris two days before the start of practice rounds, people showed up at the course unprompted to help with the cleanup.
"I walked out of the pro shop Saturday morning, planning to go out and start cleaning up, and I saw about 40 volunteers standing there," said Katie Kreuser, a Class A LPGA professional at SentryWorld and the championship chair. "They were like, 'What can we do to help? Put us to work. Tell us where to go.' I know that our maintenance crew was really appreciative of all that help."
Said McPartland, "An army of volunteers came from out of nowhere. We don't know where they all came from, but they showed up and they just worked non-stop."
Don't think the USGA didn't take note of the can-do attitude of Sentry, the SentryWorld team and the volunteers. If the U.S. Girls' Junior was an audition for future championships, the course passed with flying colors. The planning and the execution of the plan were pretty much flawless.
"They're running it like it's a U.S. Open," Jones said. "It's perfect. I'm hopeful for them that the USGA will find them worthy of another championship here."
I could see a U.S. Mid-Amateur, a U.S. Senior Amateur or even a "bigger" championship, such as a U.S. Senior Open or a U.S. Women's Open, someday being contested at SentryWorld. The market is the right size for those championships — not too big, but big enough.
"My personal view is if you have a Women's Open or a men's Senior Open, you'll get huge crowds here," Jones said. "If you have them in L.A. or New York, you'll get nobody."
Said Kreuser, "We'd definitely be able to accommodate more (spectators) if we did have a larger championship in the future."
McPartland left no doubt about SentryWorld's strong desire and capability to host future championships.
"Absolutely," he said. "We want to be taken seriously for any level of competitive golf."
USGA, are you listening?