KENOSHA – John Pallin is eager to show off his trophies, so you follow him into the basement of his stately, 100-year-old home on a bluff overlooking Lake Michigan.
There, suspended from the ceiling by wires, are stuffed birds representing the Grand Slam of North American quail hunting. Pallin completed the six-bird slam last year when he bagged the elusive mountain quail (Oreortyx pictus) in Mexico, six weeks after his second hip replacement.
Very impressive. But where are all the golf trophies?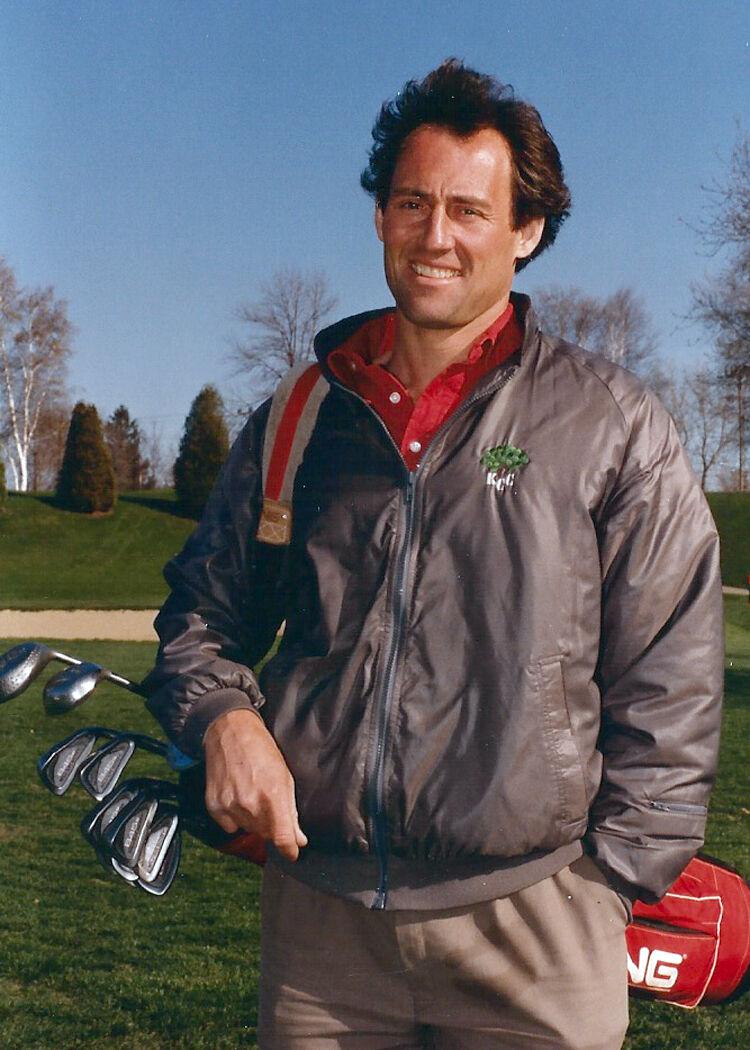 "I don't know," he says with a shrug, then spots a couple of old wooden trophies on the floor in a corner, oddly out of place. "Here's a couple. We just cleaned out a closet."
He picks one up and studies the plaque. "State Junior, 1972," he says with a laugh.
Pallin, 67, has played in just one Wisconsin State Golf Association tournament in the last five years, missing the cut at the 2017 State Amateur. A longtime member of the Donald Ross-designed Kenosha Country Club, he played fewer than a dozen rounds last year. He's dealt with some injuries – hips, chronic problems with both wrists, a partially torn triceps tendon – but a lack of desire to play competitive golf is the main issue.
"The advantage I used to have of hitting it farther than everybody in the field, I don't have that anymore," he says. "Now I'm way shorter than all these young guys. I don't feel like I can play well enough to be really inspired."
Pallin could tee it up in state senior amateur tournaments, win some more trophies to throw in the closet, perhaps even dominate. But what's the point?
"To go out there and beat a bunch of guys that are 70 years old doesn't mean that much to me," he says. "No offense to them. It's not about that. I still like playing. I'm ready to play again this year. I'm going to at least play golf. I don't know about tournaments. I doubt it."
If you don't know the name John Pallin, it's only because he started winning tournaments 50 years ago and stopped winning pretty much at the dawn of the cellphone/Internet age. Google his name, and the first thing that pops up is a U.S. News & World Report overview of the radiology practice he owns with his wife, Cary, in Kenosha.
If he came along today, he would be a YouTube sensation because Dr. Pallin was the Bryson DeChambeau of his era. With a small-headed, steel-shafted, 43½-inch persimmon driver and a golf ball that was a marshmallow compared with today's dimpled bullets, he regularly smashed 330-yard drives. When he wanted or needed to be, he was longer. Much longer.
Archie Dadian, who played on the PGA Tour and then won dozens of tournaments as a reinstated amateur, saw Pallin hit his drive over the green on the 375-yard first hole at Kenosha CC. Dadian, no slouch himself when it came to distance, once crushed his tee shot into the wind and Pallin followed with a "pop fly." Dadian drove his cart to the farthest ball, knowing it had to be his. Except it wasn't.
"We walked it off and it was 80 yards difference between his ball and mine, and I mean, I blistered mine," Dadian says. "I've seen a lot of long hitters, but I didn't see too many guys get up and hit the ball 80, 90 yards past me when I thought they (mishit) it."
At one of the few long-drive competitions Pallin entered (and won), the kid standing next to the leader's drive at the end of Capoun Golf Range in Kenosha watched Pallin's ball sail over his head, over the grid, over the road and into a ditch. They couldn't build the ballpark big enough.
Then there was the time Pallin made John Daly look like a singles hitter when the two were paired in the Arkansas State Amateur, while Pallin was completing his residency in Fayetteville.
"One year down at the Western Open, Daly was there with his Hooters truck," says Tom Halla, who teamed with John Haines to hand Pallin and Steve Paradise a rare loss in the WSGA Best-ball. "I went up to him and I said, 'Hey, who was really longer, you or Pallin?' He stopped and looked at me, cigarette in his mouth, and he said, 'Pallin was longer. If you see that guy, say hi to him.'"
In the 1990s, a decade past his prime, Pallin had his swing speed tested on a launch monitor and said he maxed out at 141 mph with his driver. As a frame of reference, the PGA Tour average in 2020 was 114 mph; DeChambeau led the Tour at 133.59.
"I can't describe, truly, how far John hit the ball," Dadian says. "He was as long as he wanted to be. And that was the same thing with (Jack) Nicklaus. But I honestly think it would be no contest. If Nicklaus hit his Sunday best and Pallin hit his Sunday best, Pallin would have been longer. That's my opinion.
"I can't imagine Dustin Johnson or Bryson DeChambeau hitting it past him."
Says Bill Linneman, longtime director of rules and competitions for the WSGA: "John was the most entertaining guy off the tee as an amateur golfer that I've ever seen. Kids would come along thinking they were long and John would blow it 40, 50 yards past them."
Pallin grew up in Fond du Lac and was an exceptional all-around athlete. At 6-foot-2, he could nearly touch his elbow to the basketball rim and at 17 recorded a standing broad jump of 10 feet 4 inches. For comparison's sake, the average broad jump for wide receivers at the NFL combine is 10-2.
He lifted weights to strengthen his legs before that was a widely accepted practice and was broad-shouldered, straight-backed and narrow-waisted. A Greek god with a 1-iron.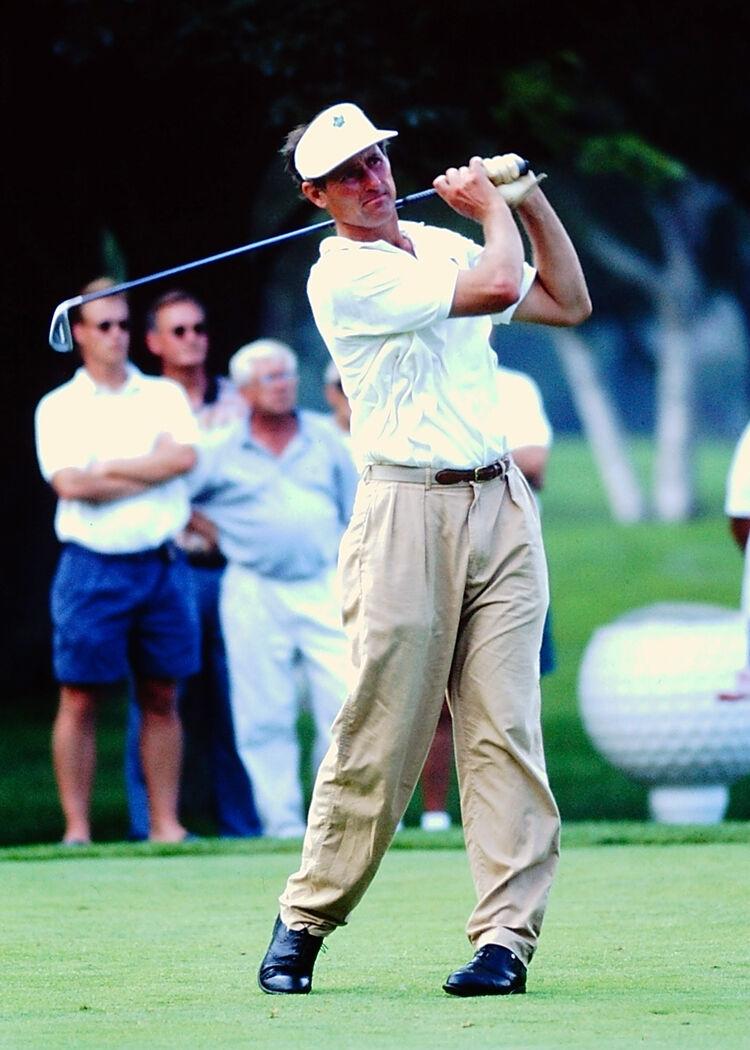 "He was a mythological figure," says Haines, who heard Pallin stories long before competing against him and learned quickly that they were not exaggerations. "He became so large in my mind, this guy, before I ever played against him. He was absolutely a Bunyan-esque kind of guy. And he lived up to everything.
"He reminded me a little of a Davis Love, only more athletic-looking. It was like, that's how you would build a bomber. His swing was a fit of fury but it wasn't like (Greg) Norman, where he looked like he strained every muscle. It was just like an athletic explosion.
"I called him Paladin. We always assumed he ate high-handicappers for lunch. … You'd see him in a tournament, walking down the fairway – it was like a creature on the distant moor."
Haines also was exceptionally long off the tee and represented Wisconsin three times in the Midwest Regional of the National Long Drive Contest. He once blasted a 359-yard drive, but admitted Pallin was "20 or 30 yards longer than me."
Imagine being a young hotshot with a plus-3 handicap and aspirations to play professionally, watching Pallin stride onto the first tee, like a boxer entering the ring, and blow it 40 yards past you. That would be enough to make you knuckle down in your college accounting classes.
Asked if he intimidated other golfers, Pallin says, "I have no idea. I never thought about that at all. A lot of the tournaments that I won I didn't even use a driver. I hit a 1-iron all the time."
Obviously, he had to have more than raw strength to win all the tournaments he won, including a pair of State Amateurs, two WSGA Match Play titles and back-to-back Ray Fischer Amateur Championships. He was a six-time WSGA Player of the Year; since the award was instituted in 1973, no one else has won it more than four times.
"I always told him, 'Why don't you go on the pro tour?'" says Dadian. "He was that good. He had a great short game and he had the length, and those are the two things that you truly need out there. He could have played with anybody. Literally anybody. I think he would have made a hell of a lot more money as a pro golfer than he did as a doctor. That's how much talent I thought he had."
Golf was important to Pallin, but it was never his sole focus. Brilliant and inquisitive, he was admittedly not a good fit as a freshman on the Oklahoma State University golf team, even though he'd won that '72 Wisconsin Junior title by five strokes. He lived in the athletic dorm but never played in a tournament, though he did hold his own in pickup games with members of the Cowboys' basketball team.
"I was not a seasoned golfer," he says. "When you're at Oklahoma State, you've got guys from all around the country and they have been playing serious golf since they were little kids. I was like, 'It's summer. It's time to play golf.' We were playing all the other sports, too, basketball and baseball."
He transferred to Arizona State but didn't go out for the golf team until walking on as a fifth-year senior. He finished fourth in team qualifying, played in a few tournaments and roomed with John Adams, who would go on to play on the PGA Tour.
Back in Wisconsin for the summers, Pallin chipped in on the first extra hole to beat Jeff Radder in a playoff for the 1975 State Amateur title and won it again three years later, cruising to a six-shot victory at Wausau Country Club. In '76, he finished one stroke behind Mark Bemowski despite three-putting nine times over the final 28 holes at Stevens Point Country Club.
"I just got to where I could not get the feel for the greens," Pallin says. "Most of the time when you win, you do one thing good: putt."
After graduating from the Medical College of Wisconsin in 1980, Pallin completed his residency at the University of Arkansas and was named chief resident in 1983. He was an assistant professor in body imaging and chest radiology and then served as director of interventional radiology at the Veterans Affairs Hospital in Little Rock. During that time, he competed several times in the Arkansas State Amateur and had a pair of top-five finishes.
He and Cary moved back to Wisconsin in 1988. But between establishing a radiology practice and starting a family – the Pallins have three children – he lacked the time and energy to devote to his golf game.
"I started working and I took my job seriously, so I wasn't golfing all that much," he says. "I played some, but I never got the intensity or the time again. When you're playing serious golf, it's a job. Even as an amateur. You're playing against these guys who are playing more than you. So, then you have a real job and you have another job (golf). That's a tough thing to do. You've got a family. You've got three kids. A wife. Golden retrievers."
That's not to say Pallin disappeared. To the contrary, he played well enough to earn WSGA Player of the Year three times in the 1990s and twice during that decade finished runner-up in the State Amateur. In 1995, he bladed a greenside bunker shot into the parking lot and out of bounds on the 72nd hole at Milwaukee Country Club and lost to Bob Gregorski by a single shot.
"I think I had a six-shot lead going into the final round," Pallin says. "I didn't make anything. And Bob played a ridiculous round. He was making shots that, if it didn't go in the hole, it was going to go way by. He hit it over the green on the par-3 12th hole, then he chipped in coming back down the hill. There's no way that ball stops. Hits the pin, goes in the hole. That's golf, though. You've got to have luck."
Pallin also won the WSGA Best-ball title eight times with three different partners. He and Paradise won the tournament six consecutive years (1991-'96), a record that is unlikely to be broken. Pallin, the bomber, and Paradise, the fairway finder, won 20 straight matches before Matt Kamish and Duaine Olson ended the streak on the 19th hole in the '97 final.
"John respected good shots and he was a good guy to play with," says Haines, who with Halla went 1-2 against Pallin and Paradise in the best-ball, beating them in 1990 and losing in the final in '91 and '96. "It actually became an honor that he would come over on the putting green during tournaments and say hello, because we had earned it with our battles. I've had people come up and say, 'Wow, he doesn't hate you?' It was just because he was so quiet."
Pallin reached the quarterfinals of the U.S. Senior Amateur in 2008 and made it to the semifinals in '09 before losing to eventual champion Vinny Giles.
"I had a huge (length) advantage in those but I didn't win either one," he says. "I just didn't hit it good enough. The round I lost (to Giles), that's the worst I played."
As the injuries took their toll, he played in fewer and fewer tournaments.
"I went through a stage where I thought I was never going to play again because of my wrists," he says. "Every time I'd hit any hard shot like a driver, it was like I was stuck with an ice pick in my right wrist. So I couldn't play. I injected my wrist just because I was hurting so much, and then two or three weeks later, it was like, 'This isn't bothering me that much now.' I went out and played – I hadn't played all year – and I shot 70. I hadn't even touched a club. Nothing."
If Pallin plays in one tournament in 2021, it will be the state father-daughter. He and Rocco, 30, who ran track and field at Dartmouth College, have won the title six times and counting.
"She drives it a mile," Pallin says, which proves that the apple doesn't fall far from the tree. "She hits it 250 and she plays the ladies tees. When we played North Hills, I putted for eagle two or three times on the par-4s. We three-putted 'em, too, and still won."
Asked if he was satisfied with what he got out of his talent, Pallin says, "The early playing, when I was in my 20s, that was good. That was fun. It was like, OK, you know what you're doing. I still never really peaked. If I wouldn't have gone to medical school or had not done my residency and just focused on playing, it would have been fun to see how much better I could have gotten.
"When I look at how much I played, I played a small amount. So, when I look at how well I did overall, I did pretty damned good."
The one question that can never be answered is how far Pallin would hit a four-piece tour ball today if he was in his 20s and was custom-fitted on TrackMan with a 46-inch, 460 cc driver.
"I don't know," he says. "It would go really far, though."