PEWAUKEE — Its formal name is Naga-Waukee War Memorial Golf Course but regulars know it simply as "The Nag."
By any name, the Waukesha County gem is one of the best municipal courses in Wisconsin, right up there with Brown Deer Park in Milwaukee and Brown County just outside Green Bay.
D'Time with Gary D'Amato: Naga-Waukee War Memorial GC-Pewaukee
| Category | Grade |
| --- | --- |
| Overall course conditions: | 8.0 |
| Quality of greens: | 8.5 |
| Aesthetics: | 9.5 |
| Playability: | 8.0 |
| Variety of holes: | 9.5 |
| Service: | 8.5 |
| Value: | 9.0 |
| Total: | 61 |
| | |
Tucked between Nagawicka and Pewaukee lakes, with stunning views of the latter from the 14th and 16th tee boxes, Naga-Waukee is the kind of course you can play over and over and never get bored. I'm sure I've played it more than 50 times and every round has felt like a new adventure.
"When you have big tee boxes, wide fairways and big greens, there's always an angle," said Tom Halla, the clubhouse supervisor. "It's not super tight. There's a lot of different ways to play it. You can draw or fade the ball on almost every hole."
Larry Packard, a prolific architect who designed or worked on more than 600 courses in North America, was given a tremendous piece of ground and made the most of it. There are launching-pad tee boxes high above fairways, dramatic elevation changes up and down, sweeping doglegs and tilted greens.
For my money, the stretch of holes from No. 10 through No. 14 is among the best in the state.
No. 10 is a par-4 that swings right and plunges downhill to a massive, sloping green. No. 11 is a par-5, with the tee shot uphill to a plateau fairway; the hole then turns sharply right and the second shot is semi-blind over a strategically placed bunker to the fairway below. No. 12 is Halla's favorite, a downhill par-4 with a rumpled fairway and another huge green that tilts left to right and is guarded short-right by an enormous bunker that probably catches 30 balls a day. No. 13 is a l-o-n-g par-3 with an elevated green (shorter hitters will need driver).
Then we come to No. 14, the signature hole, a downhill, double-dogleg par-5. You'll want to linger on the tee because the view of Pewaukee Lake in the distance is camera worthy.
"Everybody talks about that hole," Halla said. "There are prom photos taken up on the tee, wedding photos, you name it."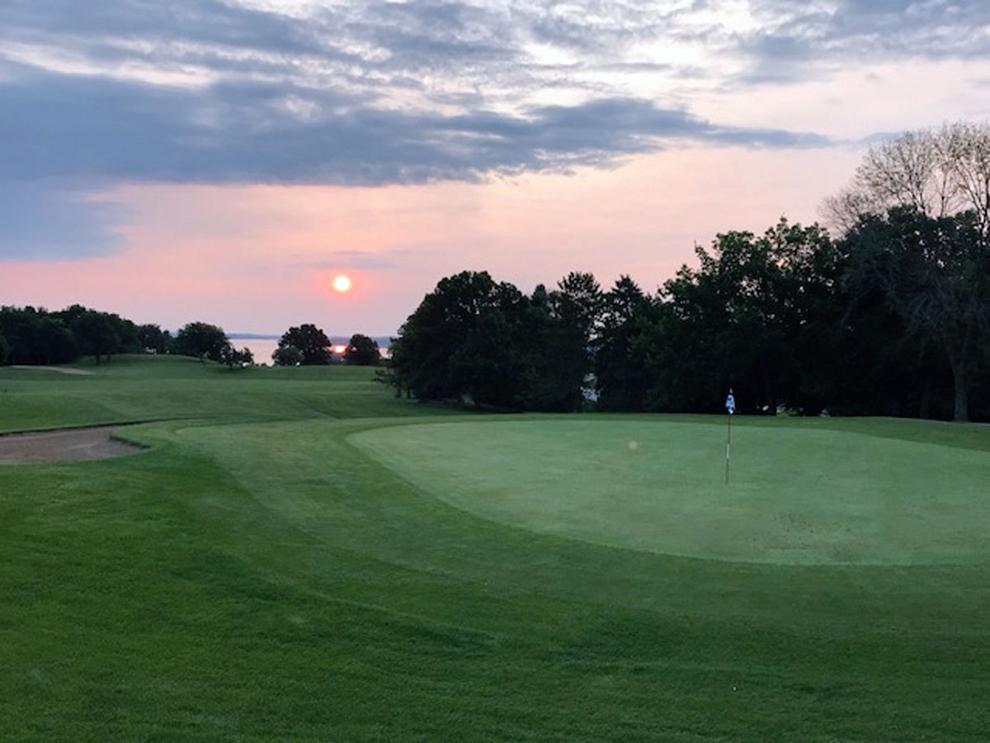 Naga-Waukee is one of the busiest courses in the state. On nice summer days, golfers are on the first tee at the crack of dawn and coming off the 18th green at dusk. Just last week at the American Family Insurance Championship, native sons J.J., Derek and T.J. Watt were detailing another brotherly battle on their hometown course the day before — J.J. shot 47 for nine holes and beat Derek by 10 shots; T.J. was "jealous" of the 47.
"We're consistently doing 40,000 rounds a year," Halla said. "It's got such a loyal following locally, but we have a lot of destination golfers here because we're on the I-94 corridor and there are three hotels close by. People that travel between the Twin Cities and Chicago stop and play. We even see overflow play from Erin Hills.
"And when the Cubs are in town (to play the Brewers), we're full."
So, from July 26 through 28 and again from September 5 through 8, you're likely to see an inordinate number of Illinois license plates in the parking lot.
Despite the beating it takes, Naga-Waukee is almost always in remarkably good shape. When I played a couple weeks ago, the maintenance crew was still trying to catch up on mowing after several days of rain and the rough was thick and unforgiving.
If you walk, be forewarned that there are some steep hills on the back nine. But one of Naga-Waukee's big advantages in a Lake Country region saturated with golf courses is that it drains extremely well, so carts are almost always available.
"It was built on a rock pile," Halla said. "We're blessed with incredible drainage and that is such a bonus. In a trying year like this, we didn't lose one day without carts this entire spring. I've talked to friends who have had 35 days without carts. When everybody is struggling, we're riding."
If you haven't played The Nag, you owe it to yourself to book a tee time.