If every new driver with NASA-inspired technology truly was X yards longer than its state-of-the-art predecessor, octogenarian high-handicappers would be launching 300-yard drives and Bryson DeChambeau would be banned in 42 states.
Marketing claims aside, technology unquestionably has made golfers longer off the tee, though it has helped some (PGA Tour pros) more than most (the rest of us schlubs). For proof, try hitting a wound golf ball with a persimmon driver, though you may have to raid an antiques store to find them. Even if you manage to make contact on the sweet spot, which is about as big as the period at the end of this sentence, the ball will fall out of the sky like a one-winged bird.
The question we set out to answer is, how much has technology helped? At the game's highest levels, it has made a big difference, hence the 520-yard par-4 and the United States Golf Association's messaging that distance = bad. At the game's lowest levels, which includes me and – sorry to say – probably you, the promise of five more yards is the sole reason we'll blow the monthly rent on a driver.
In an admittedly unscientific attempt to measure how much technology has helped an average golfer, I put a few generations of drivers to the test.
In my basement crawl space, I unearthed three of my old gamers: a 1994 Cleveland VAS (10 degrees, H.E.T. Graphite Boron shaft); a 1995 TaylorMade Burner Bubble (9.5 degrees, Bubble Shaft TS-100 Plus); and a 2009 PowerBilt Air Force One (Graphite Design shaft, 60 grams, stiff flex).
I also included my current trusty, fairway-finding gamer, a 2017 TaylorMade M2 (9.5 degrees, Fujikura Pro shaft, 53 grams, regular flex). The new kid on the block, a 2020 TaylorMade SIM Max, tagged along, though we have not yet committed to a long-term relationship.
I took the clubs to The Practice Station in New Berlin, got on a simulator and unleashed the beasts while TrackMan recorded the numbers. Which reminded me: I played in the 2020 Sentry Tournament of Champions pro-am with Graeme McDowell, who, upon seeing my TrackMan numbers on the ninth tee at Kapalua, shook his head sadly and said, "Gary, my wife hits me harder than that."
I can't help it that I'm 65 with a bad back and a left knee that has seen the surgeon's scalpel four times. With my swing speed topping out in the mid-80s and my handicap teetering between 12 and 13, I like to think I represent the everyman golfer.
But still, can't TrackMan lie every once in a while?
After a warm-up session, I hit 10 balls with each club. Before I go into the numbers, which told an interesting story, a word from our sponsors:
Cleveland VAS: I hadn't hit a ball with this club since replacing it with the avant-garde Burner Bubble 25 years ago. The purple VAS (Vibration Absorbing System) badge in the top of the club is pretty cool, but the driver looked puny and performed accordingly.
TaylorMade Burner Bubble: This club, with its distinctive shaft bulge under the grip, was all the rage in the mid-1990s. But the Hula Hoop was once big, too.
PowerBilt Air Force One: Compressed nitrogen fills the club head of this bad boy. Welcome to the space age. At the time, I remember it being demonstrably longer than anything I'd ever hit.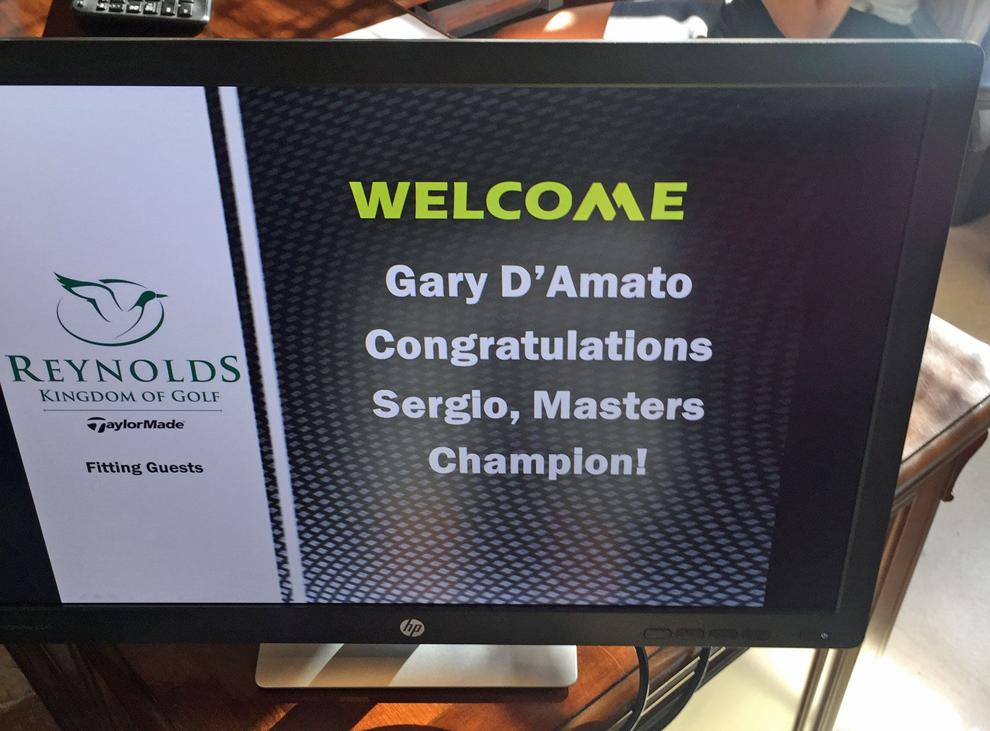 TaylorMade M2: I was custom-fitted for this driver at TaylorMade's Kingdom at Reynolds Lake Oconee in Georgia, the day after the 2017 Masters. I still have the photo of the sign on my phone: "Welcome Gary D'Amato. Congratulations Sergio, Masters Champion!" Top of the marquee. Take that, El Niño.
TaylorMade SIM Max: This was a premium gift for playing in the Sentry Tournament of Champions pro-am. I filled out a sheet with my requested specs and the club was mailed to me. As the numbers show, a custom fitting would have helped me max out this club.
OK, so what did I learn? An hour spent swinging as hard as I could is not good for my back. And, somewhat amazingly, I really have benefited from advances in driver technology.
As the accompanying chart shows, I am almost 24 yards longer with my current M2 gamer than I am with the old Cleveland VAS (averaging the best six of 10 shots with each club). In fact, I got longer with each "upgrade" until a slight regression with the SIM Max – even though I swung the aerodynamic SIM more than 2 mph faster than I did the M2.
How to explain that? The smash factor with my M2 was much better – 1.438 to 1.380. The smash factor is basically the transfer of energy to the ball (or the efficiency of the strike); the higher, the better.
That's an endorsement for being custom-fitted. The person who put my SIM Max together had to guess at the shaft-head combination based on the info sheet I filled out. My M2, on the other hand, was fitted in an hour-long session at The Kingdom, where I tried a couple dozen shaft-head combinations before we settled on the combo that maximized my s-l-o-w senior swing.
Moral of the story? If you're going to spend $500 on a driver, go through a custom fitting.
Also, if you're going to go all out on 60 driver swings, after not touching your clubs in nearly three months, don't forget the Aleve.