SOUTH MILWAUKEE – On his Instagram account, Patrick Koenig describes himself as a "Professional Golf Photographer, Golf Enthusiast, Golf Model, Golf Blogger, Golf High Kicker."
I'd describe him as a golfing bon vivant, a man whose mastery of social media, self-promotion and golf-specific skills – on the course and behind a camera – have afforded him a lifestyle that makes the rest of us, with our traditional jobs and our traditional lives, feel as if we've missed out on all the fun.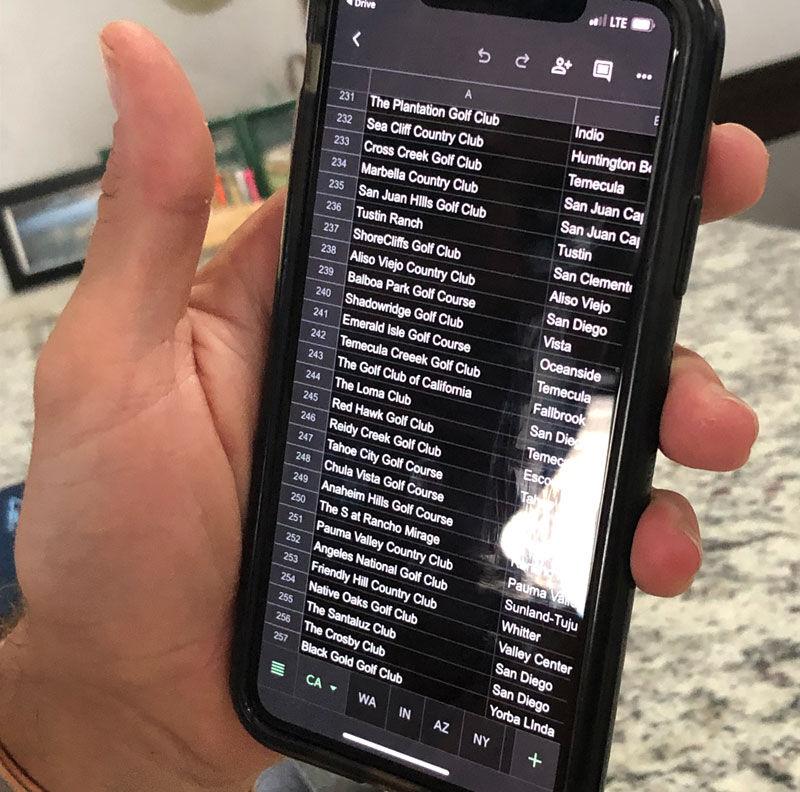 Koenig has played the Old Course in St. Andrews with Bill Murray. Companies lavish him with gifts and products, hoping he'll give them a mention on Instagram (90.3K followers) or on his website. A couple years ago, he quit his "normal" job in IT, bought an RV, turned it into an "RGV" (Recreational Golf Vehicle) and crisscrossed the country, playing 405 courses in 365 days.
A few months back, when the Wisconsin State Golf Association advertised a summer internship in which a qualified golfer would be paid to play 50 courses over 10 weeks and chronicle the journey on social media, Koenig's phone lit up.
"Dude, did you see this?" was the gist of the messages from his buddies. "You're perfect for this."
The WSGA had in mind one internship and, if we're being honest, Bobbi Stricker had the inside track from the start. But Koenig's application was so out-there and so persuasive – he included video of him rolling a watermelon down a fairway at Quivira in Cabo San Lucas, and his ex-wife provided a testimonial – that the WSGA decided to create a second internship for him.
And so, here he is, a 41-year-old "intern" from Laguna Beach, Calif., tooling around Wisconsin in a Ford F-150 rented for him by the WSGA, shirt untucked, sticking a peg in the ground at a different course every day – sometimes two in one day – and having the time of his life. Which seems to be a habit.
"There's nobody more qualified to do this than me," Koenig said recently, over a burger and cheese curds in the Grant Park Golf Course clubhouse. "Absolutely nobody. I believe that."
So do I, after watching him make five birdies and shoot an easy 70, all the while telling stories about his golf adventures in faraway places, on exclusive top-100 courses and with celebrities that had me alternately shaking my head in awe and laughing out loud.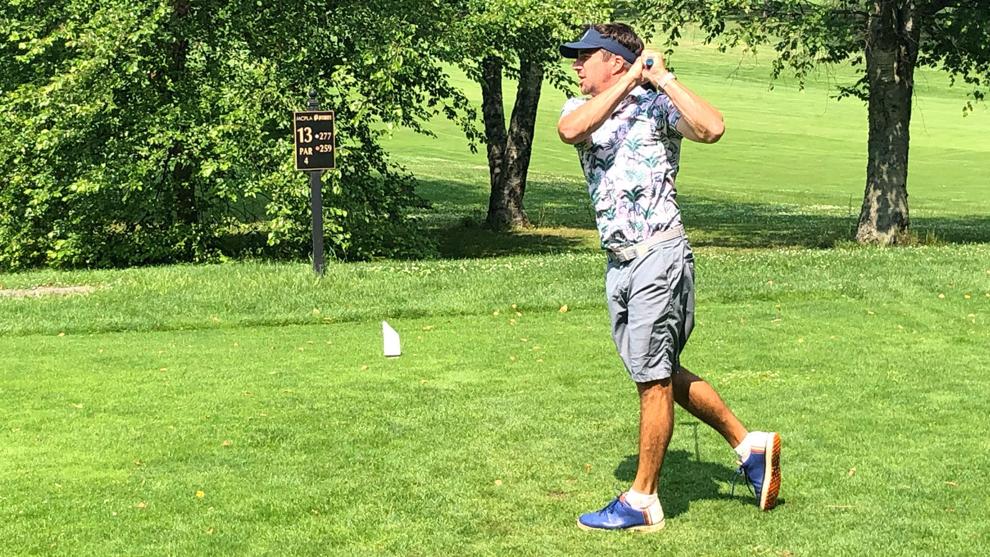 The WSGA is getting its money's worth. Koenig has built a reputation as a skilled photographer who shoots the kind of artsy golf course photos that wind up in the national magazines. He plans to give the WSGA a portfolio at the end of his internship, which will be worth more than whatever he's being paid plus all 50 green fees combined.
He has been on the other side of the camera, too, modeling watches on a shoot in New York City. He might be the only person who appears in an ad on one page of Golf Digest and who shot the photo on the facing page. The guy looks cool pushing a cart, OK?
None of this would have happened if he hadn't taken the plunge in 2018 and quit his job with West IP Communications, selling hosted voice-over IP systems to companies such as Tesla Motors. He was doing golf photography in his spare time, and he was starting to get noticed.
"People would buy stuff here and there but it was very much a hobby," Koenig said. "I was like, this would be great if I could do this fulltime because I love this. And then you start to realize, why not do something that you love every day? If you didn't have any money at all, if you were doing something you loved every day, wouldn't you be happier than someone who has a billion dollars? And the answer is yes. Absolutely yes."
He bought the RV, equipped it with a roof-top driving range and a golf library, went on a yearlong odyssey in which he played golf basically as America's guest (and raised $20,000 for The First Tee) … and never looked back.
"All my friends thought it was awesome," Koenig said. "Nobody was like, 'You're an idiot for doing this.' I played golf with a guy in Mississippi and he was like, 'Dude, you inspired me. My life changed in part because I saw what you did and I made a change in my own life.'"
Koenig parked the RGV in February 2020, having semi-retired as a golf hobo, and said he had $30,000 to $40,000 worth of golf photography jobs lined up. Then COVID hit and every client bailed on him. He took a job with Medterra, a CBD company, but eventually the entire golf division was laid off.
"That was probably the most scared I've ever been in terms of, 'What am I going to do?'" he said. "I went to the desert and played golf with my buddy for a long time. Killed some time. And then slowly I found some other opportunities. I found this or that. It was all golf-based photography, stuff I wanted to do. It's been a real exciting journey."
Koenig agrees that his lifestyle takes a healthy does of self-confidence, the ability to adjust on the fly and a curiosity about what's around the next bend. If you're a planner, a worrier or a creature of habit, stick to your 9-to-5.
"You have to be a little bit insane," he said. "I have that confidence in myself that, like, I can try this and I'll probably figure it out. That's the kind of guy I am. And you have to be kind of OK with not knowing. That fear just kind of becomes how you live your life.
"I mean, I'm not just out there flailing around. I have a plan with my business, what I want to accomplish. But the answer to some of the things is, I don't know. And I'm OK with that."
You can find Koenig's 50-course schedule on his website, pjkoenig.com. He's playing everything from Eagle Springs to Erin Hills, from Wild Rock to Coulee Golf Bowl, from Apostle Highlands to Whistling Straits. He finishes Sept. 3 at Kenosha Country Club.
By then, he'll have played about 75 courses in Wisconsin – he spent plenty of time here before landing the internship – and some 1,200 courses worldwide. He keeps them organized, by country and state, on his phone. California, he said, is the best state for golf overall, but Wisconsin is No. 1 on his list for public-access golf.
"If you're a golf guy, Wisconsin has been on your radar for golf trips," he said. "Kohler is really what put it on the map, right? Sand Valley, now they're building The Lido. Erin Hills. It's really blown up. It's like every year, there's something new. And no other state has that."
Koenig hopes other state golf associations take note of what he's doing with (and for) the WSGA this summer and come calling. A career intern, playing golf for weeks on end on someone else's dime? There are worse ways to make a living.
Yes, we say through gritted teeth, there certainly are.
"If I'm making people jealous," Koenig said, with not a trace of guilt, "I'm doing a good job."