ROME — Zach Johnson played Marco Simone Golf & Country Club for the first time Monday, and as he teed off on the first hole of the 2023 Ryder Cup host course built on hills overlooking the Eternal City, the song "Dream On" by Aerosmith was playing on a Bluetooth speaker in his cart.
Coincidence? Maybe, but the song was fitting because as well as Team USA has played in the last two international team competitions, winning the Ryder Cup at Whistling Straits last year and the Presidents Cup at Quail Hollow two Sundays ago, it has been 29 years since the Americans have hoisted the Ryder Cup on foreign soil.
For perspective, Tiger Woods was still in high school when Team USA prevailed in 1993 at The Belfry in Sutton Coldfield, England. Raymond Floyd, now 80, won his Sunday singles match to help the Americans to a 15-13 victory. Payne Stewart, who died in a plane crash 23 years ago, was on that team, as was Davis Love III, now a two-time Ryder Cup captain. Paul Azinger and Lanny Wadkins have long since retired to the broadcast booth.
Johnson, 46, a five-time Ryder Cup participant with a winning match record (8-6-2), doesn't need to be reminded about the Americans' drought across the pond.
"Well, my theory is that the European team has scored more points than us when we participated over here," he said. "Joking aside, it's just difficult. When you come to a hostile, foreign environment, it's hard. … What I do know is that 2023 will be an opportunity of a lifetime, and that will be my message, plain and simple. Let's embrace the difficulty. Let's relish in the moment of being in Rome, competing in a sport you love and representing your country."
Johnson, who is making his first-ever trip to Italy, and Luke Donald, captain of the European Team, are in Rome this week for a "Year to Go" event promoting the 2023 matches, to be played Sept. 29-Oct. 1. Their whirlwind schedule included photo shoots, hitting golf shots at the Temple of Venus, a gala dinner at a private palace, their first joint news conference and an exhibition with top junior members of the Italian National Team at Marco Simone.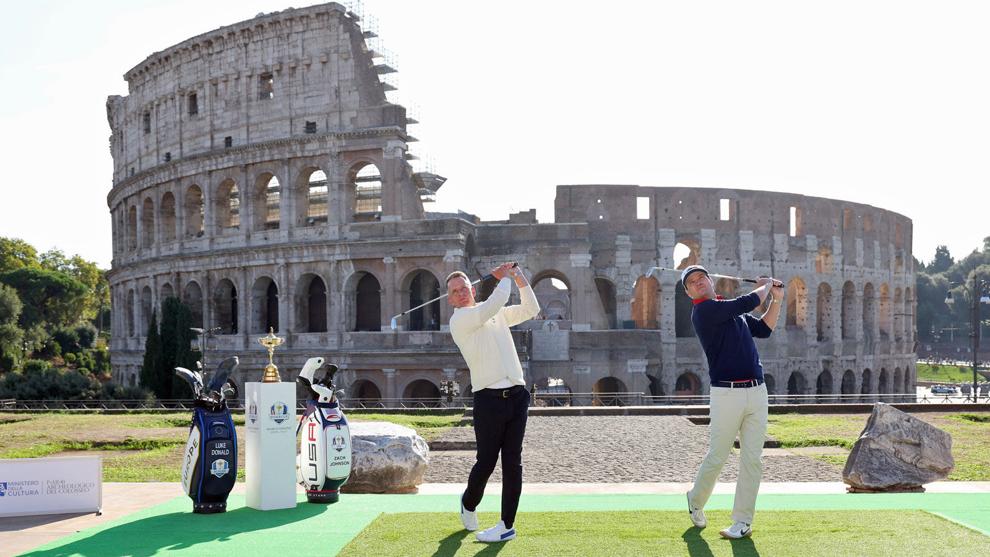 Only twice before has the Ryder Cup been held on continental Europe: Spain in 1997 and France in 2018. Johnson was effusive in his praise of Rome as a host city, and hilly Marco Simone is a worthy match-play venue, with risk-reward par-5s, potentially drivable par-4s, difficult par-3s and breathtaking views of olive groves, St. Peter's Basilica and much of Rome from the highest points on the course.
"Somebody told me Marco Simone is hillier than Augusta National," Johnson said Tuesday, in a news conference at Rome Cavalieri, the hotel that will host both teams next year. "I'm like, OK, right. And it is. I think it is. It's going to be a difficult physical test when you play four sessions in two days. You have to take that into account. I'll just say this: as a player, it's hard. I can't even imagine being a caddie."
The good news is that Johnson is expected to have a young team in 12 months; fitness shouldn't be an issue. Holdovers from Whistling Straits and that 19-9 pounding of Europe likely will be Scottie Scheffler, Jordan Spieth, Collin Morikawa, Tony Finau, Justin Thomas, Patrick Cantlay and Xander Schauffele. Newcomers could include Will Zalatoris, Sam Burns, Max Homa and Cam Young.
All but Zalatoris, who was injured and could not play in the Presidents Cup, have experience in international team competition and only two of them — Finau (34) and Homa (32) — would be older than 31.
All of which makes the Americans the heavy favorites, right?
"Well, I think being at home certainly is worth something. We see that in all of sports," Donald said. "But no doubt we are going against a very, very strong opponent. I think the U.S. Presidents Cup team was the strongest they have ever been on paper (as per the Official World Golf Ranking). … I fully expect us to be underdogs despite that home percentage of wins over the last 30 years."
While Donald was saying those words, Johnson, seated to his right at the news conference, was smiling and shaking his head.
"Do I really think the Europeans are underdogs?" he said. "I can give you a one-word answer: no. They are not underdogs. They are on their home soil. You hear the notion of, 'well, on paper …' I understand that, but 'on paper' can be subjective as well. … There is something to be said about having confidence and momentum where you're comfortable, and evidently they have been comfortable over here for 30 years."
The wild card is whether the PGA of America and Ryder Cup Europe will let players who have defected to LIV Golf participate in the matches. If so, stalwarts such as Dustin Johnson and Brooks Koepka for the U.S. and Sergio Garcia and Ian Poulter for Europe could be potential captain's picks.
"I don't speak in maybes," Johnson said. "Those are the questions, those are the situations that will come to light at some point. They're certainly out of my control. If it's out of my control, I don't give it a whole lot of attention."
One thing that Johnson is unequivocal about is the importance of having Madison's Steve Stricker in an assistant captain role. Stricker, who led Team USA to its resounding victory at Whistling Straits and also is a victorious U.S. Presidents Cup captain, is the only assistant that Johnson has named thus far.
"I mean, he's amazing," Johnson said. "He's the kind of guy who leads by example rather than words. Man of few words, I guess you could say. But then when he does speak it's very calculated and cerebral. It's got meaning. One thing that you cannot deny is his passion and his reverence for this tournament, and specifically Team USA.
"He's a massive asset, regardless of what seat he's in; I would say all three capacities — player, vice captain or the head captain. I feel very fortunate to still have him be a part of Team USA."
Stricker was able to get his team to Whistling Straits early for practice rounds. But the Americans have been handicapped by not knowing the courses well when they have played in Europe.
"I've got some plans in my pocket," Johnson said but declined to elaborate. "I'll just say this: the more you can get your team or your potential team on the ground, the better. And that's hard. It's not Wisconsin or New York, right? The difficulty is everybody's schedule and getting them on the grounds. It's difficult every four years when it's here. But it's a priority.
"There's so much going on on the PGA Tour, it's hard for the guys to come play the Italian Open (held at Marco Simone). … It's logistics, it's calendar. These guys have obligations and other opportunities that are priorities, too. I fully understand that. It's just hard."
Though this trip was Ryder Cup-intensive for Johnson, it wasn't the only thing on his mind. As he headed to be stretched out by his physio before playing Marco Simone, the Iowa native and Big Ten football fan turned in his cart and called back to a reporter, "Hey, how about (Paul) Chryst?"