Twenty-five years ago, Gary Player predicted the coming of Bryson DeChambeau. Of course, since DeChambeau was a toddler at the time, Player couldn't have known it would be him. But he knew it would be someone like him.
"Someday, a golfer is going to come along who hits the ball 400 yards," Player said. Noting the bemused smile on a reporter's face, he added, "I'm not kidding. A golfer will come along who drives the first green at Augusta (National). Mark my words."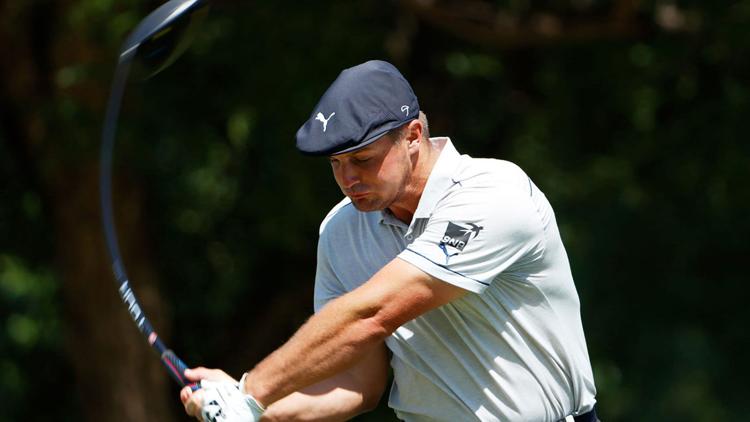 Consider them marked. DeChambeau recently posted on his Instagram account that he smashed a drive during a practice session that carried 403.1 yards in the air; his ball speed of 211 mph was more than 41 mph faster than the PGA Tour average of 169.71.
He has experimented with a 48-inch driver and may bring it to Augusta for the Masters Tournament next week. It is unlikely he would be able to drive the green on the 445-yard first hole, but the idea isn't as far-fetched as it was when Player made his bold prediction.
DeChambeau, ranked sixth in the world, is one of the most fascinating stories in golf. He went from averaging 299.4 yards off the tee in 2017 to a tour-leading 322.1 in 2020 (he's up to 344.4 early in this wraparound PGA Tour season). He did it by committing to an intensive speed- and strength-training regimen and adding 40 pounds of muscle mass. Put shoulder pads on him, and he could pass for an inside linebacker.
DeChambeau's dismantling of venerable Winged Foot en route to a six-shot victory in the U.S. Open in September made believers of the few remaining doubters. He has taken the modern bomb-and-gouge style of golf to the next level.
But is his methodology a template for talented young golfers to follow? Or is he an anomaly, a one-off whose extreme approach would be ill-advised for those who strive to play professionally?
Wisconsin.Golf asked several talented young players and a golf instructor for their take on DeChambeau and whether it is practical to try to copy what he is doing.
The panel included University of Illinois freshman Piercen Hunt of Hartland, the 2019 Western Junior champion and a two-time Rolex Junior All-American; Vanderbilt University senior Harrison Ott of Brookfield, winner of the 2018 State Amateur and the 2020 State Open; Marquette University junior Hunter Eichhorn of Carney, Mich., the 2019 State Amateur champion; University of Wisconsin senior Griffin Barela of Lakewood, Colo., winner of the 2016 Colorado Junior Match Play; and instructor Andy Podolak of West Bend, who teaches at Range Time in Sturtevant.
Following is the discussion, with selected comments:
DeChambeau posted on Instagram that he hit a 403-yard drive. Have you been influenced by what he's done to try to gain speed and distance in your own game?
Barela: "Yeah, definitely. A couple of weeks ago, I went down to see my swing coach (Jeff Smith) in Las Vegas and one of the things we were working on was trying to find ways to pick up more speed. I'm not the longest hitter, so I was already at a slight disadvantage. But now with this whole speed craze, I feel like if you're not trying to do something, you're getting left behind."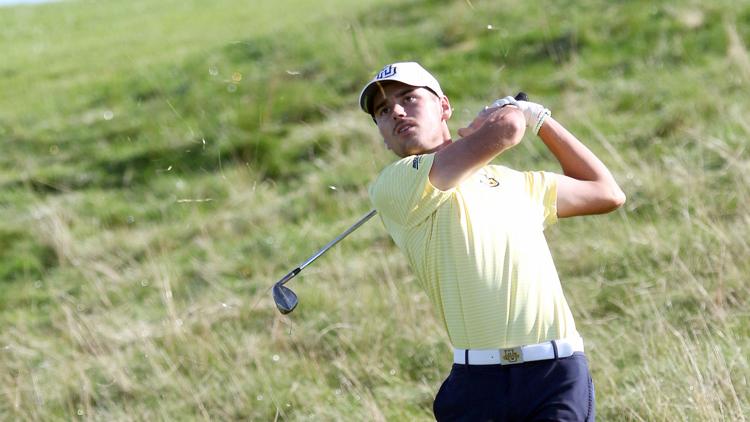 Eichhorn: "To be honest, it hasn't influenced me a ton. It obviously makes you think about it, just in regards to being able to hit it that far. He hits it pretty straight, too, for how far he hits it. It makes the game a lot more simple, obviously, if you're 40 or 50 yards closer (to the green) than everybody else. I wouldn't say it's influenced me yet in a crazy way, but I'm definitely paying attention to it."
Ott: "Me, personally, not really. My take is if it's less than 15 yards gained, it's probably not worth whatever you might lose, whether it's touch around the greens or accuracy off the tee. But I think if you could break that 15-yard threshold – and I'm talking 15 yards on your average drive – then it becomes something more worth looking into.
"I've definitely seen guys on my team influenced by the idea. Instead of thinking, 'I'm just going to get this one in the fairway,' they're now thinking, 'If I'm going to hit driver, I'm going to hit it as hard as I can.' It's definitely influencing the game a little bit but as far as my personal take, I don't know what it's going to do for me. Maybe some off-season experimentation, but probably not a whole lot of change to my game."
It's been reported that DeChambeau has added about 40 pounds of muscle mass over the last year or so. Would you consider bulking up in the weight room to achieve the kind of distance gains he has made?
Hunt: "I don't envision myself bulking up in any of the ways that he has, at least not during my time here in college. In our program we get after it really hard in the gym. This morning we had a (90-minute) lift. That happens three days a week. I don't think there's anybody on the team who is trying to hit it 400 yards, just because there's such a premium on hitting fairways with a lot of the courses we play."
Eichhorn: "Not to that extent, probably. Not 40 pounds. He's a pretty big guy. He's probably 6-2, 6-3. He was already a tall, lanky dude, so he had a lot of room to put on that muscle. I would definitely think about gaining another 10 or 15 pounds, get a little stockier, but not quite to the extent he's done it. I don't know if my frame could handle that much excessive gain."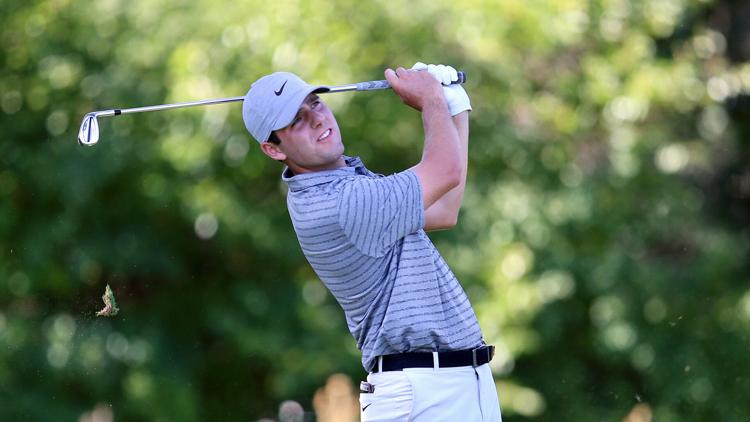 Ott: "Last year I actually tried to do that and I gained like 16 pounds between fall and spring. It was kind of interesting. I didn't really see any distance gains. … I've definitely scaled back since then. Once our season got cancelled (by the coronavirus pandemic), and even before that, in March I was scaling back and trying to get back to where I was previously. I feel like it gives me some sort of advantage with feel. It didn't last very long, I guess. It lasted two or three months."
Barela: "That hasn't been something that I've done in the past, so I think coming up we're moving to three days of workouts a week. I'm trying to be really efficient in the weight room and see if I can't put on a little bit of muscle to go with what I've been working on with my coach to see if I can pick up a little distance."
People are fascinated with DeChambeau's prodigious drives but he's worked very hard on the rest of his game, too. This past season, he ranked 10th on the PGA Tour in strokes gained-putting with his arm-lock method, and he was 17th in scrambling. Not bad for a guy who bombs it.
Hunt: "His driving certainly gets the bulk of the attention but he putts it just as well as anyone in the world. If he can dial in some wedge shots, then it'll be really scary."
Podolak: "One thing that people are forgetting about DeChambeau is that he is an amazing putter. He's found a process and a technique that he believes in and he trusts. He's seen results. He just believes in himself. You've got to have that. A guy like (Mark) Wilson or Luke Donald – how did they do it? That's mental talent. Regarding just pure length for young tour players, they all murder it already. They've got all the talent in the world, but you need it between the ears and you need to make putts. You need to rise to the occasion.
"(Phil) Mickelson is more or less doing the same thing. He's just not all bulked up. He's trying to hit it as hard as he possibly can off the tee. He creates some crazy clubhead speed for a 50-year-old. But he also hits it sideways. The guy is amazing and he's had an incredible career and he will continue to win, but not because he hits it straight. But DeChambeau's technique is so much better than Phil Mickelson's, in my opinion. DeChambeau gets the club in textbook positions."
DeChambeau certainly has brought more attention to the PGA Tour – not only with his 380-yard drives but with his marketing savvy and his playful goading of other players on social media. But is all this focus on muscle and distance good for the game?
Eichhorn: "I don't really think it's bad for the game. I think it's kind of viewed bad because it's a whole new way of playing. People have been aware that distance is growing, but he's obviously taken it to a new level. He still has to hit it straight. A lot of people overlook the fact that he's putting the ball really well. At the end of the day, does it make it a little easier? Yeah, but you've still got to score the ball."
Ott: "I definitely disagree with people who say it's bad for the game. In my opinion, it is a skill. I think if an average tour pro or average college guy tries to add 40 or 50 yards of carry, I don't know if it makes them that much better, honestly, because I don't think they're going to hit it as straight as he does at that speed. I still think there's a lot of skill to what he's doing and it's kind of unique that he's able to have that much speed and do the other things pretty well."
Is it realistic, or even advisable, for talented young golfers to follow DeChambeau's lead and try to do what he has done?
Podolak: "For sure. I think anyone could do it. But what are they trying to do? Are they trying to be professional golfers and trying to hit it a mile? … It's a big commitment. At the end of the day you've got to work your ass off. And with that, you've got to have the self-belief and the mental talent, too. People are forgetting about all those aspects. DeChambeau has got all that."
Ott: "I think it's pretty realistic. One thing I did growing up, and I think Bryson kind of solidifies that idea, up until pretty much my sophomore year of high school, every driver I hit was 110 percent. And when I was practicing, I was hitting every driver on the range as hard as I could. I think that helps to raise your ceiling. In the same sense, I'm around people that hit it further than me all the time – and significantly further – and I never tee it up against them and think they have an advantage just because of that. It's valid to try to get more distance, but you still have to be good at the other things."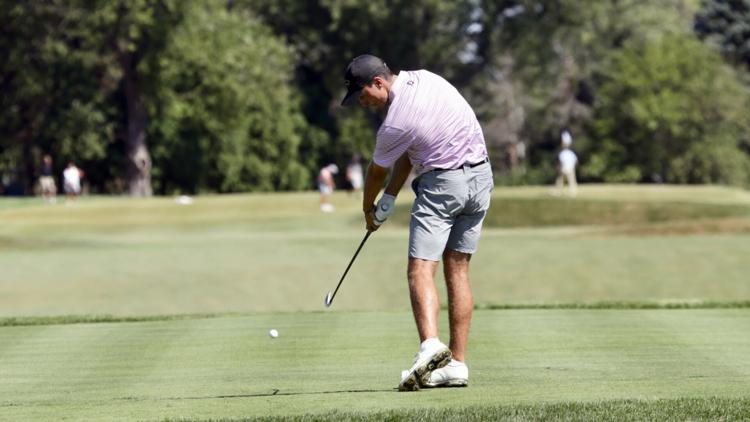 Hunt: "For young players I would say absolutely not. (Not when) your body is still developing, your game is still developing, you're still learning. Bryson probably did it the right way. He made the decision to bulk up at a point where his body had fully developed. His swing was extremely repeatable. What he was able to do was go through the right steps with what was already a world-class player and athlete.
"Until you learn to take the distance and narrow it down and hit fairways and keep the ball in play and do all the other things well like putt it, wedge it and score – because scoring is such a large part of what you learn through high school, college and even a couple years after – I don't think, in my view, it's the right approach for many people to take."
Eichhorn: "Obviously, he's put in a ton of time in the gym and on his game. So that aspect of it, just to make yourself marginally better, I definitely think it's realistic for people to start incorporating that into their process, their routine about how they do things.
"Even if it's (adding) 10 or 15 yards, that can make a world of difference for some players. As far as gaining 40 pounds and hitting it 390, is that realistic for most people? No, honestly. But if they can take a little piece of what he's doing and add that 10 or 15 yards and it makes them marginally better within their game, I think that's the way most people, if they wanted to utilize it, would approach it."
DeChambeau has touched 140 mph with his driver clubhead speed and gotten his ball speed over 210 mph. The PGA Tour averages early in the 2020-'21 season are 113.82 mph swing speed and 169.71 mph ball speed. Do you know your own TrackMan numbers, and are you satisfied with them?
Ott: "I'm about 170 ball speed on a good one. I don't hit it that far; it's not really my game. I've gotten higher but my max right now is probably about 170 to 172. That's probably being generous. In the summer it was a little higher. I don't really obsess over it too much. For me, it's probably more important to get it in the fairway."
Hunt: "I've been working on TrackMan since my freshman year of high school. Currently I'm swinging it right around 120 mph. I've made a couple of swing changes since I got here (at Illinois). … As I get more dialed with the changes I'm making, my distance will only go up. Right now, I'm somewhere between 119 and 121 most days when I'm not super-sore from hitting the gym hard the day before. I'm very pleased with where I'm at."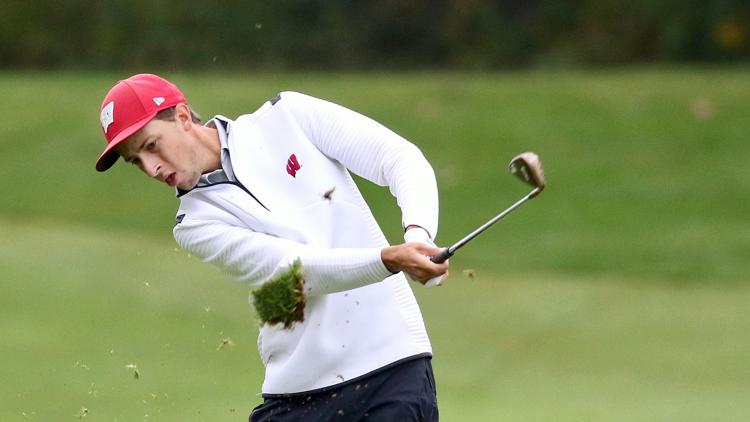 Barela: "I would be towards the lower end of the tour. I'm definitely slightly below the tour average, so that's something that I'm going to need to improve upon here in the next year or so. I'm like mid-160s-ish (ball speed), so getting up to that (tour average) would definitely be helpful."
Eichhorn: "If I put on a decent amount of weight, maybe I'd get to the mid-180s (ball speed). If you optimize your ball flight, you can still hit it pretty far in the 180s. But 190, 200, like DeChambeau and Cameron Champ, those guys are freaks. It's crazy."
Most golfers with longevity – Sam Snead back in the day, Vijay Singh, Ernie Els, even Steve Stricker – don't look like they're trying to kill the ball on every swing. DeChambeau has an entire team around him to make sure he's going about it the right way, but it's hard to believe he can swing that hard for the next 10 years and not sustain an injury. Would you agree?
Barela: "I'm sure he's factored that into what he's doing, but I would find it hard to believe he would go the next 10 years without having some sort of injury issue. I think that's something you definitely have to wary of."
Podolak: "Think of the wear and tear these guys put on their bodies. How do you have longevity swinging it as hard as he does? He's only going to get older. How does he maintain that over time? Even for the short term, for the next 10 years. I think he's probably thought that through a little bit. He's clearly a smart guy. I'm sure he looks at every possibility."
There has been a lot of talk in recent years about the possibility of equipment being rolled back because of driving distance gains on the PGA Tour. The USGA is expected to make recommendations based on its Distance Insights Project. Would you favor rolling back equipment, or just the golf ball? If so, would you like to see it done only for tour players, or for everyone who plays golf?
Eichhorn: "You can definitely roll equipment back but at the end of the day technology has gotten better, players have become more athletic, they take a lot better care of themselves. It's just how the game has evolved. Regardless of what they do, even if they roll the ball back, the guys who hit it farther are still going to hit it farther. It's just a tough situation the USGA is in. I could see them maybe doing it just for the pros; amateur golfers want everything possible that can help them. I couldn't imagine being the guy having to make that decision."
Ott: "I've actually talked about this with a lot of my buddies. I personally would like to see stuff rolled back and it's definitely in a selfish way. It's not because I dislike what Bryson is doing. I think it's good for the game. But I do think that, for me, I could benefit from other guys losing a percentage of their distance because a percentage of 400 is a lot more distance than I would lose at 300. I wouldn't mind seeing it, but I don't know. It's not like I really want it to happen."
Hunt: "I would be against it. The way the USGA is looking at it is certainly appropriate, but distance is really only a problem for a very, very small number of people. I certainly don't fall anywhere close to that category. Once a guy can start getting the club up toward 130 mph, that's when they start falling into that category. The courses just haven't developed to accommodate that. I think if there were a lot more tour events that play similar to how Muirfield (Village) did or how Olympia Fields did during the BMW Championship, then I don't think it would be looked at the exact same way."
Barela: "I'm kind of on the fence. I think before we saw this push with Bryson, I would say I wasn't in favor of it, just because so much of the distance that we see on tour comes from course conditions and fairways running out 30 or 40 yards. But now that we're starting to see Bryson kind of push the limits and encourage other people to do so, I think if things aren't considered being rolled back, you could see certain courses become obsolete, which definitely is not in the best interest of the game."