MADISON – You might find it entertaining. You might find it irritating. Either way, the Brooks-Bryson brouhaha on the PGA Tour has the potential to become a big problem for U.S. Ryder Cup captain Steve Stricker.
"Yeah, it's not making my job any easier, you know?" Stricker told Wisconsin.Golf on Wednesday, two days before the start of the American Family Insurance Championship, the PGA Tour Champions event he hosts at University Ridge.
For those of you who just returned from Mars, Brooks Koepka and Bryson DeChambeau, golf's current alpha males, don't much care for one another. Their rivalry has morphed into a petty feud, and they've taken to trading juvenile barbs on social media (together, they have nearly 1.7 million followers on Instagram and more than 700,000 on Twitter).
The 43rd Ryder Cup at Whistling Straits is just 3½ months away and there are no signs of a ceasefire. Barring injury, Koepka and DeChambeau will be members of the U.S. team.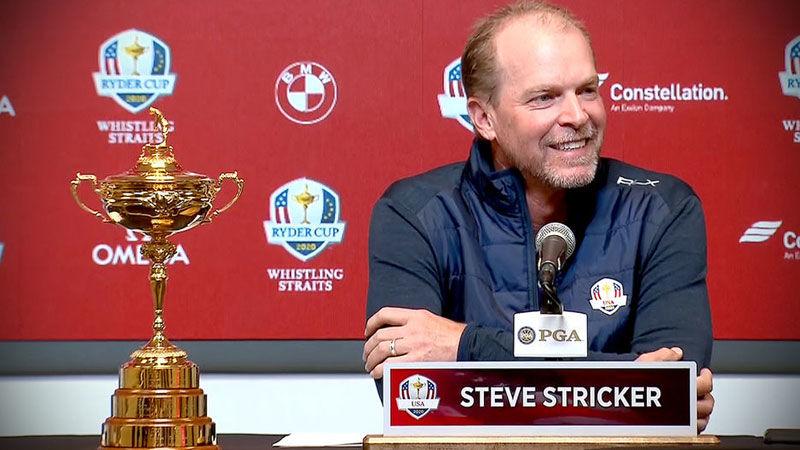 "I haven't talked to either one of them," Stricker said. "I will have to at some point. We'll see where it goes from there. Hopefully, they can put their differences aside for the week, be big boys and come together as a team."
Koepka and DeChambeau have gone at it, mostly via social media posts, for more than two years, with Koepka complaining about DeChambeau's pace of play, DeChambeau poking fun at Koepka's abs on a Fortnite Twitch stream and Koepka posting a Kenny Powers GIF, implying that DeChambeau had achieved his beefed-up body with chemical help.
Last month, leaked Golf Channel video of Koepka rolling his eyes, losing his train of thought and mumbling obscenities as DeChambeau walked behind him during an interview at the PGA Championship showed that they're nowhere close to detente.
Then things got ugly. Or uglier. At the Memorial at Muirfield Village in Ohio last week, DeChambeau repeatedly was called "Brooksy" by pro-Koepka fans; several of the hecklers were removed from the tournament. Koepka then posted a video in which he offered free cases of beer to fans who were kicked out. In response, DeChambeau implied that Koepka should be disciplined by the PGA Tour.
What are these guys, high school sophomores? What's next, a food fight in the cafeteria?
"We're living in a day and age now where social media is a big thing and I don't know if that's part of what the tussle is, who's going to get the most out of the social media thing," said Ernie Els, making his first appearance in the AmFam Championship. "That could be a very clever marketing ploy by the two of them. But if it's for real it needs to be sorted out, and especially with a Ryder Cup coming up."
At the very least, this is a distraction Stricker doesn't need. And if he can't somehow nip it in the bud, it could poison the atmosphere in the U.S. team room at Whistling Straits. It's hard enough to beat Europe in this thing – the Americans have lost seven of the last nine meetings – when there is harmony among the players.
Stricker could ask Koepka and DeChambeau to stay off social media during Ryder Cup week. He could, and probably will, send them out to practice with different groups. Undoubtedly, though, they will be asked by the assembled media about their relationship and their answers, if not professional in nature, could wind up sucking the energy out of Team USA. No matter how Stricker manages it, he's just one unfortunate tweet or quote away from the kind of headache no captain welcomes.
"Obviously, I probably wouldn't pair them together (in foursomes and four-balls), but I think as the team room goes, you want everybody on board," Stricker said. "You can't have an outlier, or outliers, making trouble for everybody else. But I'm sure they're big men and they can put their differences aside and go from there."
While Stricker was voicing his concerns, Koepka, playing in the PGA Tour's Palmetto Championship at Congaree in South Carolina, was brushing off the suggestion that his feud with DeChambeau could be a distraction at Whistling Straits.
"I don't see why it would," the four-time major champion told reporters. "There's only eight guys that are playing (in foursomes and four-balls). Four guys are sitting. I play with one other guy. Let's say I don't play with Bryson or Bryson doesn't play with me. He takes care of his match and I would take care of my match. I don't know how that has any effect. What you do off the golf course doesn't have any effect on the golf course."
Koepka has never cared what people think of him, or at least he's given that impression. He's said some pretty outrageous things. But he can't possibly be that naïve. If there's tension in the team room, if two players don't like each other, it absolutely can spill over onto the course.
This isn't the first time in golf history that two of the best players in the world have been on bad terms. Notably, Arnold Palmer and Jack Nicklaus had problems co-existing in the 1960s, but they never made public their strained relationship and later in life became close friends.
Paul Azinger and Spain's Seve Ballesteros nearly came to blows at the Ryder Cup – Ballesteros famously saying "the Americans have 11 good guys and Paul Azinger" – but they were on opposite teams. Tom Watson once accused South African great Gary Player of cheating and thereafter referred to him as "the little man." But, again, they didn't have to get along in a team room.
"There's always been a beef," Els said. "You know, not everybody gets along. It's tough to have everybody get along, but it's kind of new to me to see (the Koepka-DeChambeau rivalry) unfold the way it is. I don't want to say it's kind of fun to watch, but it's interesting to watch."
For now, at least, Stricker agreed.
"You know, it's a little entertaining right now," he said. "I heard a rumor that they're going to be paired together at the U.S. Open. That's what I heard. I don't know if that's true or not. But that would be interesting.
"I told my wife (Nicki), maybe the thing to do is I get paired with them at a tournament round and see how it goes."
As long as he doesn't stand between them … or maybe, come to think of it, he should.