Katie Falk will turn 75 on July 23, underwent rotator cuff surgery eight months ago and is rehabbing a back injury that forced her to miss the first half of the 2021 tournament season. One might assume she is in the give-back stage of her marvelous golf career.
And while, yes, she takes great pleasure in serving as an example and mentor to players young enough to be her granddaughters and is a longtime board member of The First Tee of Southeast Wisconsin, that assumption would be only half true.
At heart, Falk was, is and always will be a competitor. She shot her age at 70, 71 and 72. She's planning to do it at 75. And every year after this one. When she tees it up in tournaments, her goal is to get the best out of herself, whatever that might be.
"What I love most about the game," she says, "is the competition."
What she lacked in size and strength – at 5 foot 4 she rarely drove the ball more than 225 yards, even in her prime – she made up for with accurate long-irons and fairway woods, a world-class short game and a lot of moxie.
At a Women's Western Amateur in the mid-1970s, Falk was 5-down at the turn to Debbie Massey, a top-ranked amateur who would go on to win back-to-back Women's British Opens. Falk shot 33 on the back nine and rallied to win the match on the 19th hole. With a couple holes to go, Massey had seen enough and told Falk, half-joking but all-the-way irritated, "If you take that wedge out of your bag one more time, I'm going to break your neck.'"
Falk grew up in Fond du Lac as Katie Ahern, a prodigy who played in her first tournament at 11 and in 1964 finished runner-up in the Wisconsin Women's State Golf Association Junior Girls.
Her father, an avid golfer, had witnessed Bobby Jones win the third leg of his heroic Grand Slam in 1930 and was one of the founders of South Hills Golf & Country Club, where young Katie learned the game. With its tight fairways and small greens, South Hills was the perfect place for a short-hitting golfer to master the straight drive and the up-and-down.
Falk knew where her bread was buttered. If you gave her 14 fairways that were 25 yards wide, she'd hit 13 of them. She wielded a 2-iron and a 5-wood as an artist wields a brush. And a full 80 percent of her practice time was devoted to the short game.
"My longest drive ever was at a (U.S.) Mid-Am in the desert," she says. "We were up high, on an elevated tee. I hit it 265 yards. That's happened once in my life, and I think it was downwind. I've never been a long hitter off the tee. I've always been the first to hit after the drives were placed."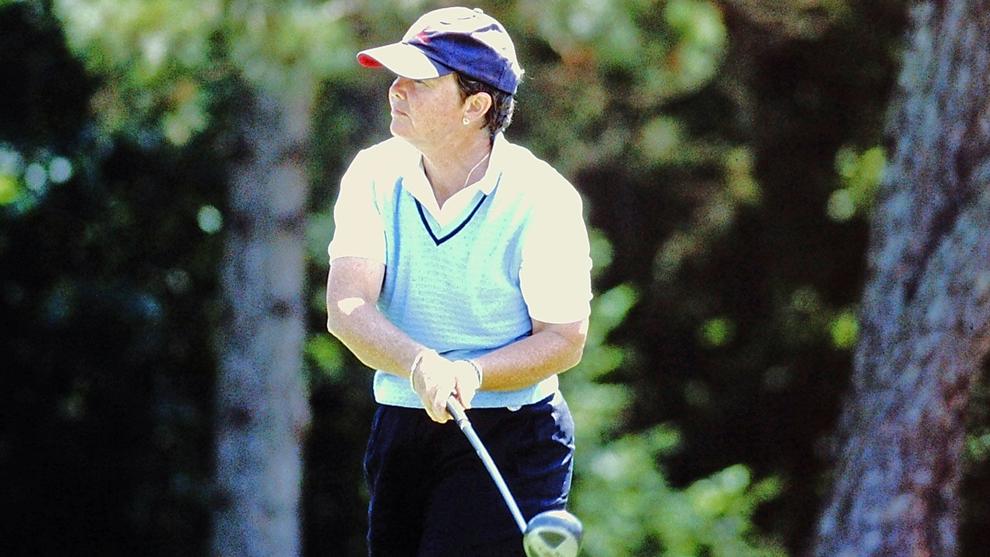 But you know what they say: first to hit, last to laugh. Falk was an assassin in match play. Routinely outdriven, she'd hit her 3-wood inside her opponent's 6-iron on the green and invariably make the putt. Watch that all day long, and you'll want to go all Debbie Massey on her.
Falk won her first WWSGA Match Play title in 1972, repeated in '73, lost in the final in '74 and won it again in '76. She was ranked as high as 10th in the nation during that span and nearly made a Curtis Cup team. After raising a family and building a successful career in real estate – she was an eight-time winner of the sales and marketing award from the Greater Milwaukee Association of Realtors – Falk would lose in the Match Play final three more times between 1998 and 2001, the latter when she was 54.
She accomplished all that despite not having played high school or college golf, at a time when opportunities for girls were limited. Title IX wasn't passed until 1972, when Falk was in her early 20s, though she did compete at all-female Loretta Heights College in Colorado … on the ski team.
It was in 1973 when Falk cemented her place in Wisconsin golf history. In addition to repeating as the state Match Play champion and reaching the semifinals of the Women's Trans-National, she capped the best year of her career by winning the Women's Western Amateur at Maple Bluff Country Club in Madison, beating a charismatic young player named Nancy Lopez, 2 and 1, in the semis.
Lopez would win the Women's Western in 1976, before taking the LPGA by storm and earning a place in the World Golf Hall of Fame.
"At the time, I didn't realize the impact and how big it was," Falk says of her signature victory. "Playing with Nancy Lopez was one of the highlights of my life. And then I played a practice round at the U.S. Open in 1977 with her at Hazeltine. We had 150 people on a Monday that came out to watch Nancy. That was a thrill."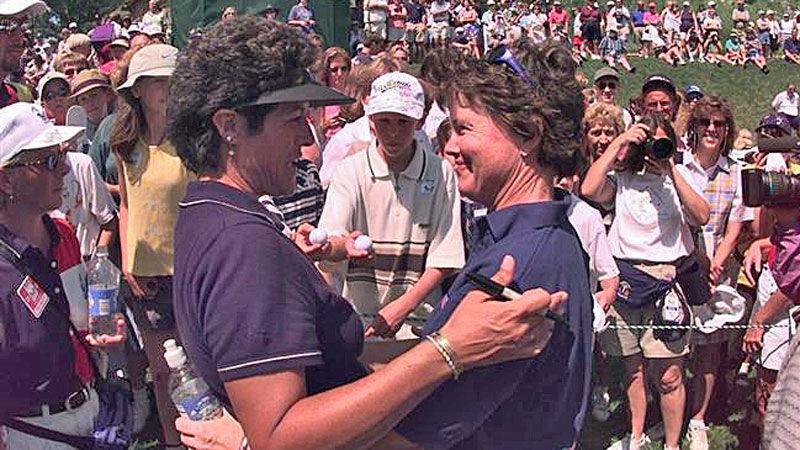 Over the ensuing years, Falk would win virtually everything in Wisconsin except the Women's State Open, which was started in 1997, when she was 50. She won the WWSGA Stroke Play title after being inducted into the Wisconsin Golf Hall of Fame, was the second-oldest player in the field at the 2007 U.S. Women's Mid-Amateur and at 62 qualified for the U.S. Women's Senior Amateur.
By her count, she has won 21 Wisconsin golf titles and has played in "25 or 26" USGA championships – everything from the U.S. Open and U.S. Amateur to the now-defunct State Team Championship. Along the way, she has played with and against some of the best women amateurs the state has produced, including fellow Hall of Famers Paula Clauder, Carol Jean Sorensen, Syd Wells and Maggie Leef.
Falk also served on the board of directors of the Greater Milwaukee Open and joined the board of The First Tee of Southeast Wisconsin in its inaugural year. She has helped guide the organization ever since.
"Katie has been extremely passionate about the work that we do, the ability for golf to positively impact kids and sharing the game with more kids in our community," says David Cohn, the chapter's executive director. "It's great to have somebody like Katie, with her background, her playing resume and her passion for the game, involved and giving back. She's a great resource for us and our program."
It would be understandable if Falk, whose name is synonymous with women's amateur golf in Wisconsin, took a step back from tournament golf, given her age and her recent injury history. But that's not how she's wired. Her competitive fire still burns, though right now it is smoldering.
"I had rotator cuff surgery in October and then in May, I was up to a 6-iron – I had not hit a wood – and I blew my back out," she says. "L5, S1. It's the bottom vertebra and then S1 is the pelvis. One was over the other, with literally no space between them."
Falk has attacked physical therapy with the passion and commitment she brings to everything else she does, because she has won titles in seven decades and wants to make it eight. Whether or not it happens, she will enjoy teeing it up with the youngsters and serving as an inspiration.
"Several years ago, when I was in my early or mid-60s, I was playing in a tournament and a friend of mine came rolling down in a cart and said, 'You're too old to play in this. What are you doing here?'" Falk says. "And this cute little 15-year-old turned around and said, 'Well, how old are you?' I told her and she said, 'Oh, my God, I hope I'm still alive when I'm your age!' That's what keeps me going.
"It's really a joy to play with the younger people, even though they do blow it by me 60 or 70 yards. And now the parents who caddie for their kids could be my kids. They're always gracious and thankful for the way I treat the kids. And if you have a good day, it's kind of fun for somebody to see someone my age play well. It doesn't happen all the time."
Asked what she still gets out of tournament golf, if not the trophy, Falk smiles.
"Each day I can play, I'm grateful," she says. "The game of golf is like the game of life. You lose more than you win. You just have to get up and keep moving. Just keep putting one foot in front of the other and keep enjoying life, because this is not a dress rehearsal. We get one shot."