KIAWAH ISLAND, S.C. – For nearly two decades, Rob O'Loughlin tried to convince the PGA Tour and the United States Golf Association to allow the use of distance-measuring devices in competitions.
The likable Madison, Wis., businessman, who had transformed golf first with Softspikes and then with Laser Link Golf – dozens of imitators would follow – could sell swampland to a condo developer. But he ran face-first into a stiff-arm when it came to getting golf's governing bodies to let players at the highest levels zap yardages with rangefinders.
"What I am is Don Quixote," he said, comparing himself to the literary tilter at windmills. "Rob Quixote, that's me."
He recalled sitting in the office of then-USGA president Reed Mackenzie, who wasn't the least bit impressed with the Laser Link rangefinder O'Loughlin had placed on his desk.
"He reaches over and picks up the Laser Link and says, 'Everything this little gadget can do, a good caddie takes care of,'" O'Loughlin said. "Now, if I'd have been on my toes, I would have said, 'How many rounds of the 500 million played in the United States are played with a good caddie?' It couldn't be more than half a percent, could it? But he was certainly against it."
The USGA has backed off Mackenzie's hard line and allows distance-measuring devices, but only in its amateur events. The PGA Tour conducted a four-tournament test of DMDs on the Korn Ferry Tour in 2017 and determined that they would be prohibited in Tour-sanctioned events "for the foreseeable future." In other words, don't hold your breath.
"It's technology," O'Loughlin argued. "You've still got to hit the shot."
Despite opposition from the PGA Tour, Laser Link rangefinders and distance-measuring devices from competitors such as Bushnell, Nikon, Garmin and SkyCaddie have become ubiquitous among recreational golfers around the world.
Having made an impact, O'Loughlin sold Laser Link last June. And wouldn't you know it? Eight months later, the PGA of America announced that it would allow distance-measuring devices at its prominent championships, starting with the 103rd PGA Championship this week on the Ocean Course at Kiawah Island.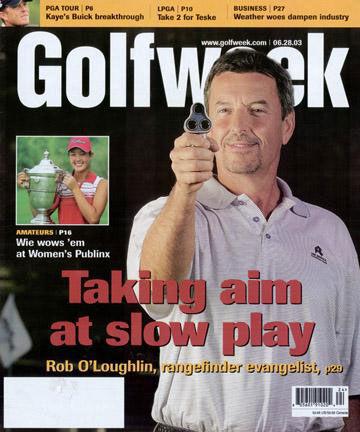 "It's a great move," O'Loughlin said. "I wish that it had come 20 years sooner. But, no, it's the right thing. I have great respect for the PGA of America."
His argument has always been that rangefinders speed up play. Instead of walking off yardages from sprinkler heads or consulting yardage books, golfers simply point the laser device at the flagstick and shoot. The exact yardage is revealed instantly. Jim Richerson, president of the PGA and the former general manager and director of golf for the Kohler Co., saw value in precious seconds saved.
"We're always interested in methods that may help improve the flow of play during our championships," Richerson said in a news release in February. "The use of distance-measuring devices is already common within the game and is now a part of the Rules of Golf. Players and caddies have long used them during practice rounds to gather relevant yardages."
The reaction among players this week, however, has been lukewarm at best. O'Loughlin called it in advance, predicting that opinions would lean "60-40" toward the negative, especially among caddies, some of whom view DMDs as a threat to their jobs.
"I don't intend on using it," said Adam Scott. "I really don't know what guys are going to do this week. I think if the (yardage) book says one thing and the rangefinder says another thing, which one should you go with? I think you've got to go with one or the other, and unless (caddie) John (Limanti) has changed all his routines in the last couple weeks to use the rangefinder, I think we'll be out of the book."
Rory McIlroy, who won the PGA Championship when it was last played on the Ocean Course in 2012, said that in windy conditions, exact yardages are just numbers and in some cases are irrelevant.
"On days like this, you can almost take on too much information," he said. "It's a day where you could almost eyeball it instead of having a number. You could have 110 (yards) but it just feels like a little 9-iron or a little 8-iron and just sort of go with that. It sort of goes back to playing golf as you did as a kid, without a yardage book, and just sort of eyeballing it and playing it a bit more by feel."
O'Loughlin argued that rangefinders do save time when a player hits a wild tee shot into an adjoining fairway, which renders his yardage book useless.
"Everybody remembers the (2005) Masters, when Tiger Woods chips the ball into the hole on 16, one of the greatest television shots of all time," he said. "What they don't remember is that he went to 17 and blew the ball 100 yards offline right, into another fairway.
"Then (Chris) DiMarco hits it right down the middle at 17, gets to his ball and now Tiger and (caddie) Stevie Williams are way out in another county and Tiger dispatches Stevie to walk it off. It's like a 128-yard shot, but he didn't have any way to (measure) it but walk it off. Because that stuff's not in the book. So that's where it will make a difference."
Bryson DeChambeau, the PGA Tour's biggest bomber but a player who has hit his share of crooked tee shots, agreed with O'Loughlin.
"It's going to help me when I hit it offline," he said. "We're not going to have to go to a sprinkler head and walk 40, 50 yards away from a place to find a number."
Steve Stricker, who knows and likes O'Loughlin, was up in the air.
"It's a step in the right direction, for sure," he said. "I don't know if I'm there totally for myself. It's just to trust the yardage device. … Nicki (his wife), who is on my bag this week, we have been testing it out, and obviously the rangefinders are all spot-on for the most part, but I'm going to pace it off on a sprinkler head and just coordinate with her that we're getting the same number. But I think it's exciting for golf and the casual fan to see us using the lasers like they normally do when they go out and play."
As for O'Loughlin, he has moved on to other things. His latest idea is Ad Flags, a way for businesses to advertise on hole flags and for golf courses to profit from it. The ads are displayed on pieces of plastic that are sewn onto flags. Or, players could scan a QR code on the flag and receive discounted rounds or a free hot dog at the turn.
"I'm telling you," he said, "this thing is going to work."