They met Manuel de la Torre under different circumstances, some of them young golf instructors attending PGA of America seminars, some working under him as assistant professionals, still others on the lesson tee at Milwaukee Country Club.
The one thing they had in common? Each was profoundly affected by what de la Torre taught, and how he taught it. So after he died at 94 in 2016, they formed a group determined to carry on his teaching and his legacy.
The group, which numbers about 75, has established a website – manueldelatorregolfteaching.com – that is basically a repository for articles about de la Torre and features videos and excerpts from his instructional book, "Understanding the Golf Swing."
The group meets annually to share ideas, swap stories and reinforce de la Torre's teaching philosophy, which is based on the principle of "swinging the clubhead" espoused by British professional Ernest Jones, a close friend of Angel de la Torre, Spain's first golf professional and Manuel's father.
"The reason we are doing what we can to continue Manuel's teaching is because it makes sense, and it works for everybody," said Sheboygan native Martha Nause, who took her first lesson from de la Torre in 1977 and later won three times on the LPGA tour. "What he taught and how he taught was unique and timeless. It really applies to everybody, from beginners to tour pros and everybody in between."
The soft-spoken, impeccably mannered de la Torre's style was to ask probing questions of his students and fellow instructors, draw upon analogies from other sports and movements to explain the golf swing and communicate his ideas with precise language.
He based his teaching on the laws of physics and the basic premise that the golfer should focus on the implement – the club – rather than worrying about what the body does during the swing. That is contrary to a lot of modern golf instruction, which focuses on fixing "faulty" body positions.
"My philosophy is based on the knowledge of what to do with the tool that is used to propel the golf ball," de la Torre said.
"Manuel had a way of describing things as far as the golf swing, and his philosophy just made sense," said Garrett Mack, an assistant under de la Torre at Milwaukee CC for five years and now the head PGA professional at Western Lakes Golf Club in Pewaukee. "You would walk away going, 'Why would you do it any other way?' "
John Hayes, who manages the website and organizes the annual group meetings, wasn't yet a golf professional when he saw de la Torre conduct a seminar in St. Louis in 1983.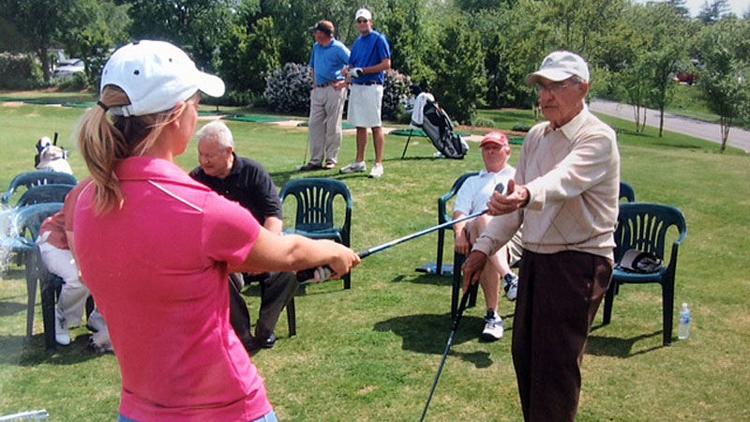 "He would explain things, ask his questions and people would start understanding and hitting the ball better," said Hayes, who teaches at the Chi Chi Rodriguez Driving Range in Clearwater, Fla. "I hit the ball better and watched all these other people hit the ball better and I said, 'Wow, I haven't seen anything like this.' I really got hooked at that point.
"I see all the (other well-known) teachers and like things and pick up things, but I've still never seen anybody with a complete system, and who got the quick results that he always got with students. That was always amazing to me."
Nause was 22 and hoping to make it to the LPGA tour when she saw de la Torre for the first time. He had two open lesson slots left for non-Milwaukee CC members that summer, and her parents signed her up for both of them.
"The first half-hour lesson I had with him, I was completely hooked," she said. "It made so much sense. Why would I go and listen to anybody else? I never did work with anybody else, unless it happened to be somebody that taught his stuff, and I couldn't see him."
Nause, 65, made it to the LPGA tour in 1978. Among her victories was the 1994 du Maurier Classic, a major championship. She was the leading money winner on the Legends Tour in 2006 and played in the inaugural U.S. Senior Women's Open in 2018. She also coached the men's and women's golf teams at Macalester College in St. Paul, Minn., from 2000 to 2012.
Nause has attended the de la Torre group's annual meetings, presented at one and still occasionally gives lessons, mostly to friends or through referrals.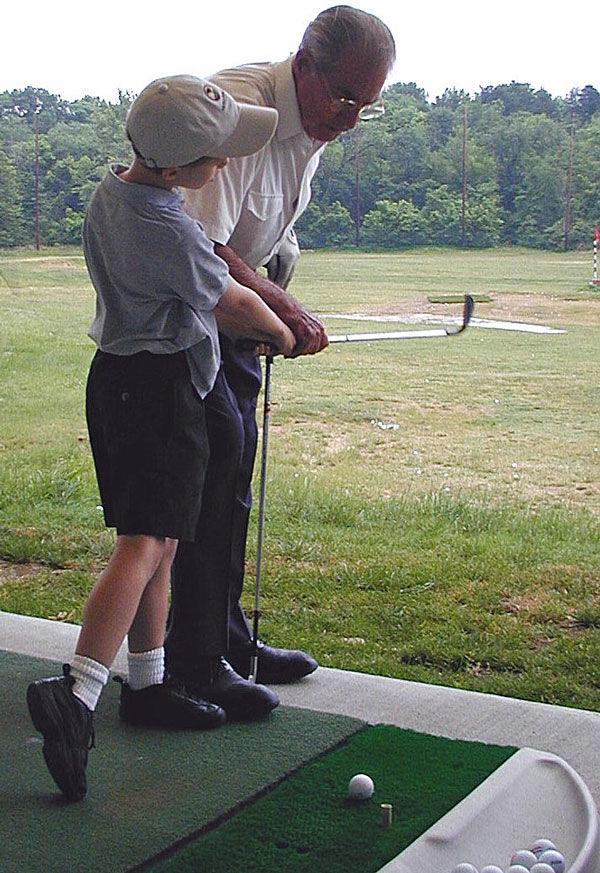 "Just last week, I gave a lesson to a72-year-old woman who, I don't know how far she hits it but probably not very far," Nause said. "She just had no idea what to do. She said she was crying on the golf course because she was so frustrated. Just applying the things that Manuel taught and the things he taught me, saying the same things to her that he told me, I was able to help her.
"I saw her the next day. She brought me a gift and I said, 'You don't need to do that.' She said, 'I actually laughed on the golf course today. I had so much fun. That was the best lesson I've ever had.' "
De la Torre also taught Masters champion Tommy Aaron, three-time Women's British Open champion Sherri Steinhauer of Madison and Carol Mann, a 38-time winner on the LPGA tour and a member of the World Golf Hall of Fame. Aaron and Steinhauer no longer compete and Mann died in 2018.
With many of de la Torre's other disciples aging, Nause and Hayes agreed that passing on his philosophy to younger teachers was important to continue his legacy.
"That's one of the things that everybody talks about," Nause said. "We've got to bring more young teachers into it. That's a tough thing because without them having the experience of Manuel himself, it's a little different. I don't want to say that people don't know how to teach it, but everybody teaches it a little differently.
"It's going to be hard. I hope that young teachers will continue to join the group and bring friends of theirs along as time goes on. John Hayes has done a good job with the website that has links to different articles and videos of Manuel teaching. That's been good. But, you know, you get to a point where, what else can we do?"
Said Hayes, "I'm still teaching a lot and hope to for many years, but you've got to get the young people interested to keep the information out there."