Coach Steve Bailey didn't want the members of his golf team to see their new home at the Marquette University Athletic & Human Performance Research Center until it opened.
There were no photos shared, no hard-hat tours. The players watched it go up at the southwest corner of 12th and Wells streets but could only imagine what it would look like on the inside.
Finally, the day before spring break, they were ushered into a new world. Their new world.
"It was like Christmas morning for these guys," Bailey said.
The 42nd-ranked Golden Eagles started practicing in the new indoor facility last week. No offense to their old home in the basement of the Marquette Gym, built in 1922, but this was like going from a worn-down muni to Augusta National.
"Obviously, we were super excited," said junior Matthew Bachmann of Sheboygan Falls. "Really, years of anticipation had built up. The first reaction was disbelief. You see the plans and it's like, wow, that's going to be awesome. Then you get in and it's real and it's tangible … I think everybody agrees it's just beyond belief. It's as good as it gets."
The golf team shares the $24 million, 47,000-square-foot building with the men's and women's lacrosse teams. The other half of the building, a state-of-the-art strength and conditioning center, will be utilized by all Marquette athletic teams.
The golf practice facility includes a 4,000-square-foot putting and chipping area, with different lengths and textures of artificial grass replicating conditions the Golden Eagles would find at any tournament course. The speed of the putting surface can be adjusted by rolling it.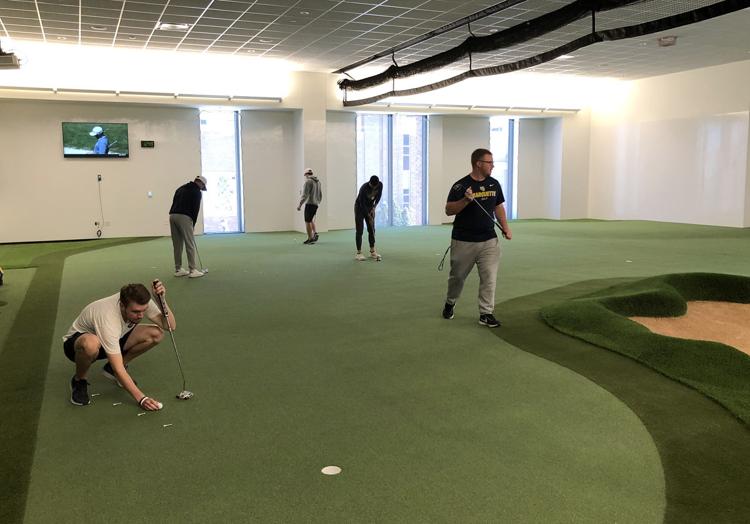 "You can hit pretty much every chip shot you want to hit, every different lie, against the grain, down grain," Bachmann said. "So, it really just opens up a lot of opportunities for short-game growth."
There are three hitting bays, two of them equipped with simulators, so the players can dial in distances with all their clubs. There is a coach's office for Bailey and assistant Trake Carpenter and a locker room equipped with wooden lockers and a flat-screen TV. The trophies from Marquette's three Big East Conference titles are displayed prominently in a hallway.
The players are so excited about the indoor facility that they often wander in on their own at all hours of the day to hit balls or practice short-game shots.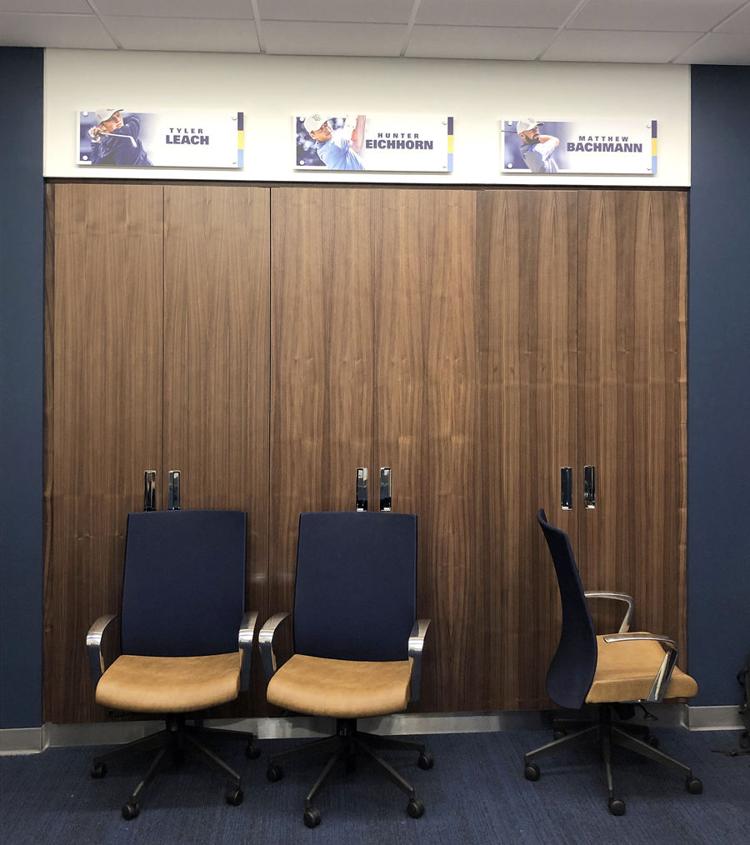 "They live in here now," Bailey said. "I wouldn't be surprised to find them sleeping in the locker room. They're obviously soaking it up, especially the seniors who have only a couple months left."
Said Bachmann, "It's the spot to be right now. I don't want to be at my apartment that much anymore, and my apartment is pretty nice. We've got the TVs, the speaker system, you can watch whatever you want, listen to whatever you want, chip around, play games. It just makes practicing and doing all the little things incredibly fun and rewarding."
Bailey said the indoor facility puts Marquette on equal footing with the top collegiate golf programs in the Midwest, all of which must practice indoors in the winter. Facilities are important recruiting tools and now MU doesn't have to take a backseat to other top programs.
"If I were to go back three years or four years and take a visit here and this is what I was walking into, it would kind of negate that northern winter experience," Bachmann said. "I definitely think it is going to be a great recruiting tool."
The Golden Eagles still will practice occasionally at the seasonal dome at Valley Fields. Additionally, a short-game practice facility designed by Sussex native Andy Staples is being built at The University Club of Milwaukee (formerly Tripoli Country Club).
"This and our outdoor facility felt like the two pieces of the puzzle that we were missing compared to the top Midwest programs," Bailey said. "The golf facilities that we have access to and our tournament schedule and then hosting (the Marquette Intercollegiate) at Erin Hills, you couple that now with our indoor and outdoor facility, I feel we're on par with most of the big-time facilities in the Midwest."
The ninth-year coach has built his program around a blue-collar mentality and he typically recruits players who fit a certain profile: gritty, hard-working young men who might not have been handed everything as junior golfers and feel they have something to prove. Their space at the dingy old gym, with its metal lockers, fed into that chip-on-the-shoulder mentality.
Is the coach concerned that the new facility will take away that important edge?
"We'll make sure (it doesn't)," he said with a smile. "We'll make sure of that. We'll have plenty of opportunities outdoors in the Midwest to make them appreciate something like this.