According to the National Hole-in-One Registry, the chances of two amateur golfers making an ace on the same hole on the same day are 17 million to 1.
So what would be the odds of it happening twice on Wisconsin golf courses within a week? Incalculable. Like winning SuperCash and Megabucks on the same day.
Paging Mr. Ripley. The near-impossible has occurred.
On July 27, two golfers made aces on the same hole in an outing organized by Spectrum Investment Advisors at Trappers Turn in Wisconsin Dells. Exactly seven days later, on Aug. 2, it happened again when two golfers made holes-in-one on the same hole during a Stars and Stripes outing at The Golf Club at Camelot in Lomira.
The Spectrum outing was a "client appreciation day." Though the organizers couldn't really take credit, two clients left Trappers Turn with the golfing memory of a lifetime.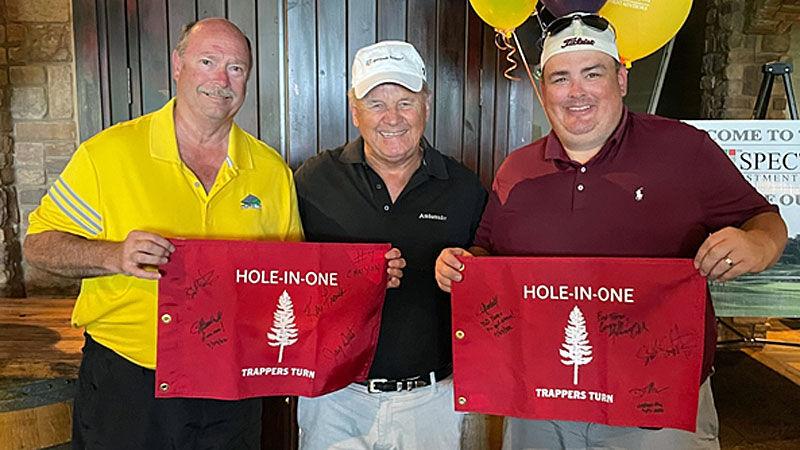 First up on Canyon No. 7, Ken Frank of Monona, who plays to a 16 handicap. The downhill hole measured 147 yards.
"I hit my 150-yard club — a Ping, by the way — and my Callaway golf ball," Frank said.
Wait, he's got endorsement deals?
"The ball hit the green and started rolling and we just kind of lost it because of the sun and shadows," Frank said. "I walked up to the hole. When you first glance over the top of the first quarter of the hole and you don't see the ball, it's like it goes from adulation to depression. And then finally you get three-quarters over the hole and there it's sitting."
Frank is 68 and has been playing golf for more than 50 years. It was his first hole-in-one.
"It can happen anytime," he said.
The best part of the story, though, is that Frank was playing with his best friend, Jay Erfurth of Minocqua. Twenty-five years ago, Frank witnessed Erfurth's hole-in-one at Lake Arrowhead
"Of course, he bought dinner and drinks," Frank said. "And for 25 years, all I've ever heard on a par-3 — and I play with him once a month — is, 'Boy, I'm getting thirsty,' or, before I hit, 'Boy, this would be a great time for dinner.'
"By the end of the night and the five different bars we hit in the Dells area, I probably bought 50 drinks for different people who were with us. I definitely got a wound in the MasterCard."
Not long after Frank made his ace, 41-year-old David Roche of Brookfield stepped up to the tee on Canyon No. 7 with his 7-iron.
"I hit it thin and I lost the ball in the tree line," he said. "It was a little cutter, but I knew it was going toward the hole. One playing partner said he thought he saw it go in, but the other playing partner said he thought he saw a ball still on the green.
"I walked up to the green with my putter, looking for the ball."
He found it in the hole.
"It was a bit of disbelief," said Roche, whose handicap index is 20.6. "It took a while to sink in. We were playing in a scramble with a shotgun start, so it was my last shot of the day."
Not a bad way to end the round.
An ace also is a pretty good way to start a round.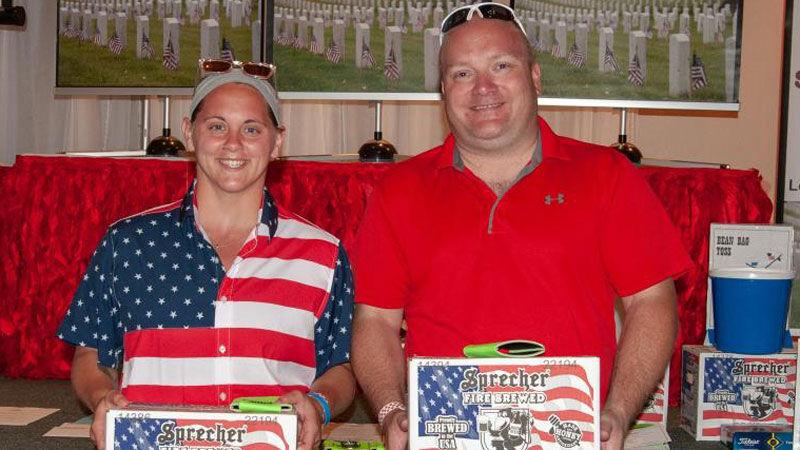 Just ask Sami Williams of Milwaukee, who made a hole-in-one on her very first swing in the Stars and Stripes outing at Camelot. She used a 9-iron to hole out on No. 13 in the shotgun start. The hole measured 114 yards.
"I hit last (in her group), since I was playing from the forward tees," she said. "We didn't have a single ball on the green so they were like, 'Stick it close because you're the only shot we have left.' I take a nice easy swing and the path was right at the hole. We were just hoping it had the distance. It took two bounces and fell right in and you could see it the whole time.
"It was crazy. I screamed. … Everyone was high-fiving and saying how unbelievable it was."
Williams, 27, played golf at Sussex Hamilton High School and at Lakeland University in Sheboygan but had never made a hole-in-one.
Not long after Williams' ace, Ian Stawicki of Muskego aced No. 13 with a 7-iron. The hole measured 176 yards from his tee.
"It was actually on our last hole that I found out," Williams said. "Our cart girl came up to me and she goes, 'You won't believe it. I just served another guy who had a hole-in-one on the same hole.' I said, 'Really?' I was disappointed. I was super excited because it was my first one that I've ever hit. It kind of took some of the excitement away.
"But it's still a big deal."
Four golfers now have a story to tell, one that needs no embellishing. But golfers being golfers …
"If you call me in another month or two," Frank said, "the hole will get longer and the club will get shorter."