A few weeks before the 2015 PGA Championship at Whistling Straits, I cold-called Pete Dye at his home in Florida to ask some questions for a story I was working on. You had to call Pete on his landline, because he never owned a cellphone.
I thought I'd get voicemail, because it was the Fourth of July.
To my surprise, Pete answered. I asked how he was doing.
"Oh, I'm doin' pretty good," he said in his Midwest twang. "It's the Fourth of July, and I'm watching Lawrence Welk."
Boy, if that wasn't the essence of Paul "Pete" Dye Jr. He was a down-to-earth, ordinary guy with an extraordinary gift for designing golf courses. He called himself a "dirt farmer," but he was perhaps the most influential golf course architect of the last 50 years.
Dye, who is credited with more than 100 public and private course designs worldwide – including Whistling Straits, site of three PGA Championships and the 2020 Ryder Cup – died Thursday after a long battle with Alzheimer's disease. He was 94.
His wife, Alice, died in February 2019 at age 91. They are survived by sons Perry and P.B., both of whom are golf course architects. P.B. designed Hidden Glen at Bentdale Farms in Cedarburg.
A former insurance salesman, Pete Dye had no formal training in golf course architecture. He was always more comfortable walking a routing in mud-splattered khakis, a dog at his side, than he was at course openings or corporate functions. You could practically see him squirm at the latter, though when it was his turn to speak, he told side-splitting stories with an endearing aw-shucks style.
"Pete Dye designs everything from his vision – the vision of a visionary," Herbert V. Kohler Jr. told me in 2015. "He walks the course. He puts a dot for a tee, a dot for the landing area and a dot for the green and that's the last time pencil hits paper."
Dye designed all four courses for the Kohler Co., starting with the original 18 holes at Blackwolf Run, which opened in 1988. Se Ri Pak won the U.S. Women's Open there 10 years later in a memorable Monday playoff with amateur Jenny Chuasiriporn.
Dye also designed the Stadium Course at TPC Sawgrass, with its oft-imitated island green; Harbour Town Links on Hilton Head Island, S.C.; the Ocean Course at Kiawah Island, S.C.; and Crooked Stick in Carmel, Ind.
The bones of one of his earliest courses – with a young Jack Nicklaus as co-designer – are buried under a Bob Cupp redesign called the Highlands at the Grand Geneva Resort in Lake Geneva. Dye also designed Big Fish Golf Club in Hayward and did a preliminary routing for a proposed fifth course for Kohler Co.
"Pete's list of golf courses is almost unprecedented among modern golf course architects," said Kerry Haigh, the chief championships officer for the PGA of America. "He's done courses that will be forever in memory and I'm sure down the road, just as people talk about Donald Ross and (A.W.) Tillinghast, in another 100 years we'll talk about Pete Dye in the same way."
Born in Ohio on Dec. 29, 1925, Dye was an accomplished amateur golfer who competed in five U.S. Amateurs, one British Amateur and the 1957 U.S. Open. In the latter, he finished eight shots better than a teen-aged Nicklaus.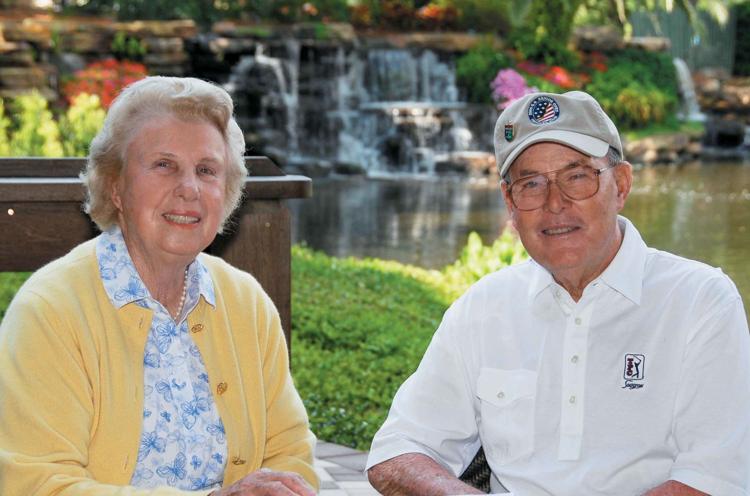 He started designing courses in 1959 with Alice, whom he first met at Rollins College. She was a top-flight amateur golfer who would go on to win the 1968 North and South Women's Amateur and make the 1970 U.S. Curtis Cup team. Alice is credited with assisting on many of Pete's designs. The island green at TPC Sawgrass was her idea, and she convinced him that the forward tee boxes were as important as the championship tees.
The Dyes had a close relationship with Herb Kohler, now the executive chairman of the Kohler Co. Pete and Herb fought like brothers at times but had a deep and abiding respect for each other.
"Mr. Kohler, he always comes up with some wild ideas," Dye told me in that 2015 interview. "I never listen to him. But the deal is, his courses are successful."
On the Destination Kohler website Thursday, Kohler wrote, "I loved this simple man and artist extraordinaire who built for Kohler, without a computer, four of America's top-rated public courses that hosted six of golf's Majors for men, women and seniors and will host golf's most renowned tournament, the Ryder Cup in 2020. He was a genius at his craft so recognized by his peers, a lovable gentleman by everyone he encountered, who enjoyed putting you off with a twinkle and a white lie. He will forever have a prominent chapter in our company's history."
Other tributes came pouring in.
Suzy Whaley, president of the PGA of America, shared her thoughts via Twitter: "Pete & his late wife Alice formed the greatest force in golf design history. The Dye family will forever be linked to many of the thrilling championships in PGA history & for something that they intended all along – that we embrace golf's life values."
Also on Twitter, Rory McIlroy wrote, "This morning I played an enjoyable round on Mr. Dye's master creation (TPC Sawgrass). His life had and will continue to have such a profound impact on the game."
It's sad that Dye's wonderfully creative mind betrayed him at the end, but we should be thankful that, like all great artists, his work will live on for generations to come.