On the list of important golf courses built in Wisconsin over the last 50 years — a list that includes major championship venues Blackwolf Run, Whistling Straits and Erin Hills — it can be argued that none was more important than SentryWorld in Stevens Point.
When it opened in 1982, SentryWorld was Wisconsin's first "destination course," before that term was even coined. It was ahead of its time, from the avant-garde "flower hole" to the elimination of gender-specific tee boxes to the notion that a public course in the north-central part of the state could succeed on a regional and even national level.
SentryWorld sprang from the imagination of Sentry Insurance chairman and CEO John Joanis and represented the "modernization of accessible golf," according to Robert Trent Jones Jr., who designed the course.
With the best young female golfers in the world discovering the parkland gem this week at the U.S. Junior Girls' Championship, Wisconsin.golf caught up with Jones, whose spot is secure on the Mount Rushmore of modern American architects.
Jones, who has never been shy about expressing his opinion on any number of golf-related subjects, turns 80 on Wednesday.
Q: You've got a birthday coming up, Mr. Jones. How are you doing?
A: "I'm on this side of the divot, which is where I want to be."
---
Q: I understand you were honored by SentryWorld before the start of the U.S. Junior Girls' Championship. What was that like?
A: "I was very pleasantly surprised. SentryWorld has been a loyal friend of ours from the day it opened in 1982 and even preceding that when John Joanis decided to build it. They decided to have a little ceremony in which they put a huge boulder next to the 16th tee with a plaque on it saying it's my Mona Lisa."
---
Q: Speaking of the flower hole, how did the idea for it originate?
A: "The flower hole was inspired by John Joanis. I drew a sketch of a pond and a green with flowers behind it. He filled the entire pond I drew with flowers and it was a happy accident and it worked out. What I meant by 'Mona Lisa' was it's a masterwork and it has an aesthetic appeal that is European.
"Since that time, we've had the great privilege of doing other courses which have gained great notoriety or respect, such as CordeValle and Chambers Bay. This is my seventh or eighth course that has hosted a USGA championship, so I'm honored by that."
---
Q: Can you imagine a better parkland setting than the one at SentryWorld?
A: "No, I can't. And that gets to the point. I now call Wisconsin the 'it' golf state. It started at SentryWorld. It started in 1982. They were the first people do the modernization of accessible golf and that has taken off, obviously, followed by Kohler (Blackwolf Run and Whistling Straits), University Ridge – which we did – and Erin Hills and lately Sand Valley.
"Sand Valley is sort of the new boy and girl on the block and we'll see if they make the team. The point is, if you have the Alabama Golf Trail named for my dad (Robert Trent Jones Sr.), I would say you've got the 'Badger Loop' now. Why not play all of them?"
---
Q: What features have helped SentryWorld stand the test of time as a great golf course?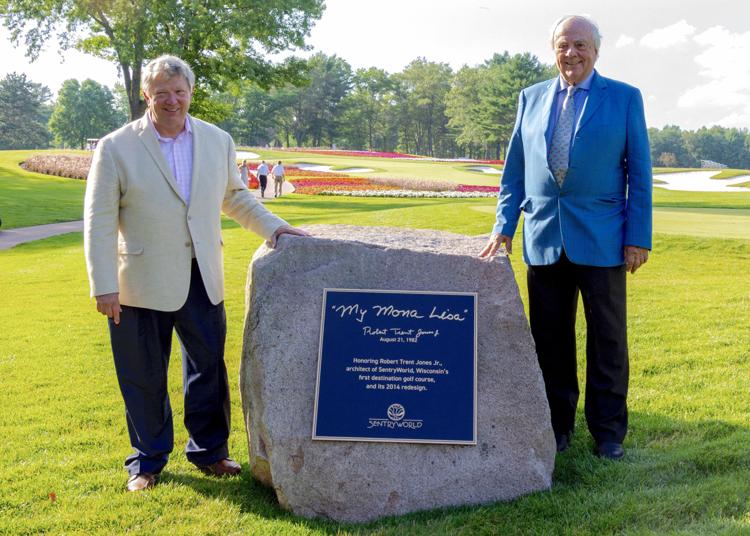 A: "I would say that, first, Sentry Insurance is dedicated to golf and to sport in general. They encourage their employees and guests and business partners to come to the north part of the state. It's somewhat remote but you have to want to get there, like Pine Valley or Augusta.
"Aesthetically, John said to me, 'What kind of course will this be?' I said, 'Clearly, a parkland course.' He said, 'We've got to aim for the top. It's got to be the Augusta National of the north.' The maintenance is extremely well done. There is no poa annua in the greens. The fairways are perfect. The bunker sand is white. The trees are limbed up. You can't say it's Augusta, but it's manicured as Augusta is.
"It's a parkland golf course in the purest sense of the word. This state has a lot of variety in its geography. It's great for golf, don't you think? It's cool in the summer, not overwhelmingly hot. A place you want to be and be outside and play golf."
---
Q: SentryWorld was ahead of its time in eliminating references to men's and women's tees. It was among the first courses, if not the very first, to do so. How did that come about?
A: "At the time we were building it, John said, 'I want no gender tees.' That was his idea in 1981. We invited two very good players, a man and a woman, to play the holes backward.
"Kimberly Foreman, a good golfer who had played at Chico State and was a golf pro, came here and hit shots by the hour in the dirt, playing the holes backward. We created a pattern and from the center of that pattern, I drew a circle with a compass and said, 'You choose your tee.' All of a sudden Alice Dye adopted it. That's a good thing. She thought she invented it but the concept was out of John Joanis' mind to be progressive and to not have any gender-based tees.
"I think that was very farsighted and extremely progressive. That was the first time that was done. Again, it was a dialogue. Joanis said he wanted to get rid of the gender tees."
---
Q: You came back six years ago, along with associates Bruce Charlton and Jay Blasi, and oversaw a top-to-bottom renovation of SentryWorld. When the course reopened in 2015, golfers found new and rerouted holes on newly used property, relocated greens and bunkers and dramatic new green surrounds. Why was all that work necessary?
A: "We removed about a third of the bunkers that were there before. It was sort of a target golf course and now it's more of a flowing golf course. We made it more accessible to younger people and a little easier to maintain. We improved the drainage and made it able to be maintained at this extremely high level.
"The (new) design is a small modification of the (original) routing and the renumbering of the holes and opening up the site and draining it better. When you remove trees, you get better sunlight and with better sunlight you get better greens. We did sand-capping around the greens to make it firm and fast and we used kicker slopes. It's kind of a cleaner look, which is in keeping with what's going on in architecture itself."
---
Q: What is sand-capping?
A: "Sand-capping is putting pure sand on the shapes in the dirt so it drains. Sand is the perfect medium for drainage. The grass can therefore be stressed by lower cutting heights so now you can putt it from 20 feet off the greens, you can bump and run it or you can use a sand wedge.
"If you watched the Open Championship, you saw them putt from 20 yards off the green. That's very British. Now you can do that at SentryWorld. By introducing choices to the player, you introduce, 'What do I do?' Players who are robotic in their approach, once they have a choice, we're in their brains. And once we're in their brains, we're in their backswings."
---
Q: Since the renovation, SentryWorld has been sort of "rediscovered" by a new generation of golfers and is climbing in all the magazine rankings. What do you make of that?
A: "I think each generation has their own set of values, what they like in golf. Fashions change and we as architects try to get ahead of the fashion and apply our knowledge of the game and technical knowledge to the site itself. And then, of course, everybody has their opinion. It's like the Broadway shows in New York. Some like 'Hamilton' and others like 'War Horse.' People have different opinions. Great. Viva la difference. In terms of ratings, I try to stay away from that."
---
Q: Almost all of the young women in the U.S. Junior Girls' field are seeing SentryWorld for the first time this week. What kind of feedback have you gotten?
A: "Well, they have been pleasantly surprised. The players and their parents and coaches and others are all coming up to me and thanking me. They don't have to thank me. My work has been over for a long time. They are pleasantly surprised at the warm welcome, which is sort of over the top but yet it's a relaxed and casual atmosphere.
"Not only do they love this particular golf course, they are surprised by the beauty of Wisconsin. We have players here from beyond the United States, from the Philippines, Colombia and Mexico and they've discovered a new place."
---
Q: Do you still play golf?
A: "Yes, I still play. I enjoy playing. I play from those forward tees."