AUGUSTA, Georgia — It's just a coincidence, but the final leader board at the 83rd Masters Tournament was populated by golfers for whom Wisconsin golf tournaments played important roles in their development as young players.
Everyone knows that Masters champion Tiger Woods made his professional debut nearly 23 years ago in the 1996 Greater Milwaukee Open at Brown Deer Park Golf Course. He uttered those famous words "I guess it's 'Hello, world, huh?'" and the rest is history.
Not nearly as well known is that Tony Finau, who played in the final threesome Sunday with Woods and Italy's Francesco Molinari, made his first PGA Tour start in Milwaukee in 2007. He Monday-qualified for the GMO as a newly minted 17-year-old pro, firing a 64 at Fire Ridge in Grafton.
The year before that, Australia's Jason Day, then 18, came to Milwaukee for his third PGA Tour start on a sponsor's exemption and finished in a tie for 13th, his first career top-25. He would go on to win the 2015 PGA Championship at Whistling Straits.
Day closed with a 67 at the Masters and tied for fifth.
Brooks Koepka, who might have won the Masters if not for a double-bogey on the 12th hole, won the first-ever U.S. Open in Wisconsin at Erin Hills in 2017.  Koepka finished in a tie for second with Xander Schauffele and Dustin Johnson.
Schauffele, who owned a share of the Masters lead on the back nine, made his first big splash in a major championship at Erin Hills, tying for fifth.
Johnson, who birdied Nos. 15, 16 and 17 Sunday, only to fall one shot short, was at the center of one of the biggest rules controversies in recent history when he grounded his club in a bunker on the 18th hole at Whistling Straits, which cost him a chance to win the 2010 PGA Championship.
And Patrick Cantlay, who briefly held the final-round lead alone at 12-under after an eagle on No. 15, lost to Kelly Kraft in the championship match of the U.S. Amateur at Erin Hills in 2011.
Now we've got to find out where Augusta National gets the cheese for its signature pimento cheese sandwiches. You don't think …
2019 Masters: How Wisconsin's major champions fared
Pos.
Name
Wisconsin
major title
Course
R1
R2
R3
R4
Total
T2
Brooks Koepka
2017 U.S. Open
Erin Hills
66
71
69
70
276
T5
Jason Day
2015 PGA
Whistling Straits
70
67
73
67
277
T51
Martin Kaymer
2010 PGA
Whistling Straits
73
74
72
71
290
MC
Vijay Singh
2004 PGA
Whistling Straits
80
76
156
A little taste of Madison in Francesco Molinari's bag
Italy's Francesco Molinari one-putted seven of the first 10 greens Sunday to preserve the two-stroke lead with which he began the final round.
And the reigning British Open champ did it with a putter named after Wisconsin's capital city.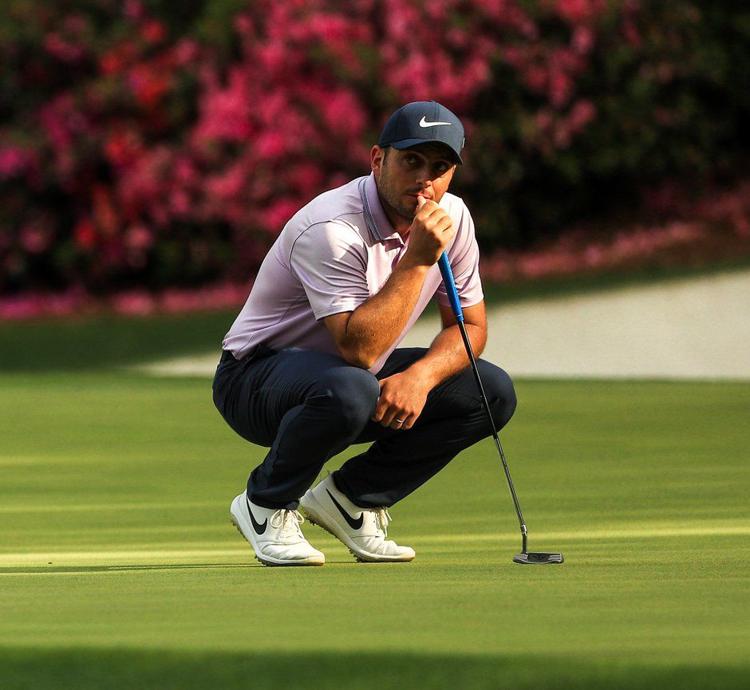 Molinari has been using the Odyssey Toulon Madison putter — designed by Madison native Sean Toulon, the senior vice-president of Callaway Golf and general manager of its Odyssey putter line — with Callaway's new Stroke Lab shaft. He led the field this week at Augusta National with 1.445 putts per greens in regulation, including 1.39 during Sunday's final round.
"The putter I've been using since end of last year," Molinari said last month after winning the Arnold Palmer Invitational. "I was practicing with it at home, it's actually the first putter that the Toulon guys made (for) me and it's been great from the beginning. I tried a couple of different things since, but decided to stick with that one."
When it comes to Tiger, Mickelson can't get his fill
Tiger's victory Sunday was his first since major championship since rival Phil Mickelson joined Twitter ... for better or worse. 
Mickelson, a social media darling again this week, took to Twitter to praise Woods for his victory. He also suggested another $9 million head-to-head duel, similar to the one Mickelson won in November, should be pondered.
What a great moment for the game of golf. I'm so impressed by @TigerWoods' incredible performance, and I'm so happy for him to capture another Green Jacket. Truly a special day that will go down in history. Congratulations, Tiger! #rematch 😎

— Phil Mickelson (@PhilMickelson) April 14, 2019
Face in the crowd
Olympic champion swimmer Michael Phelps popped up in Tiger Woods' gallery standing behind the eventual champion as he hit his tee shot on the par-3 16th hole. Woods went on to birdie the hole for a two-stroke lead.
Get you someone that's as focused as Michael Phelps was for Tiger Woods ... pic.twitter.com/i1Vmt0JTxk

— Steven R. Walker (@Steve_R_Walker) April 14, 2019
The final word
No one understood Sunday how much his world has changed since winning his last major championship than Woods (now a father of two), who had the last word after his lengthy news conference: "Yeah, I'm excited about show-and-tell at school."