AUGUSTA, Georgia – Mark O'Meara is coming up on the 35th anniversary of his first PGA Tour victory, in the now-defunct Greater Milwaukee Open.
He would go on to win 15 more events in a Hall of Fame career, including both the Masters and British Open in 1998, but the 1984 GMO remains one of his fondest memories.
I ran into O'Meara under the big oak behind the clubhouse at Augusta National on Thursday and he was happy to reminisce about that week at Tuckaway Country Club, when he took down the best player in the world.
O'Meara had made a swing change in 1982 and called 1983 an "adjustment year." By 1984, he was playing well and went into the GMO having finished runner-up four times in the previous three months. But he had not won.
"I'll never forget it, because at the time I was looking to buy a house, but I didn't really have much money," he said. "My dad was like, 'Don't worry about it, you'll figure out a way to pay for it.' I played pretty well and the next thing you know, I'm in the last group Saturday and Sunday with Tom Watson, who at that time was the greatest player in the world."
It helped that the GMO was a "home game" for O'Meara – his parents were living in Delafield at the time and he stayed with them that week.
"My mom and dad were New Yorkers but they loved the Midwest," he said. "I lived in Wheaton (Illinois) as a kid growing up. My mom and dad were living in St. Charles, Illinois, when I won the (U.S.) Amateur in '79. And then they left there and moved up to the Milwaukee area.
"They lived there for four or five years and loved it. Obviously, winter was a little tough on them. They came down to Florida in the wintertime. But they had a beautiful home up there. They had about three acres and it was really a neat area with the trees and the rolling hills."
O'Meara was paired with Watson in both the third and fourth rounds and wound up winning the GMO by five strokes. He finished at 16-under 272 and earned $54,000.
"To win the GMO at Tuckaway, playing alongside Tom Watson, was a dream come true," he said. "That kind of elevated my career, got my career started, to win one finally on the PGA Tour. And the rest is history."
O'Meara finished second to Watson on the money list that year with $465,873. He also finished third in scoring average behind Calvin Peete and Jack Nicklaus.
"And then in '85 I won a couple times, the Crosby and the Hawaiian Open," he said. "So, I owe a lot to Milwaukee."
Though he isn't playing in the Masters this week, O'Meara still has plenty of game. At 62, he won the Cologuard Classic last month, his first victory on the PGA Tour Champions in nine years.
Champions forever
Only a select few get to experience the Champions Dinner at the Masters, an annual get-together for past winners of the tournament, always hosted by the defending champion on Tuesday evening. It's one of the most exclusive clubs in the world of sports.
The dinner is a casual affair, albeit tinged in reverence, with the older champions telling stories and jokes and the younger ones hanging on every word.
"I guess I can kind of speak for everybody else, it's almost like you can't imagine that you're right there, right, us young guys?" said two-time champion Bubba Watson. "All the history, all the stuff that has happened, sitting across from Jack Nicklaus, Gary Player, Tom Watson, Arnold when he was here.
"And then you think about Bob Goalby, his age, the history, the knowledge that he has. When he speaks, no matter who is in the room, they listen, right? And it's an honor and a privilege and it's one of those things that you just can't believe it's actually true that I'm in there."
Trip of a lifetime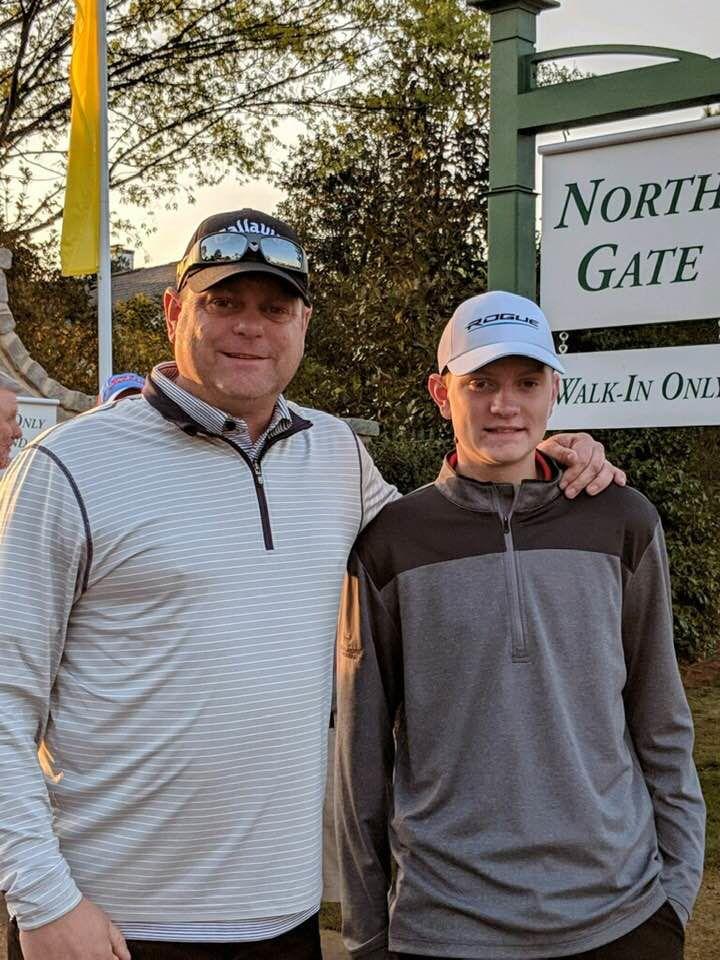 Drew Munn won The First Tee of South Central Wisconsin's trip to The Masters last November and has spent the last two days at Augusta National with his father Brad, the program director for the First Tee's South Central Wisconsin chapter.
Drew Munn is an Eagle Level participant in the First Tee and is finishing his sophomore year at Monona Grove High School this spring. Last summer, he also served as a First Tee junior reporter at the American Family Insurance Championship, the Madison stop on the PGA Tour Champions.