At the 1996 Greater Milwaukee Open, my son, then 16, staked out Tiger Woods on the driving range at Brown Deer Park and, after patiently waiting for more than an hour, got him to sign a golf ball.
This is significant because Woods basically stopped signing balls soon after he turned pro. PGA Tour members, who freely sign memorabilia for each other's charities and pro-ams, know better than to ask Woods to sign a golf ball. He very rarely puts Sharpie to dimpled sphere.
Why do I bring this up? Because I own a Woods-signed ball. I paid my son the then-princely sum of $80 to add Tiger's John Hancock to my collection. We both thought it was a fair price, though today, balls signed by Woods and authenticated – most that show up on eBay are spectacularly bad forgeries – command more than $1,000. Sorry, Dean.
If you read about my meticulous note-keeping for every round of golf I've ever played, it probably would come as no surprise that I am equally obsessed with collecting autographed golf balls. The rare Woods is my Hope Diamond, but I have plenty of lesser jewels.
I'm not sure how and when it started, but I know how it will end: with me, on my deathbed, scouring the internet for a ball signed by Ben Hogan. Perhaps I exaggerate. But not by much.
My collection numbers 768 autographed golf balls, and counting. I have no idea if it's the world's biggest or best collection but I'd be willing to bet it's top 10. In 2017, Joe Galiardi of Cupertino, Calif., made the Guinness Book of World Records with his collection of "600-plus" autographed balls. Not to brag, but I blew past 700 months ago.
I have Byron Nelson and Sam Snead. I have Sam Parks, who won the 1935 U.S. Open, his only major. Of course, I have Jack Nicklaus, Arnold Palmer and Gary Player. It wouldn't be much of a collection without the "Big Three." I also have Johnny Miller, Tom Watson, Lee Trevino and Greg Norman. I have Patty Berg, Nancy Lopez and Annika Sorenstam. Michelle Wie, Se Ri Pak and Lydia Ko, too.
Though I focus on golfers, my collection also includes the likes of President Bill Clinton, Bob Hope, Ray Nitschke, Tom Landry, Tom Brady, Alice Cooper and Bill Murray.
My favorite? Astronaut Alan Shepard, the only man to hit a golf ball on the moon.
I've bought signed golf balls at rummage and estate sales and in online auctions (primarily Pure Golf Auctions and The Golf Auction). I've bought plenty on eBay, too, but forgeries there are common. If you see a Nicklaus ball with an opening bid of $10, it's a fake, guaranteed. No one will bother forging a Morris Hatalsky or an Allen Doyle – no offense, guys – but a Phil Mickelson commands hundreds of dollars, so buyer beware, particularly because Mickelson, like Woods, almost never signs balls.
I've become somewhat proficient at discerning authentic autographs from fakes, though I defer to James Spence (JSA) and PSA/DNA, the acknowledged experts in the field. I would never buy a Hogan ball, for instance, unless it was authenticated. I did get burned when I bought a large collection that included a ball purportedly signed by Woods. I submitted it to JSA, which ruled it a forgery, albeit a good one. Thankfully, the Nicklaus, Palmer and Nelson balls in the collection were deemed authentic.
Though my job precludes me from asking for autographs – that is a mortal sin for sportswriters – I have made a few exceptions in extraordinary circumstances. Years ago, I played a round with 1958 Masters runner-up Fred Hawkins at Spring Valley in Salem. Hawkins, who was in his 80s and has since passed away, was delightful and happily signed a golf ball for me, adding the inscription "'57 Ryder Cup." Similarly, Joe Durant and Olin Browne signed balls when I played with them in pro-ams.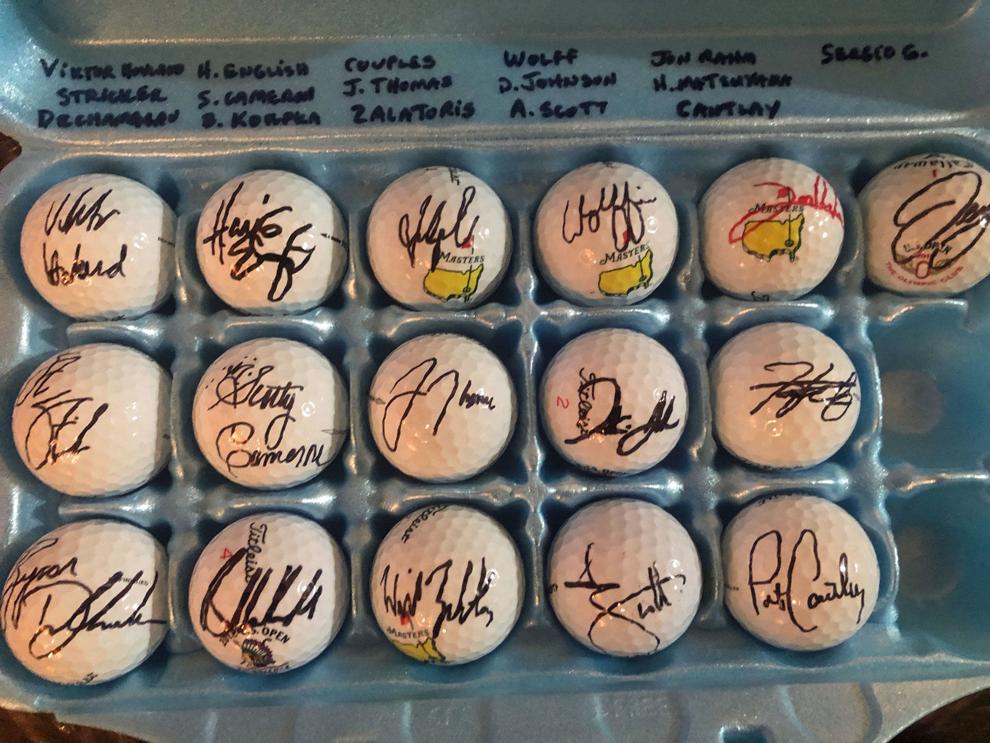 My biggest "score" occurred a month ago, when I had the winning bid on a lot of 16 signed balls on eBay. Years of experience told me they were legitimate autographs. The lot included Masters-logo balls signed by Jon Rahm, Fred Couples, Will Zalatoris, Matthew Wolff and Sergio Garcia, plus balls signed by Dustin Johnson, Justin Thomas, Patrick Cantlay, Viktor Hovland, Hideki Matsuyama, Adam Scott, Bryson DeChambeau, Brooks Koepka, Steve Stricker, Harris English and a rare Scotty Cameron (the putter designer). I literally jumped out of my seat when the bidding closed. My winning bid: $183.50. Steal of the century.
Of course, buying entire collections means that I wind up with multiple balls signed by the same golfer. I have six Tom Lehmans and six Skip Kendalls, for instance, and five Bob Toskis (three of which are signed on a No. 54 ball, signifying the year he led the PGA Tour money list). It reminds me of my childhood, when every 10-cent pack of baseball cards I bought seemed to include a Don Mossi, but rarely a Hank Aaron or Sandy Koufax.
Mostly, I store the balls in egg cartons in a closet, though I did frame the Woods ball with a Brown Deer scorecard and a photo of him holding the hand of his father, Earl Woods, moments before he stepped to the microphone and said, "Hello, world." It's the thrill of the chase and the score that drives me, not the desire to exhibit my collection.
When will it end? Not anytime soon. I'm still chasing Collin Morikawa and Rory McIlroy, among others, though I've come to terms with the fact that I'll never own a golf ball signed by the great Bobby Jones. I can't justify spending $1,800 for a faded autograph on a yellowed ball.
Hogan, however, remains on my bucket list.
Anyone out there want to make a deal?
768 balls ... and counting
Following is the inventory of my 768 signed golf balls, including 11 not listed here with unidentifiable signatures.
Major champions
MEN (224 balls, 120 champions, 18 deceased): Tommy Aaron (x3), George Archer-D (x3), Paul Azinger, Rich Beem, Tommy Bolt-D, Keegan Bradley, Gay Brewer-D, Mark Brooks (x2), Mark Calcavecchia (x2), Billy Casper-D (x3), Bob Charles (x4), Stewart Cink, Darren Clarke, Charles Coody, Fred Couples (x3), Ben Crenshaw (x2), Ben Curtis (x3), John Daly (x3), Jason Day, Bryson DeChambeau, Roberto Di Vicenzo-D, Jason Dufner (x2), David Duval, Steve Elkington (x3), Ernie Els (x3), Nick Faldo (x2), Dow Finsterwald (x2), Jack Fleck-D, Ray Floyd (x2), Doug Ford-D, Jim Furyk (x2), Sergio Garcia (x2), Al Geiberger "Mr. 59" (x3), Bob Goalby, Retief Goosen, Wayne Grady, David Graham, Lou Graham (x3), Hubert Green-D (x2), Todd Hamilton (x2), Padraig Harrington, Lionel Hebert-D, Trevor Immelman (Masters logo ball), Hale Irwin (x2), Tony Jacklin (x4), Don January (x4), Lee Janzen (x2), Dustin Johnson, Zach Johnson, Steve Jones (x4), Martin Kaymer (x2), Tom Kite (x3, 1 added "1992 US Open champion"), Brooks Koepka (x2), Bernhard Langer (x2, 1 on Masters logo ball), Tom Lehman (x6), Justin Leonard, Gene Littler-D (x2), Davis Love III (x2), Shane Lowry, Sandy Lyle (x2), John Mahaffey, Hideki Matsuyama (x4), Graeme McDowell (x2), Shaun Micheel (x2), Phil Mickelson, Johnny Miller, Larry Mize (x4), Francisco Molinari, Orville Moody-D (x2), Byron Nelson-D, Larry Nelson, Bobby Nichols (x2), Jack Nicklaus, Greg Norman, Andy North (x2), Geoff Ogilvy, Jose Maria Olazabal, Mark O'Meara (x3), Louis Oosthuizen, Arnold Palmer-D (x2), Sam Parks-D, Jerry Pate, Corey Pavin (x2), Gary Player (x2), Nick Price (x3), Jon Rahm, Patrick Reed, Bill Rogers, Bob Rosburg-D, Justin Rose (x5), Paul Runyan-D, Charl Schwartzel, Adam Scott (x2), Scott Simpson (x4), Webb Simpson (x2), Vijay Singh, Jeff Sluman (x2), Sam Snead-D, Jordan Spieth (x2), Craig Stadler (x2), Henrik Stenson, Dave Stockton (x5), Curtis Strange (x2, 1 faded), Hal Sutton (x4), Justin Thomas (x2), David Toms (x3), Lee Trevino, Bob Tway, Ken Venturi-D (x2), Lanny Wadkins, Jimmy Walker, Bubba Watson, Tom Watson (x2), Mike Weir, Tom Weiskopf (x3, 1 faded), Gary Woodland, Tiger Woods, Ian Woosnam (x2), Y.E. Yang, Fuzzy Zoeller.
WOMEN (61 balls, 47 champions, 2 deceased): Amy Alcott, Helen Alfredsson, Donna Andrews, Patty Berg-D, Nanci Bowen, Pat Bradley, Brandie Burton (x2), Donna Caponi, JoAnne Carner, Na Yeon Choi, Paula Creamer, Beth Daniel (x2), Laura Davies (x2), Sandra Haynie (x2), Pat Hurst, Juli Inkster (x), Christie Kerr, Jeon Jang, Birdie Kim, Hyo Joo Kim, Lydia Ko, Brittany Lang, Sally Little, Nancy Lopez (x3), Meg Mallon (x2), Carol Mann-D, Catriona Matthew, Patricia Meunier-LeBouc, Hilary Lunke, Liselotte Neumann (x2), Lorena Ochoa, Se Ri Pak (x2), Grace Park, Dottie Pepper, Suzann Pettersen, Morgan Pressel, Kelly Robbins (x2), Nancy Scranton, Annika Sorenstam (x3, two are Callaway commemorative 59 balls and on the third she added the inscription "Ms. 59"), Hollis Stacy, Angela Stanford, Sherri Steinhauer (x2), Karen Stupples, Yani Tseng, Karrie Webb, Kathy Whitworth, Michelle Wie.
Others
MEN (367, 22 deceased): Jim Ahern, Jim Albus, Michael Allen, Buddy Allin-D, Stephen Ames, Billy Andrade (x3), Ryan Armour, Ty Armstrong, Arjun Atwal, Emlyn Aubrey, Hugh Baiochi, Briny Baird, Butch Baird, Al Balding-D, Blayne Barber, Miller Barber-D (x2), Brian Barnes-D (x2), Ricky Barnes, Andy Bean (x2), Frank Beard, Chip Beck (x2, 1 added "59"), Notah Begay (x2), Charlie Beljan, Deane Beman (x2), Don Bies, Thomas Bjorn, Homero Blancas, John Bland, Jonas Blixt, Justin Bolli, John Brodie, Pat Burke, Jonathan Byrd (x2), Tom Byrum, Rafa Cabrera Bello (2), J.P. Cain-D, Scotty Cameron, Chad Campbell, Patrick Cantlay (x2), Greg Chalmers, Cameron Champ, K.J. Choi (x2), Daniel Chopra, Bobby Clampett, Jim Colbert (x2), Frank Conner, John Cook, Bill Coore, Bruce Crampton, Ben Crane (x2), Nathaniel Crosby, Nick Cullen, Rodger Davis, Glen Day, Jay Delsing, Jim Dent (x2), Bruce Devlin (x2), Terry Dill, Chris DiMarco, Luke Donald, Ed Dougherty (x2), Allen Doyle, Ken Duke, Joe Durant (x2), Bob Duval, Danny Edwards, Harris English, Derek Ernst, Bob Estes (x2), Matt Every, Nicolas Fasth, Brad Faxon (x2), Tom Fazio, Jim Ferree (x2), Ed Fiori, Ross Fisher, Tommy Fleetwood, Steve Flesch, Rickie Fowler, Carlos Franco (x2, 1 faded), Robin Freeman, David Frost (x3), Fred Funk (x3), Tommy Gainey, Jeff Gallagher, Jim Gallagher Jr. (x2), Robert Gamez, Brent Geiberger, Gibby Gilbert, Bob Gilder, Matthew Goggin, Ted Goin, Jason Gore, Paul Goydos, Branden Grace, Ken Green, Cody Gribble, Emiliano Grillo, Scott Gump, Bill Haas (x3), Jay Haas (x3), Chesson Hadley, James Hahn, Donnie Hammond, Brian Harman (x2), Morris Hatalsky, Fred Hawkins-D, J.P. Hayes, Jay Hebert-D, Nolan Henke, Russell Henley, Harold Henning-D (x2), Brian Henninger (x2), Tim Herron (x3), Scott Hoch (x3), J.B. Holmes (x2), Billy Horschel, Beau Hossler (x2), Viktor Hovland, Byeung Hun An, John Huston, Sungjae Im, Joe Inman Jr., Peter Jacobsen (x2), Joe Jimenez-D, Kent Jones (x4), Matt Jones, Smylie Kaufman, Jerry Kelly (x5), Skip Kendall (x6), Si Woo Kim, Chris Kirk, Kevin Kisner (x2), Patton Kizzire, Hiromi Kobayashi, Jason Kokrak, Matt Kuchar (x2), Hank Kuehne, Martin Laird (x2), Robert Landers, Franklin Langham, Larry Laoretti (x3), Danny Lee, Marc Leishman (x3), Wayne Levi, Bruce Leitzke-D, Luke List, Peter Lonard, Dick Lotz, Steve Lowery, Jeff Maggert (x3), Hunter Mahan (x2), John Mallinger, Graham Marsh (x3), Don Massengale-D, Troy Matteson, Billy Mayfair (x2), Blaine McCallister, Scott McCarron, Gary McCord (x2), Mark McCumber, Jerry McGee-D (x2), Rocco Mediate, Steve Melnyk, Tom McGinnis, Bobby Mitchell-D (x2), Bryce Molder, Colin Montgomerie, Ryan Moore, Gil Morgan, Walt Morgan (x2), Trey Mullinax, Bob Murphy-D (x3), Kevin Na, Joaquin Neimann, Frank Nobilo, Brett Ogle, David Ogrin (x3), Thornbjorn Olesen, Joe Ozaki, Ryan Palmer, Deane Pappas, Paul Parajeckas, Jesper Parnevik (x4), Steve Pate (x2), Jesse Patino, Chris Patton, Calvin Peete-D, Tom Pernice Jr., Chris Perry, Kenny Perry (x4), Carl Petterson, Scott Piercy (x3), Martin Piller, D.A. Points, Ian Poulter, Jimmy Powell-D, Mike Reid, Chris Riley, Lee Rinker, Loren Roberts (x3), Chi Chi Rodriguez, Sam Ryder, Rory Sabbatini, Doug Sanders-D (x2), Gene Sauers, Xander Schauffele, Ollie Schniederjans, John Senden, Tom Shaw, Butch Sheehan, Charles Sifford-D, Jay Sigel (x3), Heath Slocum, J.C. Snead, Brandt Snedeker (x4), Kevin Stadler, Scott Stallings, Ken Still-D (x2), Dave Stockton Jr., Ron Stockton, Robert Streb, Kevin Streelman, Steve Stricker (x4), Mike Sullivan, Bruce Summerhays (x2), Hudson Swafford, Hidemichi Tanaka, Josh Teater, Nicholas Thompson, Rocky Thompson-D, Jim Thorpe, Brendon Todd, Esteban Toledo, Tommy Tolles, Bob Toski (x5), Cameron Tringale (x2), Kirk Triplett, Kevin Tway, Jean Van De Velde, Bo Van Pelt, Scott Verplank (x3), Camilo Villegas, Fred Wadsworth (x2), Grant Waite, Duffy Waldorf, Dennis Walters, Tom Wargo, Nick Watney, DeWitt Weaver-D, Boo Weekley, Evan "Big Cat" Williams, Mark Wilson (x3), Matthew Wolff, Robert Wrenn, Bob Wynn-D, Will Zalatoris, Kermit Zarley (x2), Walt Zembriski (x2), Larry Ziegler.
WOMEN (55): Marisa Baena, Tina Barrett, Jean Bartholomew, Beth Bauer, Heather Bowie, Catherine Cartwright, Dawn Coe Jones, Heather Daly-Donofrio, Laura Diaz, Judy Dickinson, Cindy Figg-Courier, Vicki Goetze-Ackerman, Kate Golden, Natalie Gulbis (x2), Shelly Hamlin, Penny Hammel, Tracy Hanson, Rachel Hetherington, Cindy Hill, MJ Hur, Angela Jerman, Rosie Jones, Lorie Kane, Lisa Kiggens, Mi-Hyun Kim, Emily Klein, Carin Koch, Kelli Kuehne, Meena Lee, Teresa Lu, Joyce Ziske Malison, Kathryn Marshall, Paula Marti, Michelle McGann, Jill McGill, Mika Miyazato, Janice Moodie, Becky Morgan, Belen Mozo, Barb Mucha (x2), Catrin Nilsmark, Ashley Prange, Judy. P Rankin, Michele Redman, Jennifer Rosales, Kim Saiki, Hee Kyung Seo, Val Skinner, Rachel Teske, Lee Seon-hwa, Shanie Waugh, Lindsay Wright, Amy Yang.
MULTI-SIGNED (3): Hale Irwin and Tom Purtzer, Kenny Perry and Mark Calcavecchia, Rich Beem and Mark Calcavecchia.
Other sports figures
BASEBALL (15): Ernie Banks, John Blanchard, Art Ditmar, Al Downing, Ryne Duren, Travis Fryman, Jake Gibbs, Fergie Jenkins, Larry Parrish, Carlos Pena, Joe Pepitone, Bobby Shantz, Tom Tresh, Shane Victorino, Bob Wichman.
FOOTBALL (13): Pete Banaszak, Tom Brady, Randy Cross, Kerry Kittles, Jerry Kramer, Tom Landry, Don Majkowski, Ray Nitschke, Dave Robinson, Gale Sayers, Fran Tarkenton, Jim Taylor, Joe Thomas.
BASKETBALL (8): Chucky Atkins, Larry Bird, Sam Cassell, Bob Dandridge, Eddie Doucette, Walt Hazzard, Magic Johnson, Jeff Turner.
HOCKEY (3): Dino Ciccarelli, Bob Probert-D (x2).
MISCELLANEOUS (8): President Bill Clinton, John Carlos, Alice Cooper, Wisconsin Gov. Jim Doyle, Bob Hope, Bill Murray, Dan Rather, Alan Shepard.