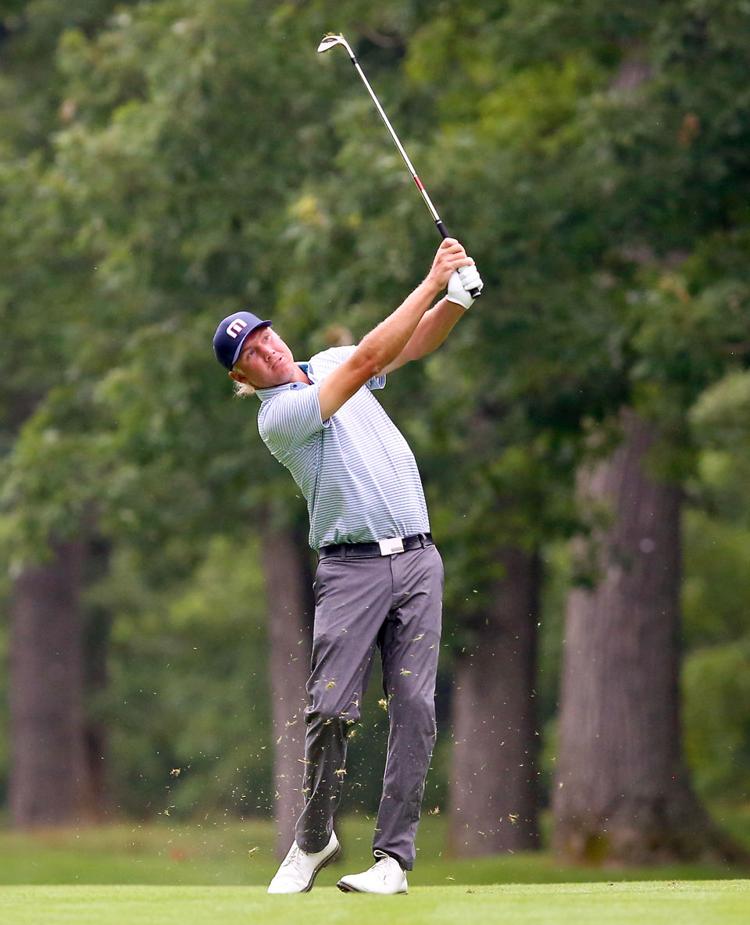 Round of the day
Patrick Stolpe, Oostburg.  It's not often that a round of golf in the Wisconsin State Open moves the needle on Twitter.
It's not often that someone goes out in 7-under-par in the second round of the state's marquee golf event, which is what Stolpe did Tuesday on the Trevino Course at Geneva National Golf Club in Lake Geneva en route to a 67 that left him four shots behind second-round leader Dan Woltman of Beaver Dam, who also shot 67 to get to 12-under 132.
Stolpe made eight birdies and one bogey on the front nine and, by the time he hit the 10th tee, his round caught the attention of "Monday Q Info," a Twitter account that tracks the wild and the wacky among the game's lesser known golfers. And it didn't get much crazier than what Stolpe did Tuesday, when his efforts to follow up his epic front nine resulted in a back nine that featured two birdies, two bogeys, a double-bogey and four pars.
---
Who among us hasnt shot the 3 bogey, 1 double, 10 birdie, 4 par 29-38= 67. Pretty boring golf IMO pic.twitter.com/0JeeD5CFoh

— Monday Q Info (@acaseofthegolf1) August 20, 2019
"I dont like pars"-Patrick Stolpe (probably) pic.twitter.com/mhQdDbv5z2

— Monday Q Info (@acaseofthegolf1) August 20, 2019
---
Best start
Matt Polivka, Muskego. OK, we know this one goes to Stolpe, whose six straight birdies after his bogey at No. 3 not only gave him that 29 on the front nine, but also marked the best birdie-or-better streak of the tournament, bettering the four in a row Mount Pleasant's Kaylor Steger (Nos. 4 through 7 in Round 1). However, we can't overlook Polivka, a former Cardinal Stritch golfer who left the Milwaukee school before it dropped its men's golf program and spent the 2018-19 school year on the club-golf team at Grand Canyon University. He birdied Nos. 5, 7 and 8 to make the turn in 3-under 33 and then added birdies at Nos. 10 and 11 and another at No. 15 before bogeying his final hole to match Stolpe and Woltman for the low round of the day.
---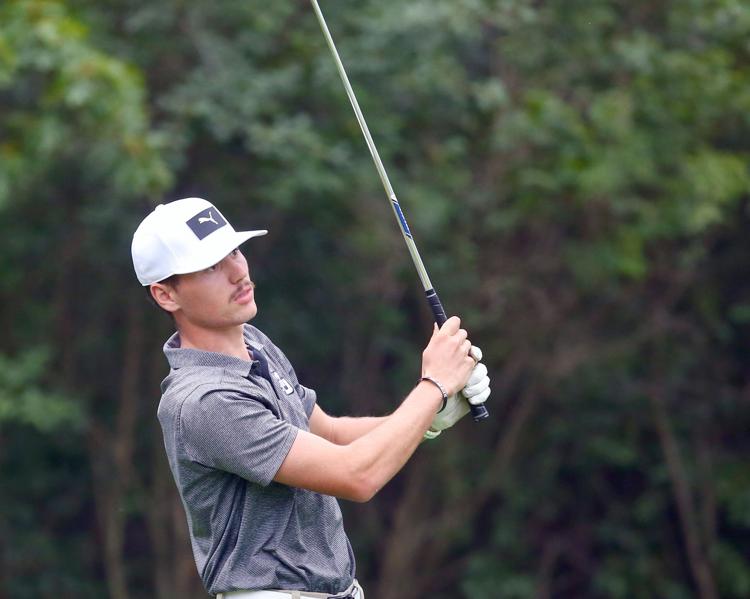 Best finish
Hunter Eichhorn, Carney, Mich. The Wisconsin State Amateur champion, who has fashioned a pretty good summer despite fighting his swing throughout most of it, hit a bump in the road Tuesday when, after getting to 6-under with this third birdie of the second round on No. 10, made a double-bogey 6 on No. 11, rattled off three straight pars and bogeyed No. 15 to fall back to even-par for the day before finishing birdie-birdie to finish off a 2-under 70 and climb into sole possession of third place at 5-under 139.
---
Best comeback
Keith Buntrock, Franklin. The assistant professional at Tuckaway CC in Franklin followed up an opening-round 80 with a bogey-free, 3-under-par 69 and made the cut on the number at 5-over 149. Buntrock, a former UW-Parkside golfer who once shot a 9-under 27 at Meadowbrook Country Club in Racine, birdied Nos. 5, 7 and 8 to make the turn in 3-under 33 and then parred every hole on the back nine earn two more cracks at Geneva National in Wednesday's final round.
---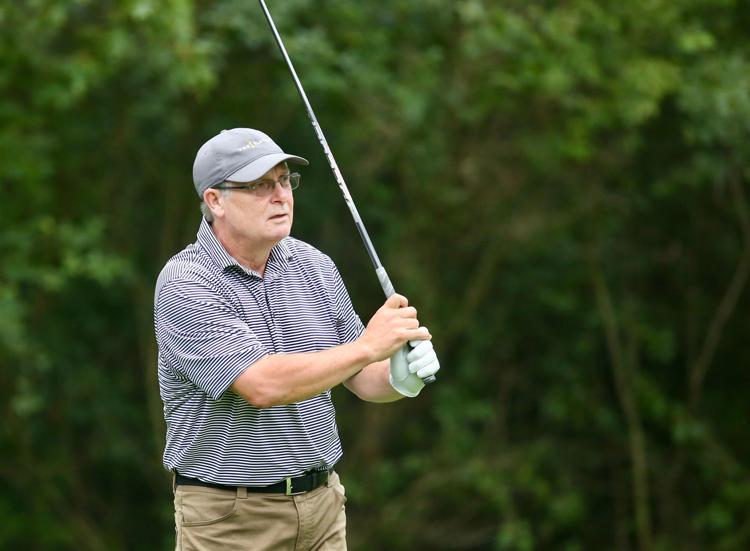 Blast from the past
A lot of people did double-takes when they looked at the State Open entry list and saw the name "Thomas Strong."
Could it be the same Tom Strong who once ran the Greater Milwaukee Open and helped launch Tiger Woods' professional career in 1996 – "Hello world" – before moving on to the World Golf Championships-NEC Invitational and eventually taking a job with the PGA Tour?
Yes, one and the same.
Strong, 61, and his wife recently moved into a home on the 18th hole of the Player Course at the Geneva National Resort & Club. He said he entered the State Open at the invitation of Wisconsin PGA Section executive director Joe Stadler.
Strong still works for the PGA Tour as senior director of tournament business affairs, but the Tour is allowing him to do his job remotely.
As for his game, he readily admits he's nowhere near the same player who won the 1994 Wisconsin State Amateur at Janesville Country Club.
"Wow, not even close," said Strong, who shot 82-81 and missed the cut by 14 shots. "I just wanted to see if I could swing at it. Each round, I had it going for a few holes and then the ugly swing showed up and cost me a bunch of shots. But it was fun. I was glad I did it."
Strong injured his back during a tournament in 1998, had surgery in 2000 and had played no tournament golf since, other than club championships in Florida.
"I just haven't played," he said. "I've played a lot of club championships but I haven't played in really anything since 1998. That's when I blew out my back, in June of '98, had surgery in 2000. After that, I put it away."
Strong said he moved to Lake Geneva with the blessing of the PGA Tour to be closer to sons Joey and Nate, who live in Appleton and suburban Chicago, respectively.
"Playing competitively isn't the main focus," he said. "Doing my job and having fun with the kids and enjoying life is really more important."
---
A game of misses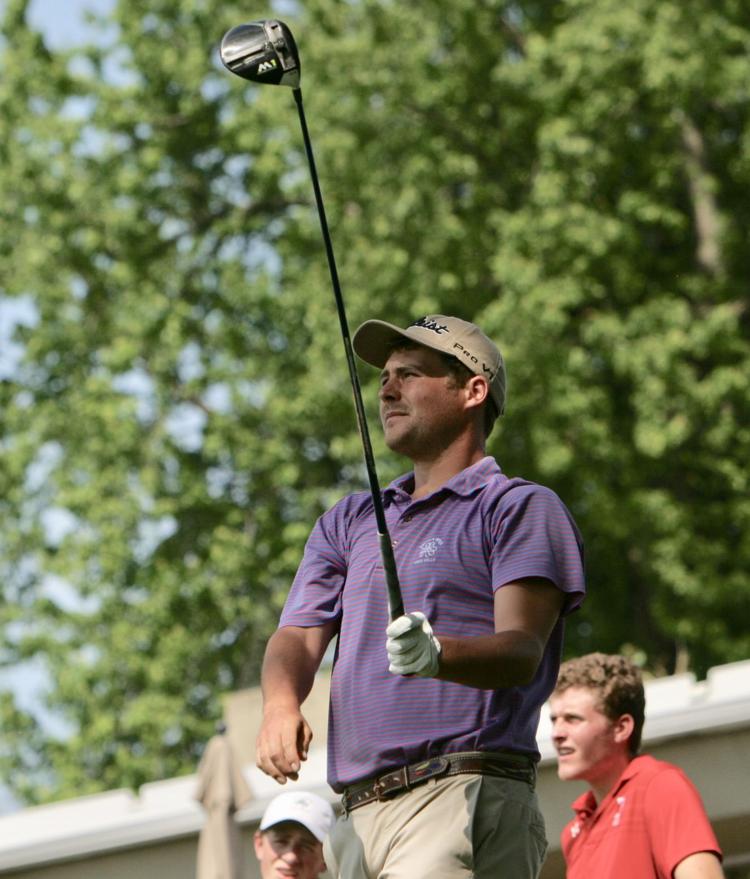 John Langhoff of Pewaukee, who has status on the PGA Tour's Mackenzie Tour-Canada, made the 36-hole cut safely at 4-over 148 after rounds of 73 and 75. But he was ruing what might have been after making a triple-bogey in the first round and two doubles in the second.
"Three really bad swings, or bad holes, is what cost me," he said. "I put one (out of bounds) yesterday on a par-5 and made a triple on that hole. I actually four-putted a hole today. And then I put another tee shot out of bounds on a par-5 today and made another double.
"So, three holes, three shots basically, cost me six or seven strokes. Otherwise I'm in a reasonable position. I was playing all right, striking the ball all right. Just three really bad shots."
---
Crossing the tees
Led by Patrick Stolpe's 7-under 29, the threesome of Stolpe, Jim Schuman (32) and Tony Romo (34) combined to shoot 13-under on the front nine of the Trevino Course. They came back to earth on the back nine, shooting a combined 8-over. … Romo, who withdrew from U.S. Amateur qualifying last month when his surgically repaired back flared up, saw positive signs in his game, even though he shot 77-74 and missed the cut by two shots. "Just didn't play well in the rain at the end here," he said. "But overall, some good stuff today. I'm working on a new move and there were some good signs." … Wisconsin State Amateur runner-up Phillip Johnson of Colgate added a 76 to his first-round 70 and was at 146. "I'm still just an amateur golfer and I'm going to stay that way," he said. "It's not something that takes over my life anymore. I came into this week without any real expectations. I've been playing pretty well lately so I'm a little disappointed that I'm not in the hunt through two rounds. All in all, it wasn't horrible. Just had a couple bad swings today." … Western Junior Championship winner Piercen Hunt of Hartland, a rising junior at Arrowhead High School and a University of Illinois commit, bounced back from an opening 74 with a 69 and moved into a tie for ninth place at 1-under 143. ...  Mick Smith of Summit couldn't get over his lip-out on the 18th hole of the Trevino Course in the first round. His ball went into the hole on the left side, ran around the entire inside perimeter of the cup and exited the left side for a true 360. "I guess on TV I've probably seen it happen before but it's pretty rare," he said. "That's the biggest lip-out I've had in my life, for sure." … After 36 holes, Stolpe led the field with 15 birdies. Leader Dan Woltman had 13. … The field scoring average was 76.43 on the Trevino Course in the second round and 77.97 on the Palmer.