We're No. 3, weather we like it or not
It's no secret to Wisconsin golfers that teeing it up in our lovely state in the spring can present weather challenges including (but not limited to) bone-chilling wind, occasional sleet and flurries, cold rain and dark, gloomy skies. Arizona, we're not.
In fact, golfers in only two states have it worse from March through June when it comes to weather conditions, according to a study by GolfSupport.com.
For the study, the website created an index that considered spring weather variables for golf such as precipitation, temperature, average number of clear days, humidity and wind. Wisconsin scored poorly in average temperature (42.9), wind speed (18.4 kilometers per hour) and sunshine (54%).
Vermont and New York, ranked Nos. 1 and 2, are the only states in which golfers are more miserable in the spring. Wisconsin even managed to beat out Alaska, which came in at No. 4. Who's up for a buddies' trip to Anchorage in April?
Rounding out the bottom 10: Maine, Ohio, Michigan, Indiana, New Hampshire and Montana.
The five states with the best spring weather for golf are, in order: Florida, Arizona, Georgia, California and South Carolina.
Speaking of weather …
Last year we told you about Scott Dresen and his father, Doug, who had just played golf in Wisconsin for the 48th consecutive month, a streak they thought might be the longest ever.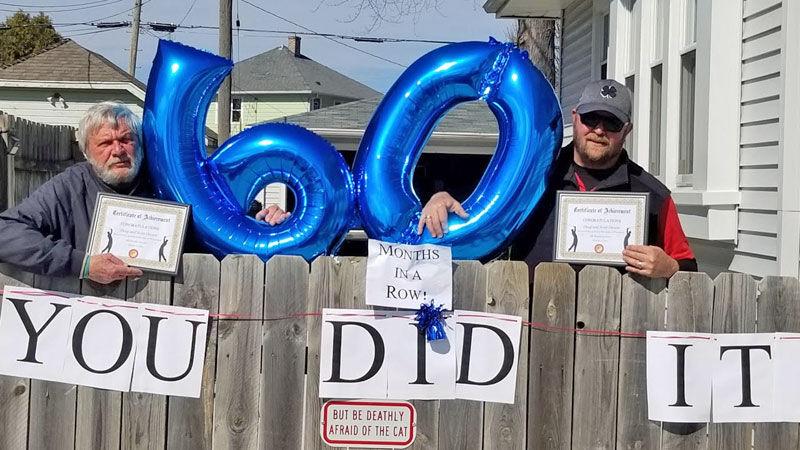 It's now even longer – but it wasn't easy.
February is always a challenge. It's short and it's snowy, especially this year, and as the month was coming to a close the Dresens, who live in Racine, couldn't find a course anywhere that was open for play. They've played in conditions so cold that a power drill was needed to get a tee in the ground, but February was just too wintry.
Desperation set in. So as the month neared an end, Scott appealed to the Golficity group on Facebook for help.
A guy in Manitowoc came through. His employer had a private course they could use and there was just enough bare ground where the snow had melted to make it possible. On Feb. 27, they teed it up and in doing so extended their streak to 59 consecutive months. Already in March, they've added a round at Ives Grove in Sturtevant to make it an even 60.
It's spring now, so it should be smooth sailing to No. 70 and beyond. But remember, this is Wisconsin. See above.
Angry birdies
Golf supposedly is the genteel sport, with age-old rules of etiquette and a history of exemplary sportsmanship. At the end of the round, no matter their scores or struggles, it's the norm for golfers to remove their caps and acknowledge their playing partners with smiles (occasionally forced) and fist bumps. Club-throwing and angry outbursts are considered gauche.
Apparently, though, the cabretta leather glove comes off when it comes to social media.
According to a study conducted by onlinegambling.ca, golf fans – and we would assume most of them play the game – are the angriest sports fans on Twitter, with 42% of all tweets about the sport classified as angry comments. That compares unfavorably with fans of the NFL (28%), baseball (26%) and even boxing (19%). More than 6 million sports-related tweets were analyzed.
To paraphrase "Stripes" Drill Sgt. Hulka: Lighten up, Francis Ouimet.
Caddie coup
The Caddie & Leadership Academy founded by Kenosha's Phil Poletti scored a double-eagle recently when Joe LaCava joined its board of directors. It won't hurt to have Tiger Woods' looper associated with the non-profit that trains kids to be caddies.
LaCava has been on Woods' bag since 2011 and helped navigate him to victory in the 2019 Masters. LaCava also has caddied for Fred Couples, Davis Love III, Justin Leonard and Dustin Johnson. He started his professional caddie career in the mid-1980s when he began looping for his cousin, Ken Green, a five-time PGA Tour winner (including the 1988 Greater Milwaukee Open).
Swag, WSGA style
Who wouldn't want a Wisconsin State Golf Association-logoed pullover to go with that Masters hat and that cool white Nexbelt?
Now you, average golfer, can look the part with WSGA apparel and accessories. The association has launched a website, wsgashop.org, and orders are rolling (or at least trickling) in. Golfers do not have to be WSGA members to purchase logoed apparel, putter covers, coffee mugs and the like.
"We get asked from time to time if we sell merchandise," said WSGA executive director Rob Jansen. "We thought it was a good time to launch this website. We can get rid of some of the excess stuff that we've given away (to tournament entrants) in recent years, plus some new stuff. Hats seem to be the most popular item so far."
Danielson suffers another setback
Osceola's Charlie Danielson, who showed so much promise as a young professional after an outstanding career at the University of Illinois, has suffered another setback to his left knee.
Last week, he tweeted: "The progress hasn't been quite what we'd hoped. The doctors have recommended another surgery to clean up my knee. This will take place next week with the intent it can get me back swinging pain-free by the summer."
Danielson missed the entire 2018 season while recovering from knee surgery. He's had problems with the knee going all the way back to middle school, when it was twice repaired surgically.
In the summer of 2019, the pain flared up again after he'd qualified for the Korn Ferry Tour finals by finishing 14th in PGA Tour non-member earnings ($223,748) in just four starts. He was on the verge of potentially playing his way onto the PGA Tour but had to withdraw from two of the three playoff events, including the Korn Ferry Tour Championship after an opening 78.
An MRI at the time revealed that his cartilage was deteriorating and his knee was arthritic. He had another surgery in January 2020 and yet another procedure later in the year.
This latest setback has to be a huge disappointment. Here's hoping for a speedy recovery, Charlie.
Tap-ins, lip-outs and double-breakers
From the mind-blowing stat department: In 28 career starts on the PGA Tour Champions, Steve Stricker has 15 top-three finishes. He has 19 top-fives and 23 top-10s. … Only four players have finished among the top five in all four majors in a calendar year: Jack Nicklaus, Tiger Woods, Jordan Spieth and – wait for it – Rickie Fowler. … According to Golfodds.com, Dustin Johnson is the favorite to defend his Masters title next month. Johnson is listed at 8-1 odds and is followed by Bryson DeChambeau at 10-1 and Justin Thomas and Spain's Jon Rahm at 14-1. … Epic rant here by Ian Poulter about golfers not repairing pitch marks on greens.
---
Wisconsin.Golf's Dennis McCann contributed to this report.