GREEN LAKE — Back in the mid-1970s, long before a shuttered Army base became Whistling Straits, a cattle farm became Erin Hills and Sentry Insurance CEO John Joanis built an ahead-of-its time destination course called SentryWorld, a bunch of us teens packed into a couple cars and headed north to a mysterious place with a funny name: Lawsonia.
D'Time with Gary D'Amato: Rating The Links Course at GCs of Lawsonia
| Category | Grade |
| --- | --- |
| Overall course conditions: | 9 |
| Quality of greens: | 10 |
| Aesthetics: | 10 |
| Playability: | 7.5 |
| Variety of holes: | 9 |
| Service: | 9.5 |
| Value: | 9.5 |
| Total: | 64.5 |
As high school golfers on limited budgets, we pitched tents in a cornfield, ate on the cheap, brazenly crashed a wedding (sorry about that) and spent three days playing a golf course that was so different from anything we'd ever seen, we thought it was the eighth wonder of the world.
With its fairway cross bunkers, massive push-up greens and cavernous greenside bunkers, Lawsonia had us awestruck on every tee box. We'd grown up on Milwaukee County's municipal courses and had never been exposed to this kind of golf. The names William Langford and Theodore Moreau meant nothing to us and we had no idea we were playing their inland links masterpiece.
We just knew it was a ton of fun.
Some 45 years later, the Golf Courses of Lawsonia has two distinct 18-hole courses — the more traditional Woodlands opened in 1983 — but it's the anachronistic Links that wows golfers and course architecture buffs. I'd be hard-pressed to pick a course in Wisconsin that is more interesting, challenging and memorable, including the ones that have hosted major championships.
Since that initial trip to Lawsonia, I've been back many times and still get butterflies when I turn off Highway 23 and pass through the iron-and-stone entrance gate. Such was the case last week, when I played the Links on a Chamber of Commerce day.
A tree removal program in recent years, overseen by restoration specialist Ron Forse, honors the original 1930 work by Langford and Moreau, who also designed West Bend Country Club, Ozaukee CC in Mequon and Spring Valley GC in Salem. Pete and Alice Dye are said to have played often at Maxinkuckee, a Langford-Moreau in Culver, Indiana, and it's safe to assume the course influenced their design philosophy.
The Golf Courses of Lawsonia are managed by Madison-based Oliphant Golf Management and the Links has never looked better. Superintendent Mike Lyons, one of the best in the business, is fine-tuning the course for the 118th Wisconsin State Amateur, which runs July 15 through 18. Maintenance workers were everywhere the day I played, applying the finishing touches.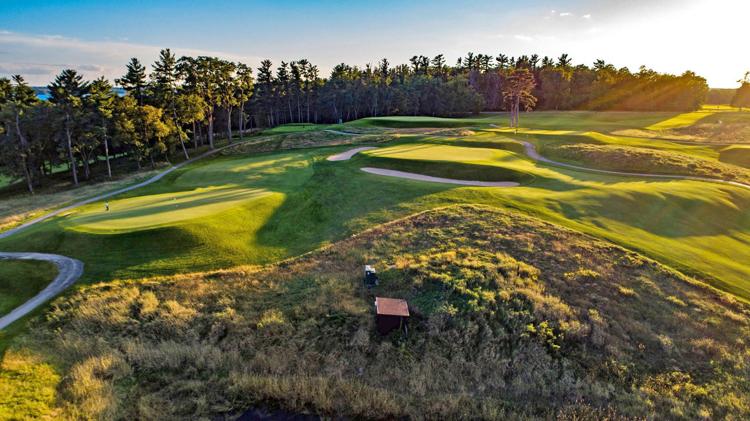 The sun was shining, the turf was bouncy and the greens were firm and fast, though they'll be firmer and faster for the state's best players in a few weeks. I hope we get a lot of hot, dry days between now and then, because that will bring out the very best the course has to offer.
If it was built today, the Links would be an engineering feat, which makes it hard to believe Langford and Moreau used 1920s-era steam shovels. Many of the greens are perched on plateaus with severe fall-offs into bunkers to the sides and rear. Some of the faces are nearly vertical and more than 10 feet tall.
Legend has it that the green on the par-3 seventh hole was built atop a railroad boxcar. My tee shot came up a few feet short and tumbled back down the hill. I could not see the flagstick and somehow got my blind pitch up on the putting surface. If you miss the green where I did, bogey is inevitable.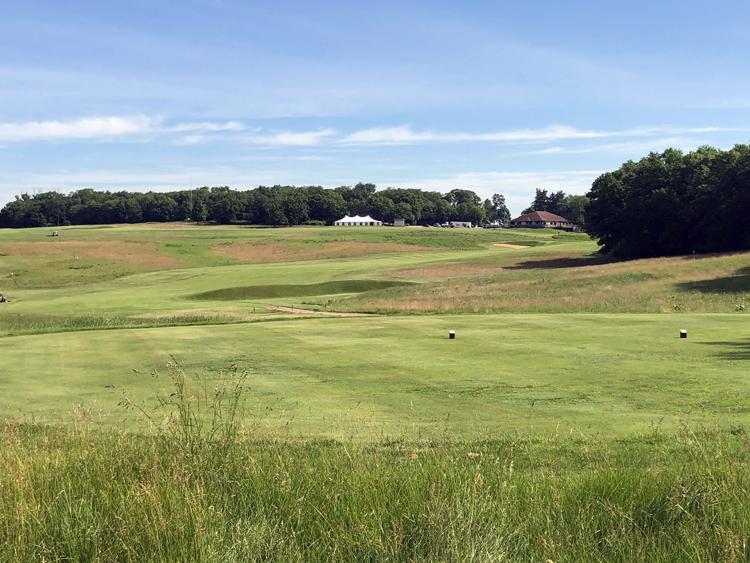 The fairways on the longer holes are framed by wispy fescue, but the landing areas are wide as aircraft carriers. Good players aren't likely to miss more than one or two per round, and most of the formidable fairway bunkers are little more than visual distractions to young bombers. Find yourself in one, however, and it's the equivalent of a half-shot penalty.
It's all about the second shot at the Links. Substandard approaches will bring three-putt into the equation on every massive, rolling green. There is no such thing as a straight putt here. Longer putts often are double-breakers and care must be taken even on tap-ins.
The Wisconsin State Golf Association will have to be careful with hole locations during the State Amateur. If it's dry, the greens are firm and Bill Linneman, the WSGA's lead set-up man, takes the Links up to the edge, the winning 72-hole score easily could be somewhere around even par.
The Links is nearly treeless on its interior, with leafy obstructions coming into play only on the par-5 fifth hole. The views are incredible, especially from the tee boxes on the par-5 ninth and 11th holes. Majestic Green Lake is visible in the distance from some holes on the back nine.
When I first played Lawsonia back in the '70s, the course was a virtual unknown nationally, even though Walter Hagen, Byron Nelson, Ben Hogan and Sam Snead all reportedly played the Links, the latter three in the Little Lawsonia Open in the 1930s. Thanks to the Internet, course architecture blogs and magazine ratings, it's been "discovered" and golfers from far and wide make the trek to Green Lake.
The Links is ranked 58th on Golf Digest's America's 100 Greatest Public Courses, 64th on Golfweek's Top 100 Classic Courses in the U.S. and 87th on Golf Magazine's Top 100 Courses You Can Play.
With a peak rate of $98.50, it might be the best sub- $100 course in the nation.