KIAWAH ISLAND, S.C. – There he was, in the middle of the gallery's stampede to the 18th green on the Ocean Course, wearing aviator sunglasses even as shadows lengthened Sunday evening, flashing that familiar thumbs-up – a move straight out of Arnie's book – at this moment undeniably the coolest guy on the planet.
Phil Mickelson, 50, was about to win the 103rd PGA Championship. He was about to beat them all: the strongest field in golf, the bombers-and-gougers half his age, the oddsmakers who had made him a 200-to-1 longshot, Pete Dye's 7,800 yards of Marsh Madness, Father Time.
Not that Phil the Thrill needed to add to his legacy. He won a PGA Tour event when he was a cherubic-faced amateur. He won five major championship titles and 44 tournaments in the Tiger Woods Era. He reinvented his swing, reshaped his body, redoubled his effort to stay relevant, to keep up with the kids he never tired of beating.
But damned if this moment didn't top them all. When his final putt dropped, he became the oldest major champion in the history of the game at 50 years 11 months 7 days. The late Julius Boros had held the record since 1968, when he won the PGA at 48.
This was every bit as good as Jack Nicklaus' out-of-nowhere Masters victory in 1986, as Woods' comeback for the ages at Augusta National in 2019. Maybe better.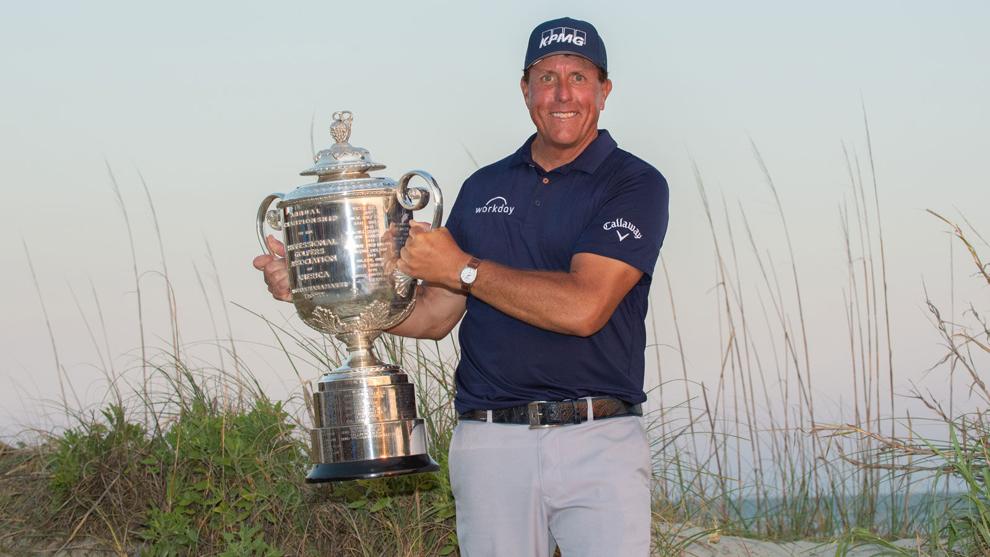 Mickelson hadn't finished in the top 10 at a major in five years and hadn't won one in eight. He had exactly two top-25 finishes this year, his best a T-21 at the Masters. His most inspired golf of late had come on the PGA Tour Champions, where he never had to face Brooks Koepka or Bryson DeChambeau.
And then … this. A bolt of lightning from sunny skies. High drama in Lowcountry. A performance that will go down as one of the greatest in history. How did it happen?
"Well," said Tim Mickelson, Phil's brother and caddie, "we beat everybody else."
That's what the record book will say. Big brother Philip Alfred shot a 1-over 73 in the final round, a high-wire act that included six bogeys, five birdies, a hole-out from a bunker and momentum swings that alternately took your breath away and had you slumped in your seat. "It's like the Twilight Zone out here," CBS' Dottie Pepper said at one point.
Mickelson went into the final round one stroke ahead of Brooks Koepka and won by two over Koepka and Louis Oosthuizen of South Africa. He finished at 6-under 282, amid a surreal scene as thousands of fans spilled down the fairway and surrounded the final green, swallowing up Koepka in their rush to witness the coronation.
"It was a bit unnerving," Mickelson said, "but exceptionally awesome."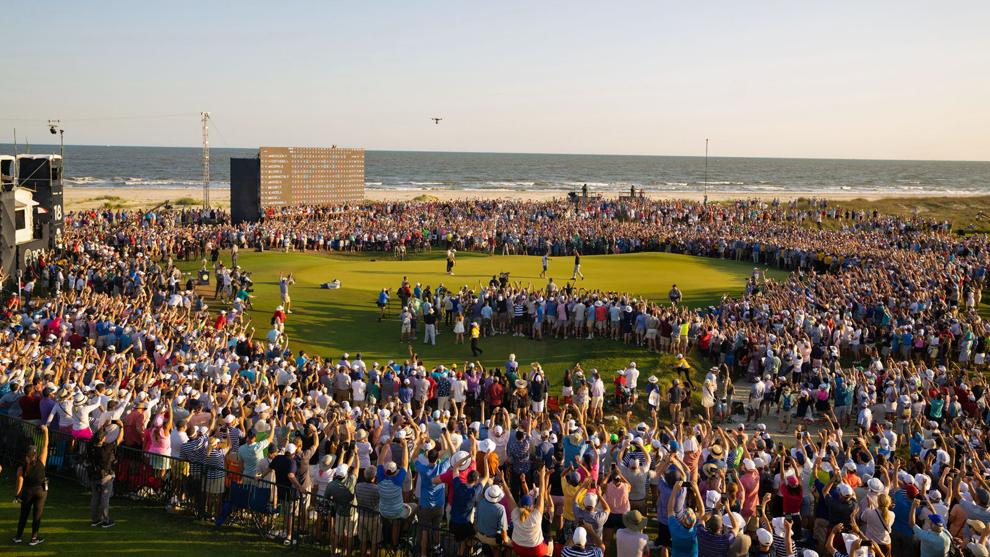 While Lefty put his name on the Wanamaker Trophy for the second time – and the first since 2005, that 16-year gap the longest between victories in this event – Koepka deserved a medal of honor for gutting through 72 holes two months after undergoing surgery for a dislocated kneecap and ligament damage he sustained in a slip during a family vacation in Florida.
Koepka was trying to win his third PGA Championship in four years, but he'd missed the cut in his only two tournament appearances since the March 16 surgery and admitted that he was still six months away from complete recovery.
He was nothing if not game, but after taking the lead with a birdie on the first hole against Mickelson's bogey, he self-immolated with a double-bogey on No. 2. In the middle of the round, he made four bogeys in a seven-hole stretch, and that was that. Birdies on 15 and 16 salvaged some pride, a 74 and the T-2.
Mickelson, meanwhile, had his own issues. He'd talked openly about the problems he'd had focusing for 72 holes. Lose your concentration for only a moment on the Ocean Course, and bad things happen.
"He was just very good this week at staying focused, staying calm, staying present," Tim Mickelson said. "He's talked a lot about not being able to focus at times, and I think the only time this week that he lost focus was his second shot on 18 (Saturday). It was a perfect little 8-iron and the thing just goes 15 yards left of the green. He just kept control of himself very, very well this week."
Down the stretch, Mickelson was purposefully deliberate. He backed off shots if he wasn't committed. He slowed his walk, controlled his breathing. He crushed a 337-yard drive and made a routine par on No. 15. He nuked a 366-yarder on the par-5 16th to set up a birdie. He limited the damage to a bogey after his adrenaline-fueled tee shot bounded over the green on the brutish par-3 17th.
Victory was a par away, and when Mickelson's 9-iron approach on the 18th landed softly on the green and stopped 16 feet from the cup, the roar could be heard in Charleston.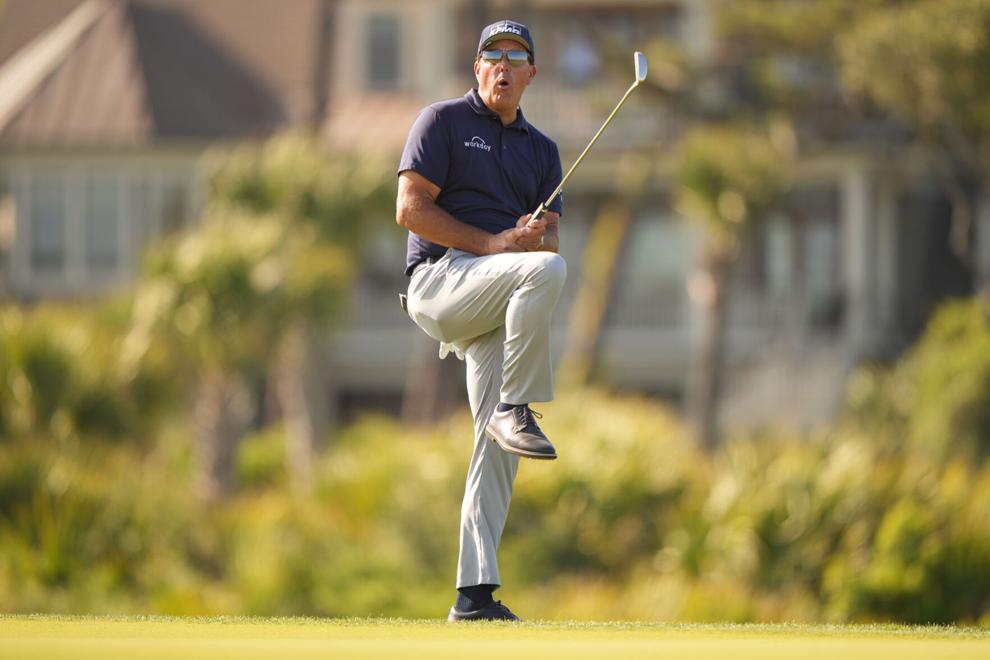 "I've never been driven by exterior things," he said. "I've always been intrinsically motivated because I love to compete, I love playing the game. I love having opportunities to play against the best at the highest level. That's what drives me, and I think … the belief that I could still do it inspired me to work harder. I just didn't see why it couldn't be done. It just took a little bit more effort."
Dare we look ahead? The U.S. Open is at Torrey Pines in San Diego next month. Phil's backyard. He's a six-time runner-up in our national championship. A victory would complete the career Grand Slam. What would have been laughable a week ago now seems, well, plausible.
"I've believed for some time now – without success – that I could play at my best and compete in major championships still, but until this week I haven't proven it to myself or anyone else," he said. "But I do believe that if I stay sharp mentally, I can play well at Torrey Pines."
What will Phil do next? Stay tuned.