OAKMONT, Pa. – I was 17 in 1973, a teenager bitten by the golf bug, when Johnny Miller played the greatest round in history, then and now. Miller, maybe the best ever with an iron in his hands, threw darts at Oakmont Country Club's greens and shot an otherworldly 63 to win the U.S. Open.
Still today, it's hard to believe that Oakmont, with 175 onerous bunkers and marble-hard greens that tilt away from the player, could have surrendered such a preposterous score. Over the years, as I learned more about Oakmont's fabled history, the magnificent course in suburban Pittsburgh and Miller's 63 grew in stature in my mind.
I was fortunate to cover two U.S. Opens at Oakmont for the Milwaukee Journal Sentinel – in 1994, when Ernie Els won during a week better remembered for O.J. Simpson's slow-motion white Bronco chase, and in 2007, when Argentinian Angel Cabrera prevailed. Last month, Cabrera was sentenced to two years in prison on charges he assaulted a former partner, no reflection on Oakmont other than the coincidental fact that the former has been punished and the latter still punishes.
Playing Oakmont was a bucket-list item that I thought would go unchecked. Though I have been blessed beyond belief to have played the Old Course in St. Andrews, Pine Valley, Augusta National and Pebble Beach, the ultra-exclusive and very private Oakmont, a top-five course in the U.S., was out of reach.
Photos: Gary D'Amato's trip to Oakmont
And then my buddy, Barry Raab, called. Barry runs the finest restaurant in Naples, Fla., and has a gift for networking. Among the rich and famous he has met is a well-connected businessman who would be happy to get him on Oakmont. Would he like to play? And bring a friend?
And so, I drove to Pittsburgh last Monday, rose early Tuesday morning and headed with Barry to the Beast of the East. After the guard at the front gate confirmed our tee time, we parked and tiptoed into the stately clubhouse, which creaks underfoot and reeks of history.
Oakmont has played host to more combined PGA and USGA championships than any course in the U.S., and the clubhouse walls are covered with artifacts and photos of its champions, including Gene Sarazen (1922 PGA Championship), Bobby Jones (1925 U.S. Amateur), Sam Snead (1951 PGA), Ben Hogan (1953 U.S. Open) and Jack Nicklaus (1962 U.S. Open).
In fact, Oakmont will host its sixth U.S. Amateur starting Monday. The field includes recently crowned Wisconsin State Amateur champion Piercen Hunt of Hartland, reigning State Open champion Harrison Ott of Brookfield and Adam Miller of Nekoosa. To say they are in for a treat is a massive understatement.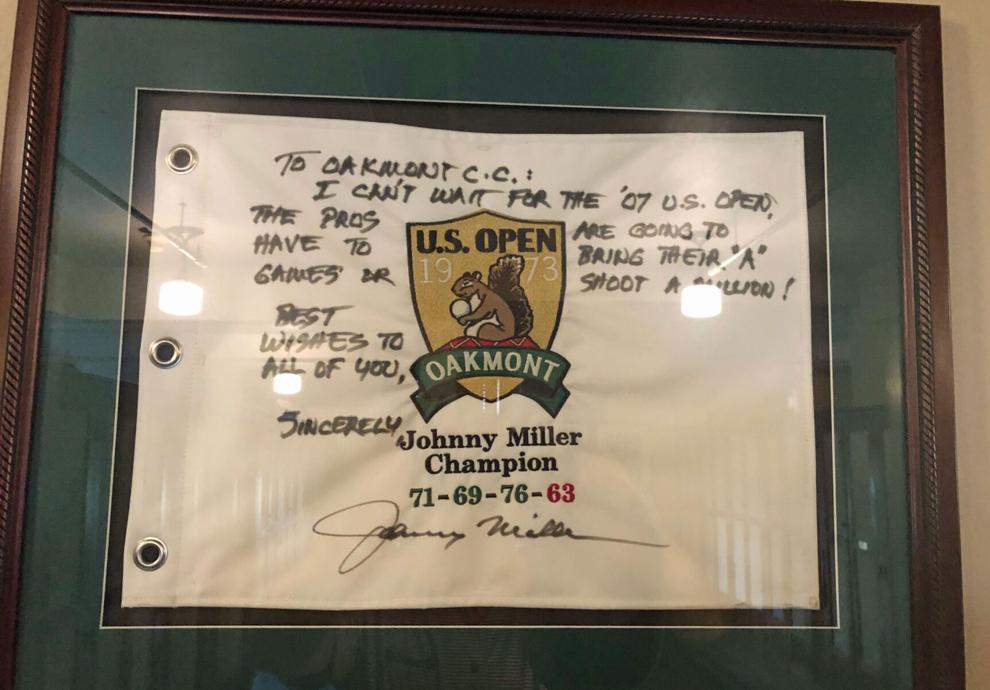 Walking into the understated men's locker room, with its old lockers, faded newspaper clippings on the walls and wooden benches pockmarked by thousands of tiny holes from metal spikes, was like stepping back into time. A framed pin flag signed by Miller raised goosebumps.
After a warm-up session on the range and some time on the practice putting green – the massive surface also doubles as the ninth green – it was time to head to the first tee with our caddies.
Oakmont was spread out before us in all its treeless glory. The course was designed by Henry Fownes to be a Scottish-style links. Some 15,000 trees have been removed since the 1983 U.S. Open, the last of them in a middle-of-the-night purge in defiance of some members who threatened legal action. The course looks fabulous, the turf is bouncy and the greens are famous for their slope and speed.
John Lynch, the member who would serve as our host, and Devin Gee, the head PGA professional, were waiting for us on the tee. After exchanging pleasantries, we were off.
It took me exactly one hole to determine that the greens, reputed to be among the most difficult in all of championship golf, were the real deal. From just in front of the green on the 421-yard par-4, I four-putted for a double-bogey. I would also four-putt on No. 9, and would need three putts on four other holes. Downhill putts are mercilessly fast, and sidehill sliders take off as if the grass was greased.
Oakmont's most infamous feature, the Church Pew bunkers, snared my yanked drives on the parallel third and fourth holes. It took me two swipes to get out the first time, and I was able to advance my ball 100 yards the second. Fortunately, I one-putted both greens from about 20 feet, the first for double, the second for a grinding par.
The sixth hole was a par-3 of 152 yards from our tee; I hit a 6-hybrid – an old-man's club – and watched my ball land on the right side of the green and funnel toward the hole. For a couple seconds, it looked as if I was going to make my first career hole-in-one – what a story that would have been! – but the ball finished 18 inches directly behind the cup for a tap-in birdie.
After an ugly triple-bogey 7 on the 452-yard ninth (the other four-putt), I added up my front-nine score: 45. My goal of breaking 90 was intact.
The brutish 12th hole is perhaps the most difficult par-5 on the planet. A left fairway bunker is death but I avoided it and got a ton of roll-out down the severely sloped fairway. Lynch and my caddie, Woody, instructed me to hit 3-wood directly over a cross bunker but I missed my line by 20 yards and paid the price, with my ball bounding to the right and scooting into another bunker some 90 yards short of the green. I walked off with a three-putt double-bogey.
I fought back with pars on Nos. 13 and 14 and when I added up my score after a closing bogey, I'd shot 44 on the back nine. For the round, I'd made seven double-bogeys, but played the other 11 holes in 4-over and finished with a satisfying 89.
Lynch was an amazing host, warm and gracious and quick to dispense with tips on how to play every hole. Our caddies were superb. All in all, it was one of the best days I've ever spent on a golf course.
To complete the trip, we played Olde Stonewall, an excellent public course north of Pittsburgh, and Allegheny Country Club, an old-line private club in the suburbs that was nearly Oakmont's equal. Jackie Bradley Jr., the Milwaukee Brewers' outfielder, was our playing partner at the latter (the Brewers were in town to play the Pirates). Bradley has been playing golf for only two years but has a fine, athletic swing and shot 84.
Since I have returned home, several people have asked me what makes Oakmont so special. Like a Van Gogh, a piece by Mozart or a ride in a Lamborghini, it's hard to explain. You have to experience it to feel it, because words are inadequate.
Interestingly, Fownes never designed another golf course. It was as if he'd achieved perfection the very first time, and nothing after it would measure up. Smart man.