Russell Dettmering was five minutes old when he announced to the world – or at least to his father – that he was going to be a golfer.
"My dad came into the (delivery) room and had a golf ball with him," Dettmering said. "He put it in my hand. Most babies will just drop it. I held it. He said, 'That's going to be my pro golfer.'"
The story leans toward apocryphal, but Nick Dettmering confirmed it.
"He wrapped his fingers right around it," Russell's father said. "Oh, yeah. Definitely."
It's a long way from the birthing room to the PGA Tour, especially when you hail from a place where people are still driving snowmobiles in April. By a sizable margin, Wisconsin's north woods has produced more professional fishing guides than it has professional golfers.
But talent knows no geographical boundaries, and Dettmering appears to have it. The junior at Merrill High School blitzed the competition at the WIAA state tournament earlier this week at University Ridge Golf Course, running away to a six-shot victory in Division 1. His lead was eight until runner-up Jack Blair of Milwaukee Marquette, playing in the final group, eagled the 16th hole.
Dettmering shot rounds of 71-66, which added up to 7-under 137, one shot off the WIAA state record shared by Mequon Homestead's Andy Hansen (2006) and Jordan Niebrugge (2012).
"Sixty-six on this course, it's something special," Dettmering said.
He became just the sixth golfer to break 140 since the tournament moved to University Ridge in 1994, and its northernmost champion since Marinette's Andy Cegelski in 1977.
As a sophomore last year, Dettmering opened with a 70 at state – one shot off eventual champion Piercen Hunt's lead – but fell back to fifth place with a closing 76. Asked Monday what he learned about himself, he matter-of-factly said, "I learned that I could play with Piercen."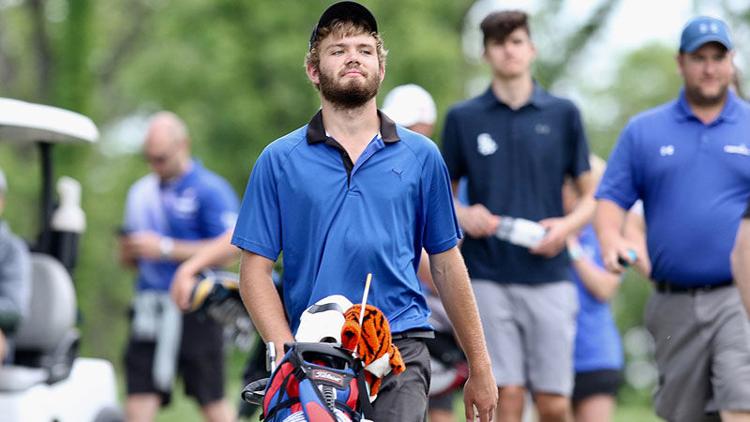 Despite not having an AJGA pedigree or a ton of experience in junior tournaments, Dettmering has an enormous amount of self-belief. Of his game plan for the final round Tuesday, he said, "I knew somebody might be able to put up a good round so I just said, 'Screw it, I'm going to go low.'"
It's one thing to say it and quite another to pull it off. But Dettmering's confidence is not off-putting. He's cocky in a good way, and respectful of his competitors. On Tuesday afternoon, he stood behind the 18th green at University Ridge and applauded as each golfer finished.
Nurtured by a supportive father, Dettmering was practically raised at Merrill Golf Club, a 6,600-yard public course.
"Shoot, he couldn't even hardly sit up, I had him in a little donut in the chair and I'd swing golf clubs and he'd laugh," said Nick, a low single-digit handicapper. "I'd put him in a car seat, take him out in a (golf) cart, ride around. Teach him how to drive it. Let him play in the fairway. Putt."
During the long, cold winters in Merrill, Russell hit balls into a net in the heated garage. Thousands upon thousands of them – not unlike Tony and Gipper Finau, whose father hung a mattress in the garage and had his boys hit into it simultaneously, from opposite sides. Tony credits those sessions for helping him reach the PGA Tour.
"It used to be just pound balls: solid contact, solid contact," Nick said. "Now, it's, try to draw one. Try to knock one down. You're hitting into a net, but it's a feel. Because when you're out there on the course, sometimes you've got to feel it."
There's also a toughness to Dettmering that comes from playing high school matches in less than ideal weather. Earlier this "spring" – and we use that term loosely – he shot a 68 at Stevens Point Country Club on a 35-degree day.
"It was windy, it was snowing," he said. "I pulled a 68 out of somewhere."
If you haven't heard of Dettmering, it's only because he has played a limited summer schedule. His father works at Packaging Corporation of America, a paper mill in Tomahawk, and until this year Russell had no way to get to tournaments.
Now, however, he has his driver's license and access to a car.
"I'm going to play in a lot more tournaments this summer," he said.
He's starting to hear from college coaches and has his heart set on going south "so I can play year-round golf. That's what I've always dreamed of."
"It's up to him," Nick said of picking a school. "It's not my decision but I'll be there: 'Are you sure? Or are you not sure?' You've got to like everything. It's no different than picking your putter. It better look good, it better sound good, it better feel good, it better perform. Same thing."
There's another dream, too, for both Russell and Nick.
"The big one is still out there," Nick said. "The big dream is, 'There's my pro golfer.'"