HARTLAND – The news release from Hire Heroes USA describes Carl Meyer as a "golf enthusiast," which you pretty much have to be in order to play 113 holes in one day.
Wearing elastic sleeves on both knees, downing Aleve between rounds and making liberal use of Biofreeze on his 62-year-old back, Meyer played more golf Saturday than many "golf enthusiasts" play in a month – six 18-hole rounds plus an additional five holes.
Meyer has made marathon golf his personal Independence Day tradition since 2008, playing at least 100 holes at Chenequa Country Club every Fourth of July to raise funds for Hire Heroes USA, a nonprofit dedicated to helping veterans and military spouses find meaningful employment.
One year, the 15-handicapper played 180 holes – the equivalent of 10 full 18-hole rounds – teeing off at 4:09 a.m. with a glow-in-the-dark golf ball and finishing in twilight's last gleaming at 8:45 p.m.
"That was a long day," he said.
The 113 holes he played Saturday were a relative breeze. He started at 4:55 a.m., finished 11 hours later and already had played 72 holes when I joined him shortly after 11 a.m. for his fifth trip around Chenequa, where he is a member.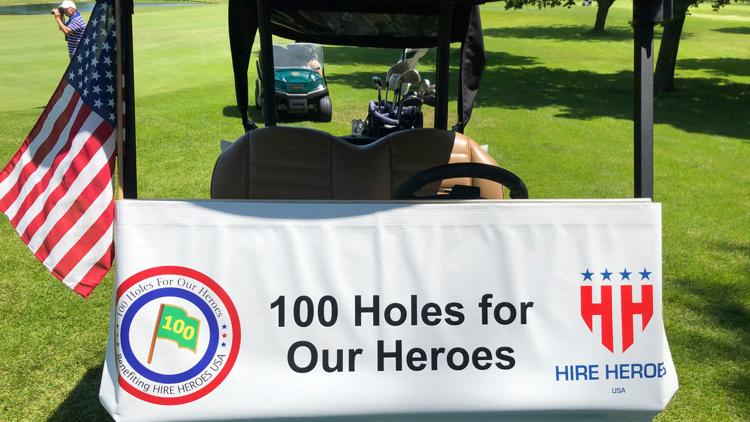 Playing out of a cart decorated with American flags and a banner that read "100 Holes for our Heroes," Meyer wasted little time between shots and played through multiple groups of Chenequa members and their guests, almost all of whom knew about his annual mission and cheerily waved him through with words of gratitude and encouragement.
A few years ago, his day nearly ended prematurely when he whipped around a blind turn and ran head-on into a cart driven by superintendent Jim Shaw. The collision resulted in a smashed cart and a few bumps and bruises, but the determined Meyer got another cart and kept going.
Including the 113 holes he played Saturday – the extra 13 signifying the 13 years he's been doing this – he has played 1,677 holes on Independence Day since 2008. If you're scoring at home, that's an average of 129 holes per Fourth of July. Equally impressive is the fact that he has raised more than $900,000 in pledges and donations for Hire Heroes USA, including more than $100,000 this year.
"As our clients navigate a challenging economic environment, Carl's support is more important than ever," said Ross Dickman, CEO of Hire Heroes USA. "Military members are still leaving the service during the COVID-19 pandemic, and Carl's passion and support helps to ensure they can find fulfilling and purposeful work after their time in uniform. We are extremely proud and humbled by his dedication and commitment."
Meyer, the executive vice president of The Wetrich Group, a healthcare management consulting firm, got the idea to raise money for Hire Heroes USA after playing 72 holes of golf on the Fourth of July in 2007. While watching the fireworks that night, a friend asked, "What are you going to do next year?" and Meyer spontaneously answered, "I'm going to play 100 holes, and I'm going to raise funds for a military charity."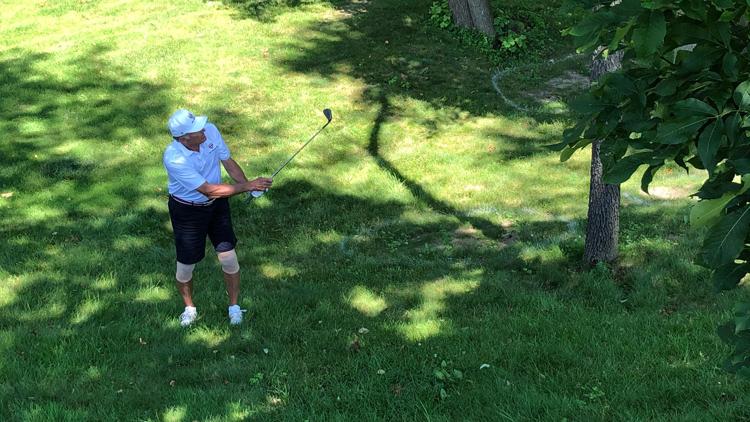 It just so happened that Hire Heroes USA was founded that year, after Meyer's friend John Bardis had a chance encounter with an Army sergeant who was a patient at Walter Reed Army Medical Center.
The sergeant had been severely injured in a landmine explosion while on patrol in Afghanistan and confided in Bardis that he was uncertain about his future and his employability. Bardis, who founded MedAssets and had more than 30 years of experience in the healthcare industry, offered him a job on the spot, which eventually led to the creation of Hire Heroes USA.
"The work that the charity does is unbelievable," Meyer said. "The first year, they had a staff of four and placed 37 men and women in jobs. Today, they have 100 employees in five locations and last year they placed 10,000 veterans in jobs, with an average starting salary of $59,000."
After putting out on the 18th hole to conclude his fifth round Saturday, Meyer dropped me off at my car and headed back out.
He had 23 holes to go, and daylight was burning.