SOUTH MILWAUKEE — In the early 1970s, decades before the 24/7 news cycle, smartphones and social media conspired to ruin the myth-building of our sports heroes, Archie Dadian might as well have been Arnold Palmer to a bunch of teens learning to play golf at Grant Park in South Milwaukee.
We knew of Dadian's exploits only through newspaper stories and word of mouth and imagined him to be a giant who could pummel a golf ball out of sight, knock down flagsticks with his irons and dare birdie putts not to fall. We knew he lived nearby and frequented Grant Park.
But over two long summers we never saw him, which only made the very idea of an Archie Dadian seem more romantic.
Then, one day, after getting kicked off the course at dusk by a vigilant maintenance worker who knew from experience that we'd sneaked on, we were headed back to the parking lot when something made us stop dead in our tracks. There, in the setting sun, was a solitary figure hitting balls in the little practice area across the street from the first hole.
His swing was short and quick, like the crack of a whip, and the ball came off the club face with a sound unlike anything we'd ever heard. Every shot traced the same perfect parabola in the sky, the balls landing softly and within feet of each other, 120 yards away.
Nobody had to tell us.
We knew who we were watching.
* * * * * *
Archie Dadian is 85 and hasn't played competitive golf since 2012. He's had his left hip replaced three times, his right hip once. Arthritis in his index finger, a remnant of the metacarpal he shattered when he hit a rock in the fairway at the 1965 Azalea Open Invitational, prevents him from completely closing his hand. He says he hasn't played more than a dozen rounds over the last five or six years.
But he's thinking about entering a tournament or two this summer.
What a treat that would be. Not for Dadian, but for Wisconsin golf.
He's a connection to a glorious past in our state, a connection to names such as Dick Sucher, Steve Caravello, Bobby Brue, Walter Atwood and Butch Schlicht. He's a connection to a time when public links players were looked down upon as inferior, a time when only a handful could enter the State Amateur.
His father, an Armenian immigrant, owned a tavern in blue-collar South Milwaukee. Like some of the men against whom he competed, Dadian worked in insurance. But they were salesmen, many with their own successful businesses. He was an examiner.
As a Saturday morning dew-sweeper who plunked down his green fees at Milwaukee County courses with the rest of the working stiffs, Dadian, his dark complexion turned mahogany from hours in the sun beating balls, couldn't enter the locker room at some private clubs, even during tournaments he would win. In the 1950s and '60s, he often changed into his spikes in the parking lot.
You don't think that put a chip on his shoulder?
Once, in the Milwaukee District Match Play Championship, Dadian was standing over a bunker shot when he heard a woman in the gallery say, "I sure hope the public links player loses." He backed off, instructed his caddie to pull the flagstick and defiantly holed the shot. Take that, he thought.
When he briefly played on the PGA Tour in 1964 and 1965, he was paired with the great Jack Nicklaus and two-time major champion Doug Ford at a tournament in Indianapolis.
"Jack hits his tee shot on the first hole and Ford hits his tee shot and now I'm getting ready to hit and all of a sudden I hear a voice in the gallery: 'Who the hell is that guy?'" Dadian says. "I back off and I say, 'I'll show you who I am.' I belted it and it had to be close to 70 yards past Ford's ball and maybe 20 yards past Nicklaus' ball."
By his own count, Dadian won more than 100 tournaments, including one-round qualifiers. He won the State Amateur twice, in 1963 at match play and in 1974 at stroke play. He won the inaugural Wisconsin State Golf Association Match Play Championship in 1975 and repeated in '76.
There was some nice symmetry to his career: He won the Wisconsin Public Links Association's Ray Fischer 72-Hole Amateur Championship, the WPLA 36-hole Championship, the Milwaukee District and the old Milwaukee Sentinel and Milwaukee Journal tournaments five times each.
"Five seems to be my number," Dadian says.
Unless it's 10. That's how many times he won the WPLA Billy Sixty Best-ball title (with three different partners). He also was a 10-time WSGA Senior Player of the Year, taking the honor every year from 1989 to 1998 (sharing it with Sucher in 1992).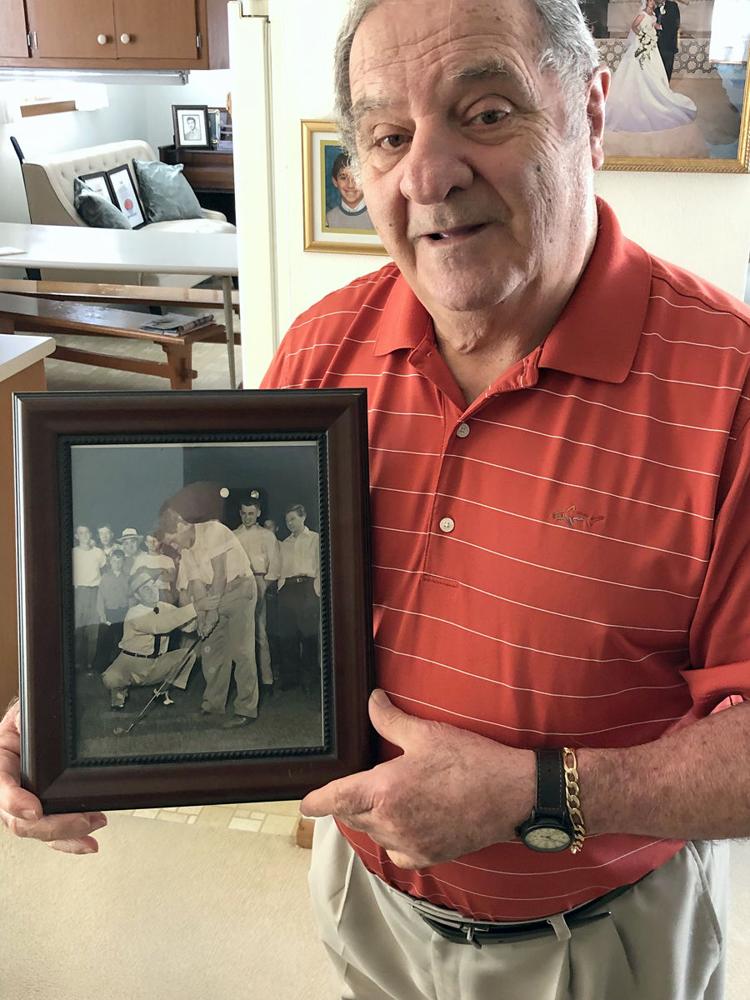 Dadian was the first public links player to win the State Amateur and the first to win the Milwaukee District title. He was named the national public links player of the decade for the 1970s, after finishing runner-up to Eddie Mudd in the 1976 U.S. Amateur Public Links Championship and reaching the semifinals on three other occasions.
At South Milwaukee High School, he won the old Suburban Conference title in 1951. Sixty-one years later, at age 79, he tied for 18th in the WSGA Senior Amateur. How's that for longevity?
He did it all with a home-made swing, short and quick in the takeaway, fast and violent in the downswing. Often, both feet came off the ground at impact.
"I went once to Manuel de la Torre," Dadian says of the late Milwaukee Country Club professional, a nationally known teacher. "He looked at my swing and said, 'Archie, you've got the worst golf swing I've ever seen.' But he said, 'I wouldn't change a thing about it.' I said, 'Why?' He said, 'Because you're able to repeat everything you do, all the time.'"
He was blessed with great natural strength; his grandfather was the Turkish heavyweight wrestling champion and went by the nickname "No Neck." "I could lift 100 pounds just like this," Dadian says, raising one arm. "Up until about five years ago, I could still do one-arm push-ups."
He also had superior hand-eye coordination, another genetic gift. He was a multiple-time South Milwaukee city marbles champion, back when every kid shot marbles, and once ran 121 consecutive balls in straight pool. His brothers excelled at racket sports and his niece was a U.S. table tennis champion. He's a charter member of the Wisconsin Dartball Hall of Fame.
Dadian discovered golf by accident in the ninth grade, when a friend dragged him to Grant Park, less than a mile from his boyhood home.
He guessed his first score was around 150. "I thought it was a terrible game," he says. But a second trip to the course yielded some solid shots and a much better score, and he quickly became hooked. Within months, he was shooting in the 80s with a $6 set of mismatched, wood-shafted clubs.
Because his home course was Grant Park, a short layout with par-4s mostly in the 280- to 350-yard range, Dadian never learned how to hit long irons. He didn't need them because he could drive the green on all but a handful of holes. And Grant had no bunkers, so he never developed sound technique in the sand.
"My strength was 5-iron and in," he says. "I was almost automatic. If I would have had someone teach me how to hit a longer iron and a bunker shot, nobody would have beat me. I had those two major defects."
After high school, Dadian enlisted in the Navy and after two years was transferred to the Marine Corps, where he befriended Tony Lema, who would go on to win the 1964 British Open. Lema and Dadian were the top players on a talented all-Marine Corps golf team.
"But we could never beat San Diego Naval Base," Dadian says. "They had (Billy) Casper and (Gene) Littler."
Dadian won the Wisconsin State Amateur in 1963 and the next year shot a course-record 59 at Grant Park.
"On the third hole, I had a three-foot birdie putt and I missed it," Dadian says. "The ball was on the other side of the cup and I reached over and jabbed it and it bounced over the hole. So, I three-putted and bogeyed the hole. Otherwise, it could have been 57."
Dadian turned pro in 1964, joined the PGA Tour and won a car for making a hole-in-one at the Buick Open. In what turned out to be a brief career, he got paired with some of the game's greats, including Nicklaus. In his first round with the Golden Bear, a nervous Dadian developed a case of the shanks.
"I must have shanked the ball four times," he says. "Nicklaus comes over to me and puts his arm around me. He says, 'Hey, Arch, I know you're nervous, but you see all these people following us? If any of them were better than you are, they'd be playing and you'd be a spectator.'"
Whether Dadian would have had a successful career is a matter of conjecture. It ended when he hit that rock in the fairway in Wilmington, North Carolina. By the time he got to the green, his hand had swelled to twice its normal size and he was forced to withdraw.
The broken bone eventually required surgery and Dadian applied for amateur reinstatement. In the first State Amateur he entered after regaining amateur status, he lost to a young Andy North in the finals in 1969. The championship switched to stroke play in 1971 and Dadian won his second title in '74.
How many more would he have won if he hadn't turned pro, broken his hand and basically missed five years in his competitive prime?
"In my mind," he says, "there's no question I would have won it more times."
He remained a dominant player until developing a case of the putting yips. It all started, he says, when he missed a short putt on the 36th hole of the championship match in the 1976 U.S. Amateur Public Links. He then lost on the first extra hole to Mudd.
"I thought about that putt all winter," he says.
By the end of the next summer, every short putt, even a tap-in, was an adventure.
"Ask Dave Miley how I lost the (Milwaukee) District," he says. "I was 2-up with three holes to go. I never had more than a 5-foot putt for birdie and I lost every hole. On the 17th hole, I double-hit a putt. Then I did it again on 18.
"It got so I literally could not take the putter back. If somebody would have bet me a million dollars that I couldn't make a one-foot putt, I would have lost. There was no way I could have made the putt. Absolutely none."
He tried everything — left-hand low, claw grip, putting with his eyes closed, putting with his driver. He finally went to the long putter, which turned out to be his salvation. The broomstick at least allowed him to be competitive, but he never again was the same on the greens.
"Not even close," he says.
Asked what he considers his greatest accomplishment in golf, Dadian doesn't mention any of the dozens of tournaments he won.
"Probably just the people I've met," he says. "I've made a lot of acquaintances, a lot of friends through golf. And it's nice to be considered one of the better players in the state, you know? Most of the good players come from private courses. It's that simple.
"Had my folks been wealthy enough where I could have been a member of a private course and learn how to hit a long iron and sand shots, I think my career would have been a whole lot better.
"As to how much, who knows?"
* * * * * *
In May 2017, I arrived at Blue Mound Golf & Country Club well before my tee time and when I pulled into the parking lot, I saw a solitary figure on the range. It was Dadian, warming up for the round we'd play with retired WSGA executive director Gene Haas.
I'd written many stories about Archie over the years but had never played golf with him. Before we teed off, he warned us not to expect much, explaining that it was his first round of the year and that he'd played only twice in 2016.
He double-bogeyed the first hole and bogeyed Nos. 2 and 3. I distinctly remember thinking, "Poor Arch, he's lost his game."
Then … boom, a 225-yard drive down the middle. Par. Boom, a 230-yard drive. Birdie. A string of pars followed. By the end of the round, he was hitting his driver 235-plus. He played the last 15 holes in 6-over par. He was 83 years old.
Nobody had to tell me.
I knew who I was watching.